Old-Fashioned Blueberry Muffins
The kind of muffin you'd expect at grandma's house: Old Fashioned Blueberry Muffins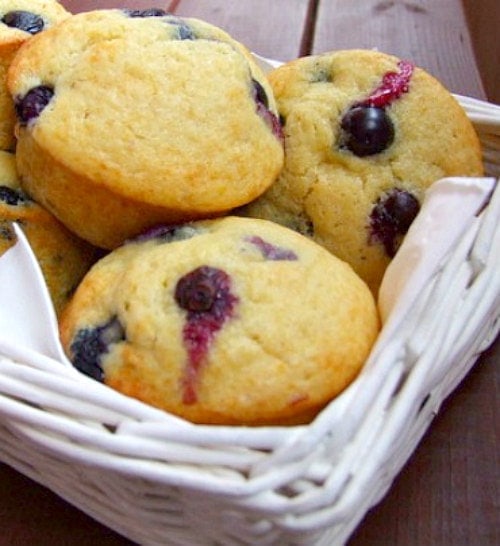 Old Fashioned Blueberry Muffins
Yield:
12 muffins
Prep Time: 20 minutes
Cook Time: 16 minutes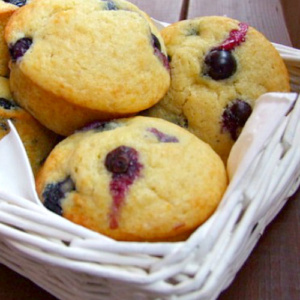 Ingredients:

1 cup milk
1/2 cup (1 stick) unsalted butter
1 teaspoon grated fresh orange zest
1 teaspoon vanilla extract
2 large eggs
2 cups unbleached all-purpose flour
3/4 cup granulated white sugar
2 1/2 teaspoons baking powder
3/4 teaspoon salt
1 3/4 cups fresh blueberries (or frozen, unthawed), divided,

Instructions:

Preheat oven to 400°F. Line 12 muffin cups with paper liners, or spray with nonstick spray.
Combine milk, butter, orange peel and vanilla in a small saucepan. Stir over medium heat until butter melts. Cool until mixture is lukewarm to touch. Beat in eggs.
Whisk together flour, sugar, baking powder and salt in large bowl. Remove a heaping Tablespoon of the flour mixture and mix with 1 1/3 cups blueberries in a small bowl; set aside. Add milk mixture to flour mixture and stir just until blended. Gently fold in blueberries.
Divide batter equally among muffin cups. Sprinkle the rest of the blueberries among the tops of each cup of batter. Bake 16 to 20 minutes, or until golden and tester inserted into center comes out clean. Transfer to racks and cool.