Orange Chinese Chicken
I love this simple recipe for Orange Chinese Chicken.  It makes a great, easy weeknight meal.  Serve over rice, if desired.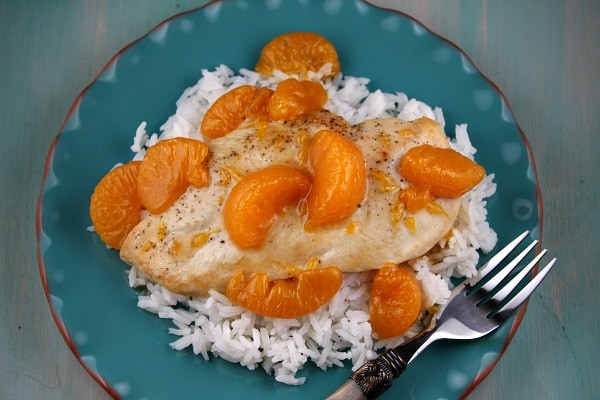 Yield:
4 servings
Prep Time: 20 minutes
Cook Time: 15 minutes
Ingredients:
2 teaspoons sesame oil
1 pound boneless, skinless chicken breasts (Four 4-ounce pieces)
salt and pepper, to taste
One 15-ounce can mandarin oranges in light syrup
1/2 cup reduced-sodium, fat-free chicken broth
1 tablespoon low-sodium soy sauce
2 teaspoons cornstarch
Directions:
Heat oil in large nonstick skillet over medium-high heat. Season both sides of chicken with salt and pepper; add chicken to skillet and cook until golden on both sides.
Drain oranges and reserve 1/4 cup of liquid. Add oranges with reserved liquid to skillet and simmer 2 minutes.
Whisk together broth, soy sauce and cornstarch in a small bowl; add mixture to pan and simmer until sauce thickens and chicken is cooked through, about 3 minutes more.
Nutrition:
SOURCE: RecipeGirl.com