Pancetta- Wrapped Mushrooms
This recipe has been featured in a post on The Recipe Girl blog: Pancetta-Wrapped Mushrooms.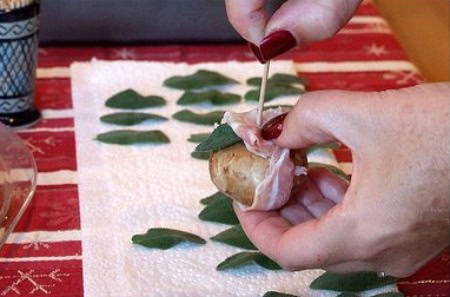 Pancetta- Wrapped Mushrooms
This is a simple, impressive appetizer to put together. It's really easy to make them ahead of time and then just pop them in the oven when ready for serving.
Yield:
24 mushrooms
Prep Time: 20 minutes
Cook Time: 25 minutes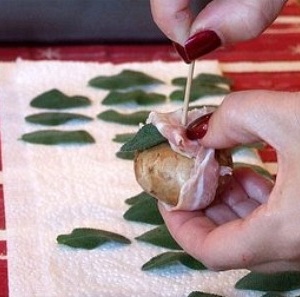 Ingredients:

24 (1-inch-wide) mushrooms
salt & freshly ground black pepper
24 medium-sized sage leaves
24 thin slices pancetta (or 12 strips of thin-sliced bacon)

Instructions:

1. Preheat oven to 400°F. Trim and discard tough or discolored stem ends from mushrooms. Sprinkle mushrooms lightly with salt and pepper.

2. Lay a sage leaf over the top of each mushroom, then wrap mushroom and sage leaf with pancetta. Leave tip of sage leaf protruding outside of the bacon. Push toothpick through the top (where the pancetta ends meet), making sure it does not come out the bottom of the mushroom.

3. Place wrapped mushrooms in 10x15-inch nonstick baking pan. (At this point you can cover and refrigerate, or you can choose to bake right away).

4. Bake until most of pancetta is crisp and browned (about 25 minutes). Leave toothpicks in, and serve immediately.