Parsnip Soup with Corned Beef and Cabbage
This quick and easy Parsnip Soup with Corned Beef and Cabbage is simply parsnips, onions, and bay leaves simmered in chicken broth. A whir in the blender plus the addition of a splash of whipping cream makes it creamy. Truth be told, I forgot to add the cream and I enjoyed the soup without. I added it later, and it gave the soup a sweeter and slightly richer flavor. All-in-all a great soup to utilize leftover corned beef (or use some from the deli).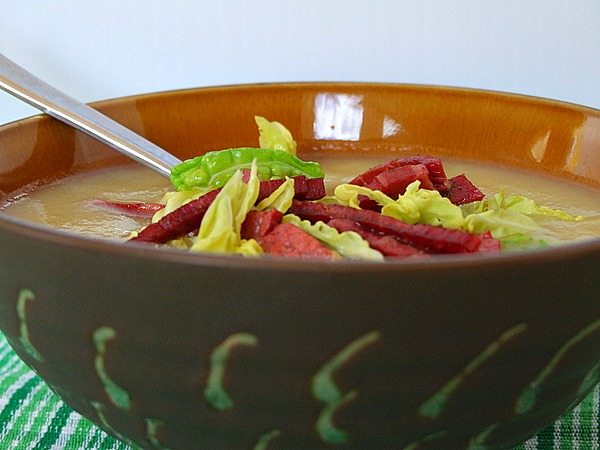 Parsnip Soup with Corned Beef and Cabbage
Yield:
2 Main Course servings or 4 first course servings
Prep Time: 25 min
Cook Time: 20 min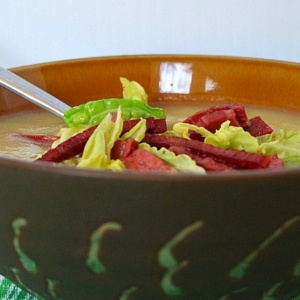 Ingredients:

Three 1/8-inch-thick slices cooked corned beef (4 ounces), fat trimmed, chopped and reserved
2 whole bay leaves
2 large parsnips (about 13 ounces), peeled and coarsely chopped
2 cups chopped onions
3 cups (or more) low-salt chicken broth
3 large savoy cabbage leaves, center ribs removed
1/4 cup heavy whipping cream

Instructions:

1. Sauté 2 tablespoons corned beef fat (or butter) and bay leaves in a large saucepan over medium-high heat until fat renders, about 2 minutes. Stir in parsnips and onions. Add 3 cups of broth. Cover; simmer until parsnips are tender, about 10 minutes.

2. Meanwhile, cut cabbage and corned beef slices crosswise into very thin strips. Melt 1 tablespoon fat (or butter) in medium skillet over medium-high heat. Add cabbage and corned beef. Sprinkle with salt and pepper. Toss until cabbage begins to wilt, about 3 minutes.

3. Working in batches, puree soup with bay leaves and cream in blender until smooth. Return to same pan. Re-warm soup, thinning with more broth if too thick. Season with salt and pepper. Ladle into bowls. Mound corned beef and cabbage in center.