Party Bean Dip
This Party Bean Dip is a nice, lighter option for a dip. It's always a big hit at Happy Hour or an appetizer party!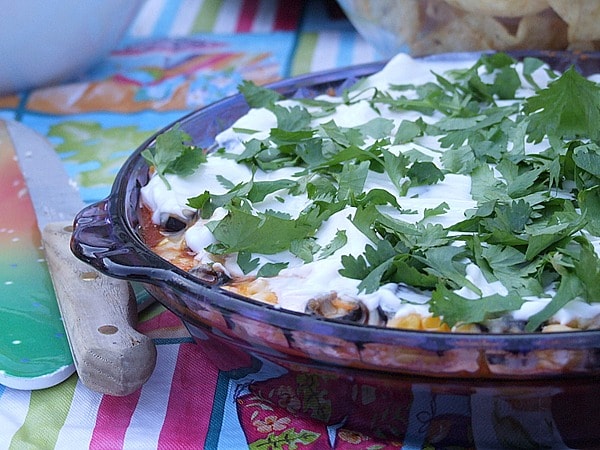 Yield:
12 (serv size: 1/2 cup dip + 4 chips)
Prep Time: 15 minutes
Cook Time: 35 minutes
Ingredients:
6 (8-inch) flour tortillas
1/2 teaspoon paprika
2 teaspoons freshly squeezed lime juice
1/2 teaspoon ground cumin
1 (16 ounce) can fat-free refried beans
1 cup chunky salsa
2/3 cup fresh corn kernels (cut off the cob) - or canned
1/4 cup chopped green onions
2 tablespoons chopped black olives
3/4 cup (3 ounces) pre-shredded 4-cheese Mexican blend cheese (not lowfat)
3/4 cup (6 ounces) light sour cream
2 tablespoons chopped fresh cilantro
Directions:
Preheat oven to 350°F.
Cut each tortilla into 8 wedges, and arrange wedges in single layers on 2 baking sheets. Lightly spray wedges with cooking spray; sprinkle with paprika. Bake at 350°F. for 15 minutes or until lightly browned and crisp. Cool.
Combine juice, cumin and beans in a medium bowl, stirring until well combined. Spread mixture evenly into an 11x7-inch baking dish (or a deep dish pie plate) coated with cooking spray. Spread salsa evenly over beans. Combine corn, onions, and olives; spoon corn mixture evenly over salsa. Sprinkle cheese over corn mixture.
Bake for 20 minutes, or until bubbly. Let stand for 10 minutes. Top with sour cream; sprinkle with cilantro. Serve with tortilla chips.
Nutrition:
Nutrition Facts-Amount Per Serving or 1/2 cup dip + 4 tortilla wedges
Calories 172, Calories From Fat (31%) 54, Total Fat 6g, Sat Fat 2.7g, Cholesterol 14.6mg, Sodium 451mg, Carbohydrates 23g, Dietary Fiber 2.7g, Sugar 1.2g, Net Carbs 20.4g, Protein 7.2g
Weight Watchers Points per 1/2 cup dip + 4 tortilla wedges:  SmartPoints: 5, Points Plus: 4 Old Points Program: 4.5
SOURCE:  RecipeGirl.com (via Cooking Light)