Pasta with Garden Bolognese Sauce
This Pasta with Garden Bolognese Sauce is Weight Watchers friendly, it's quick to make, and it's perfectly filling and delicious.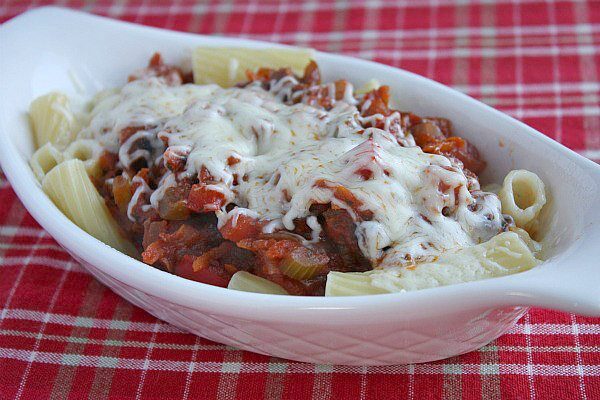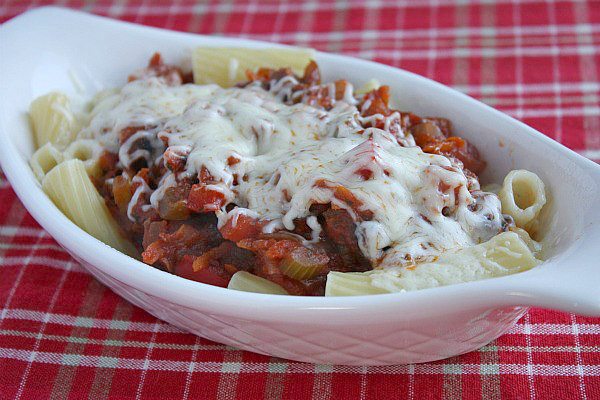 Yield:
6 servings
Prep Time: 20 minutes
Cook Time: 35 minutes
Ingredients:
2 teaspoons olive oil
2 cups shredded carrot
2 cups chopped onion
1 cup chopped celery
1 cup chopped red bell pepper
1 cup chopped green bell pepper
1 3/4 cups chopped portobello mushroom caps (about 1 large mushroom)
2 teaspoons dried oregano
3 cloves garlic, minced
1 cup dry red wine
1 (26 ounce) bottle fat-free marinara sauce
6 cups hot cooked ziti (about 3 cups uncooked short tubular pasta)
1 1/2 cups (6 ounces) shredded part-skim mozzarella cheese
Directions:
Heat oil in a large Dutch oven over medium-high heat. Add carrot and next 4 ingredients; sauté 10 minutes. Add mushroom, oregano, and garlic; sauté 2 minutes. Add wine and marinara sauce; bring to a boil. Reduce heat, and simmer 20 minutes.
Serve over ziti and sprinkle with cheese.
Nutrition:
SOURCE: RecipeGirl.com (via Cooking Light)