I think I can speak for everyone when I say that grilled cheese is most delicious when paired with tomato soup.  As a child, I was so enamored with the pairing that I used to heat up some Campbell's and put hunks of cheese directly into the soup and let it get all melty.  Then I'd scoop up those melty bits with the soup & eat it, and it was pure heaven.  Sometimes I'd make a simple grilled cheese and then tear it apart and plop it right into the soup where it could soak up that tomato flavor and get soggy and oozy and perfect. 
Since it's National Grilled Cheese Month and all, I've been experimenting with different fillings for grilled cheese sandwiches.  Here are the favorites: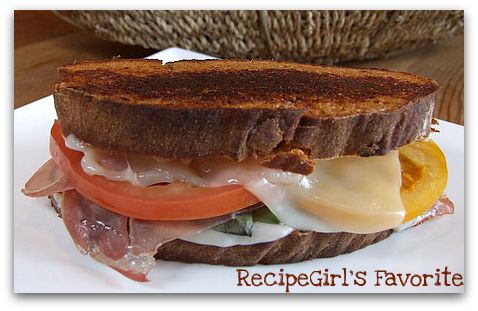 The Italian Grilled Cheese: my favorite. I layered cream cheese, red & yellow tomatoes, basil, prosciutto and provolone… on a Tomato-Basil bread. Years ago I had a grilled cheese bagel with cream cheese on it. I've had a tough time forgetting about that decadent sandwich, so I included it on my grilled cheese too. You gotta try it.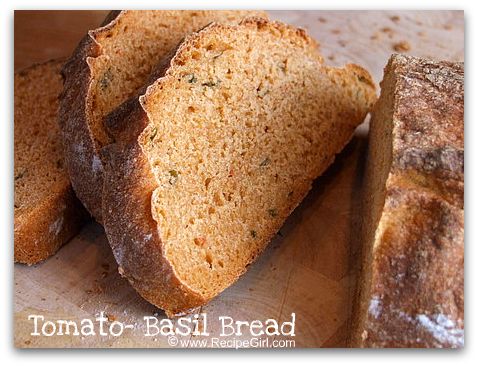 The Tomato-Basil Bread that I used for my favorite grilled cheese was homemade- quite a good one for sandwiches.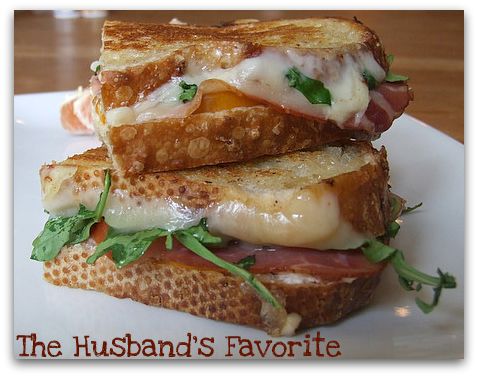 The Adult Grilled Cheese: The Husband's favorite. I have to admit that I liked this one a lot too. I layered goat cheese, red & yellow tomato, prosciutto, arugula and havarti cheese… on cracked wheat sourdough (from Trader Joe's). I'm hoping the picture explains how good this was. Major comfort in a sandwich, and silky, soft, harvati melts up soooo nicely.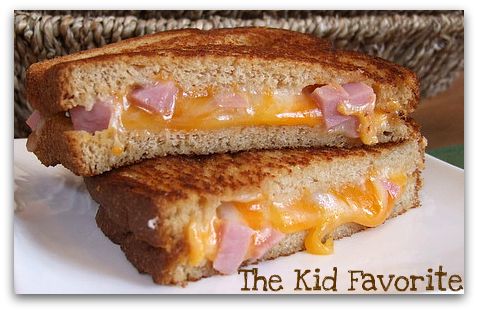 Marbled Jack & Ham Grilled Cheese: My kiddo's favorite. My son was really into the whole 'experimentation' aspect of these grilled cheese sandwiches. When I asked him to create his ultimate grilled cheese, he explained that he would like his favorite cheese… marbled Jack… all melted with chunks of ham on his favorite soft wheat bread (with no seeds in it).
These were all great sandwiches, but they just weren't quite the same without a bowl of tomato soup to dunk them in.
The recipe for Italian Grilled Cheese can be found HERE.
The recipe for Adult Grilled Cheese can be found HERE.
The recipe for Tomato-Basil bread can be found HERE.
The recipe for Marbled Jack and Ham Grilled Cheese can be found HERE.
Panini Happy is having a Grilled Cheese Celebration, so I'll be sending along our favorites for this event.