Pear, Walnut and Blue Cheese Salad with Cranberry Vinaigrette
A fantastic salad recipe: Pear, Walnut and Blue Cheese Salad with Cranberry Vinaigrette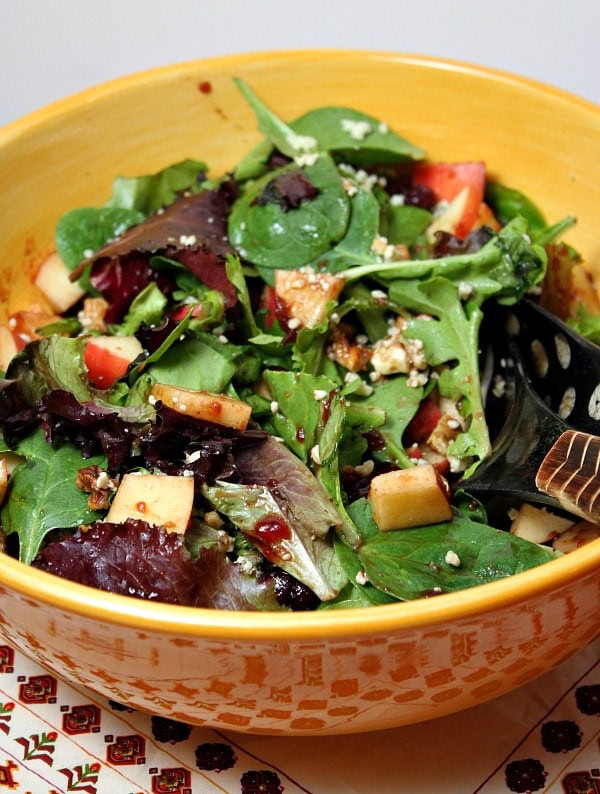 Pear, Walnut and Blue Cheese Salad with Cranberry Vinaigrette
Yield:
6 servings
Prep Time: 20 minutes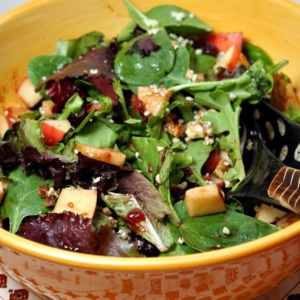 Ingredients:

VINAIGRETTE:

1/2 cup canned whole-berry cranberry sauce
1/4 cup freshly squeezed orange juice (about 1 orange)
1 tablespoon olive oil
2 tablespoons balsamic vinegar
1 teaspoon granulated white sugar
1 teaspoon minced and peeled fresh ginger
1/4 teaspoon salt

SALAD:

8 cups mixed greens)
2 cups sliced peeled pear or apple (about 2)
1/3 cup (2 ounces) crumbled blue cheese or gorgonzola
2 tablespoons coarsely chopped walnuts, toasted

Instructions:

Prepare the vinaigrette: place the first 7 ingredients in a medium bowl; stir well with a whisk.
Prepare the salad: Place greens in a large bowl. Add pear/apple, cheese and walnuts. Spoon desired amount of dressing over the top and toss.
SOURCE: RecipeGirl.com