Pier 2620 Hotel at Fisherman's Wharf : a review
Today I'm sharing a review of a hotel that my son and I stayed in recently in San Francisco:  Pier 2620 Hotel at Fisherman's Wharf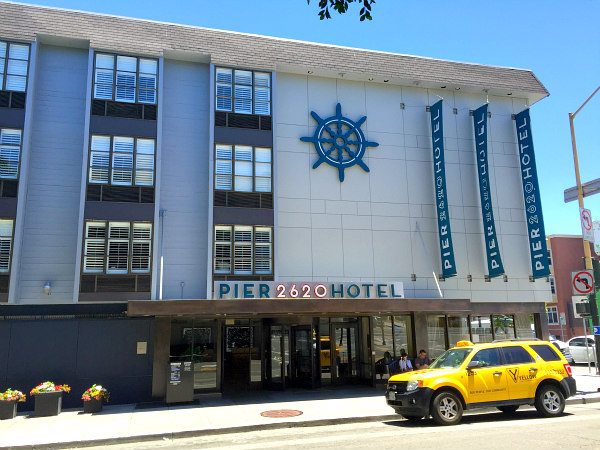 The Pier 2620 Hotel at Fisherman's Wharf is located at Jones and Bay- a central location to Fisherman's Wharf, just three blocks from the Embarcadero and a short distance from the boat that will take you to tour Alcatraz!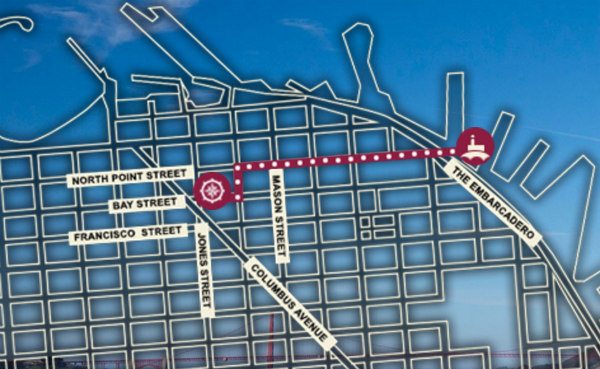 We checked in, hopped on the elevator (floors are enabled by room cards as a safety feature), and headed up to the 3rd floor.  We had two rooms, so we decided to open up my room first…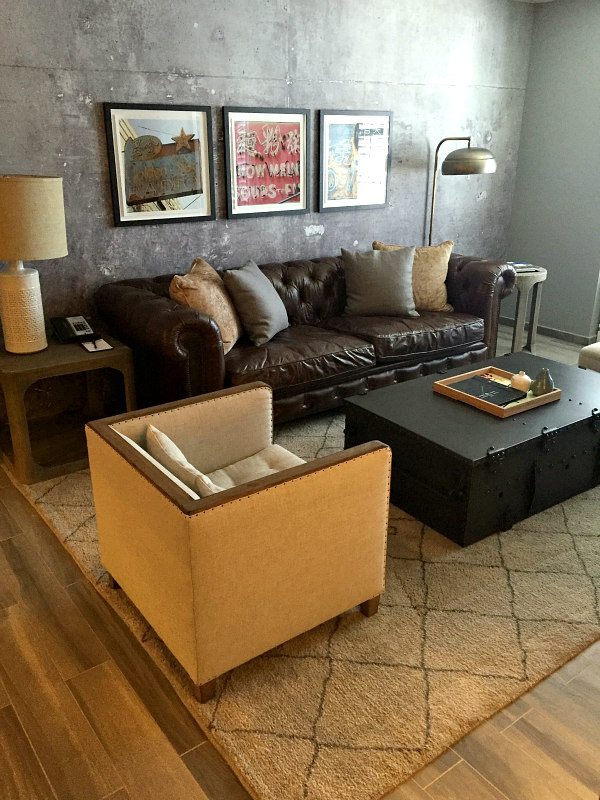 My room was a suite- an absolutely delightful surprise!  I was welcomed with this perfect living room area.  My first thought was, "Wow, this seems more like an apartment than a hotel room… a really nice apartment!  And much nicer than any apartment I've ever lived in!"  Guests who stay in Club Rooms or Suites gain access to the VIP Club Lounge, which includes complimentary continental breakfast, morning newspapers, 24/7 access to soda and bottled water, evening appetizers, and an honor bar for guests 21 and over.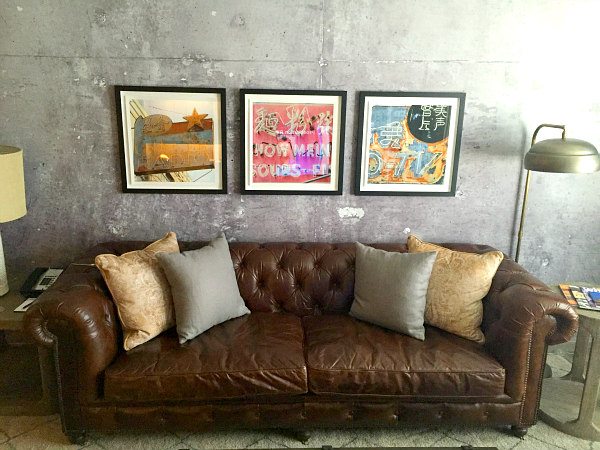 This leather couch was a highlight of my stay here.  I sat on this comfy couch to work on my computer…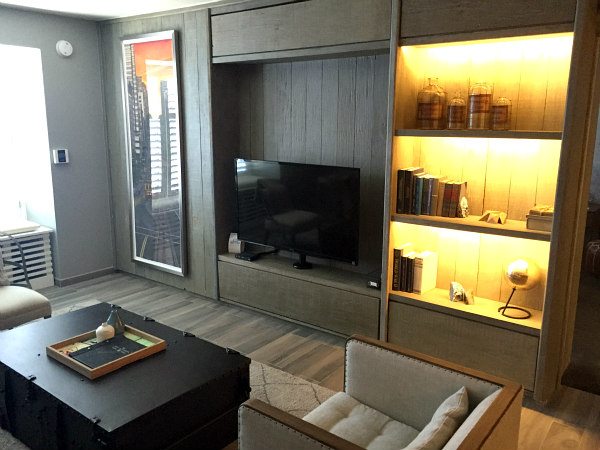 …and watch late-night TV.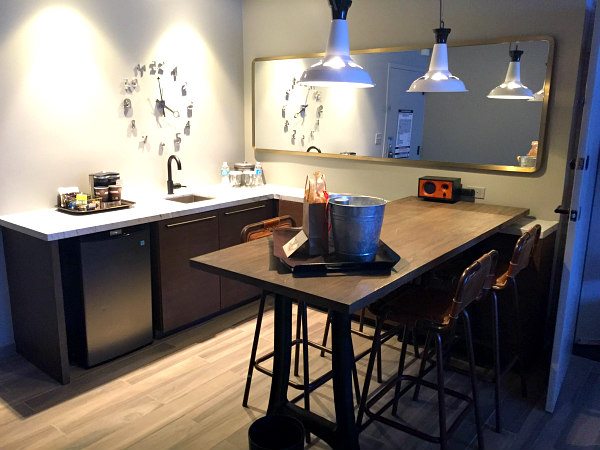 Adjacent to the living room was a kitchenette area, complete with a spacious table with four leather barstools.  There was a refrigerator and a sink area (no microwave), coffee maker, waters + metal ice bucket, and a radio/sound system.  The hotel does offer use of a microwave and access to hot water at their Bay Street Market located in the lobby (where food and convenience items are available for purchase).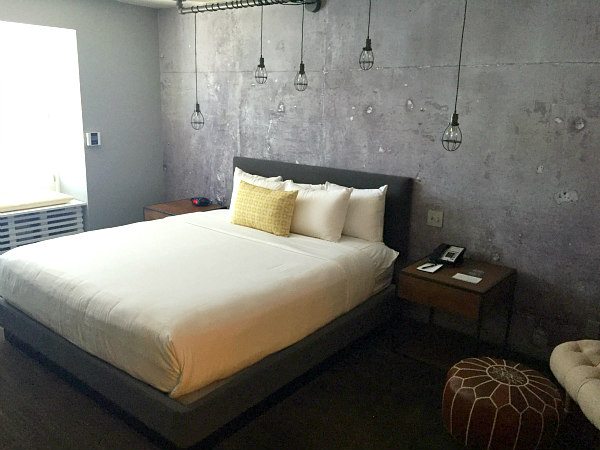 I entered my bedroom via a rustic sliding wood door that separated it from the living room.  It was outfitted with a king-sized luxury bed, incredibly soft linens and squishy, perfect pillows.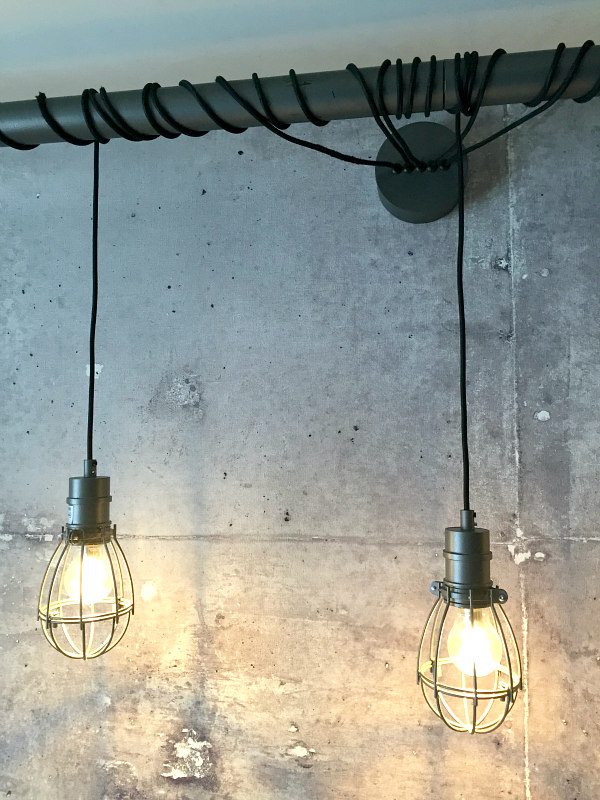 The walls were not cement, but I had to touch them to make sure.  And I especially liked the unique choice of lighting above the bed.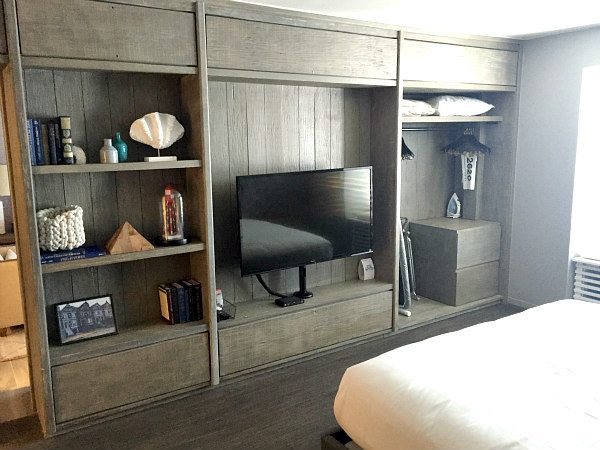 The wall opposite the bed displayed styled shelving, a wide-screen TV and an open-style closet (ironing board/iron, luggage rack and safe in this spot too).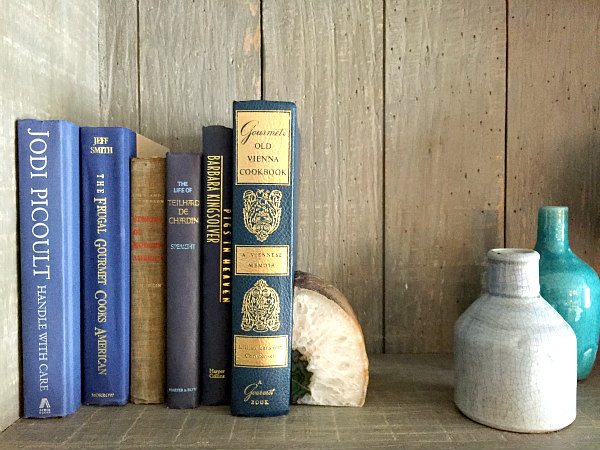 I thought their choice of shelving display was awesome– novels, vintage cookbooks and other goodies.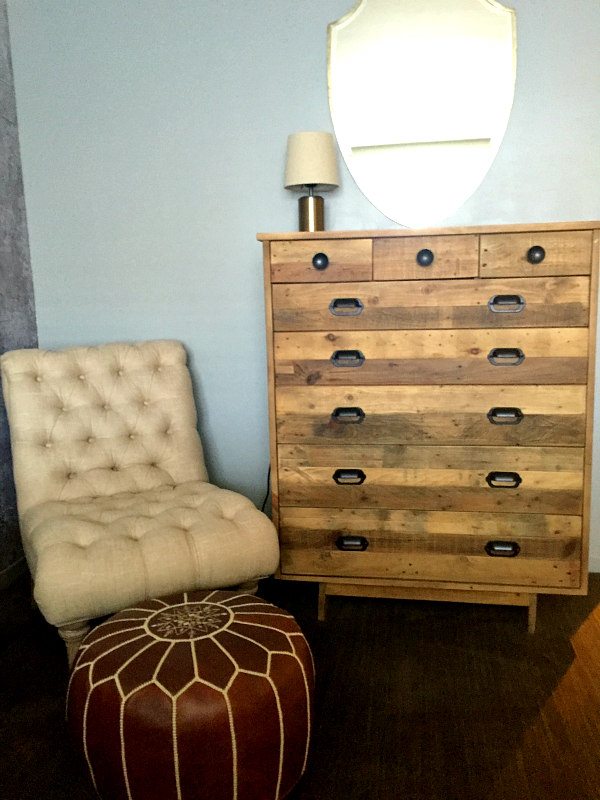 A beautiful dresser and sitting area was located next to the bed.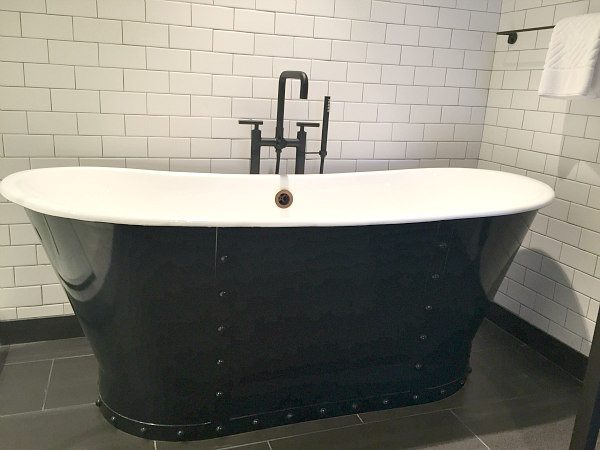 As you enter the bathroom in this suite, you'll see nothing but this TOTALLY COOL bathtub!  What a fun piece to add to a  hotel room- it adds so much to the hip and cool decor of the hotel.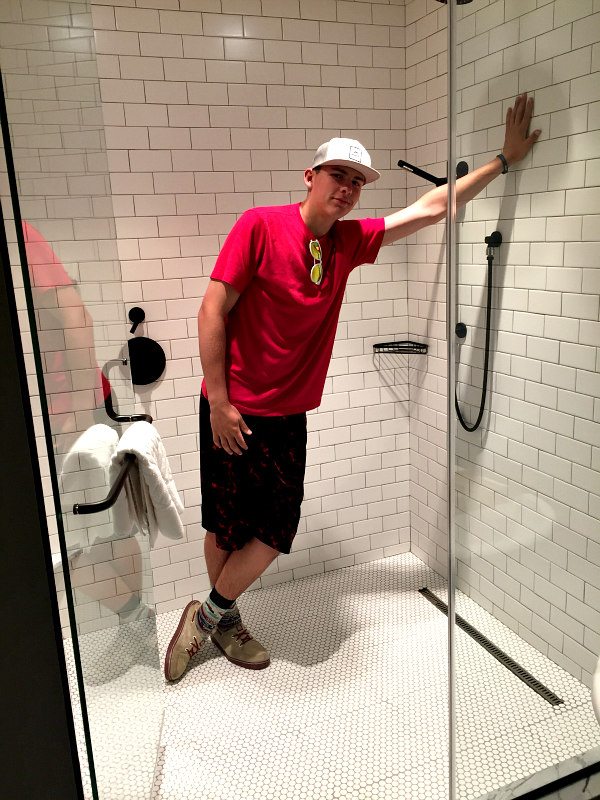 My teenager was pretty keen on the shower too- big, spacious, bright white and clean.  It had a rain-like shower head as well as a hand-held fixture.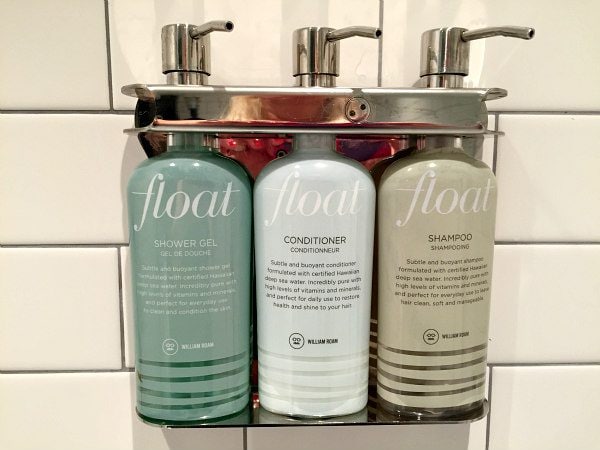 The toiletries in the shower were exactly what I love to have in a hotel room- unlimited pump bottles and quality products.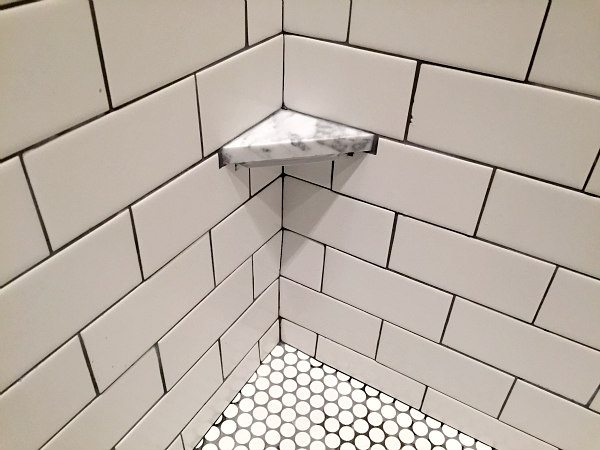 I had to show you this little feature… they built-in a little shelf in the shower to use for shaving your legs!  Brilliant!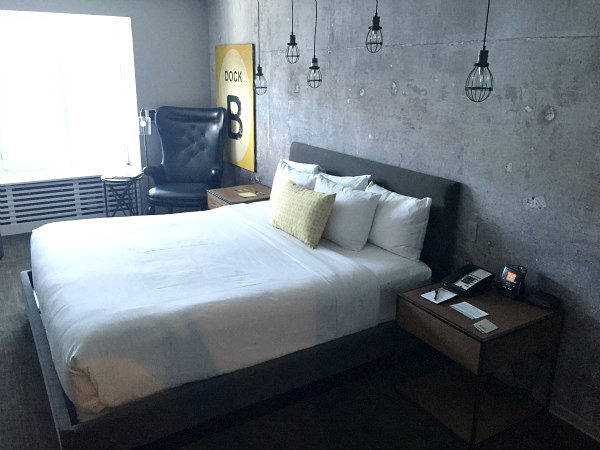 My son's room (a king room) was connected to the suite room by a door that could be left open.  It was similar to mine- he had a nice table area for sitting and working.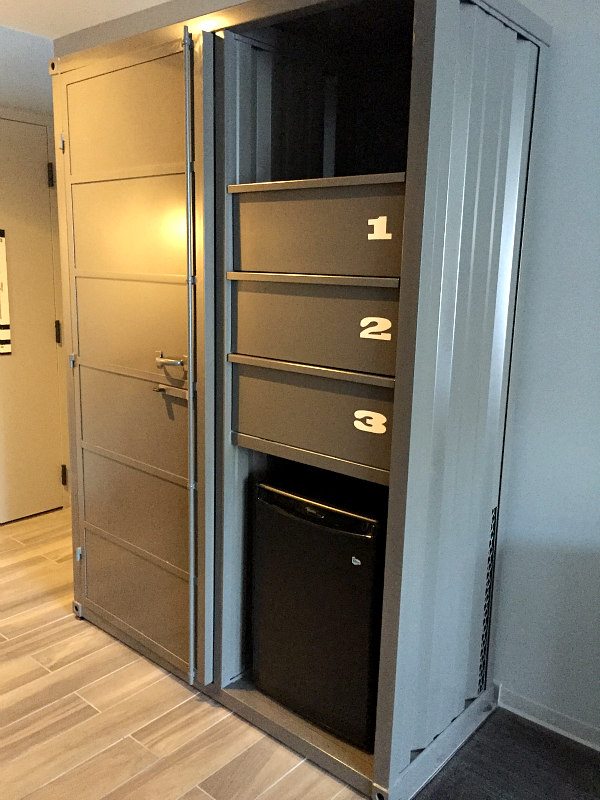 His room had this super cool closet area (he also had a refrigerator in his room).  His bathroom was nice too- no free-standing tub, but it had the cool light fixtures and a nice shower/tub area.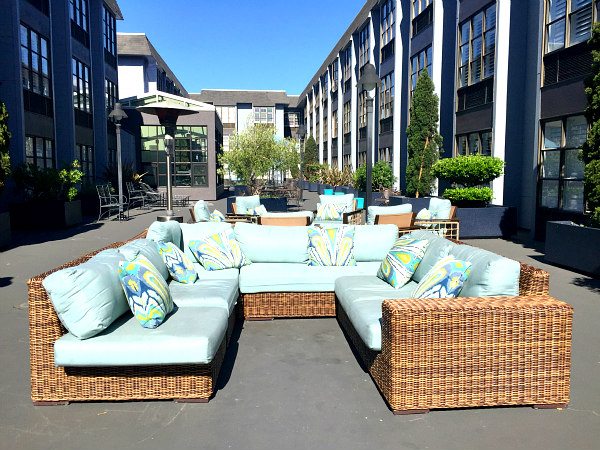 This area located on the first floor in the "courtyard" of the hotel.  I observed many hotel guests using this area in the mornings with their laptops and coffee… and again in the early evening with cocktails in hand.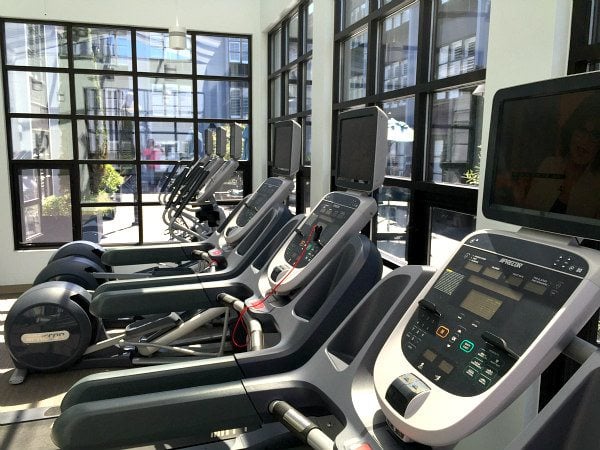 The gym was located adjacent to the courtyard area too– and had big, gorgeous windows looking into the courtyard.  There were many treadmills, bikes and elliptical machines- weights, balls, mats, TRX, towels and water too.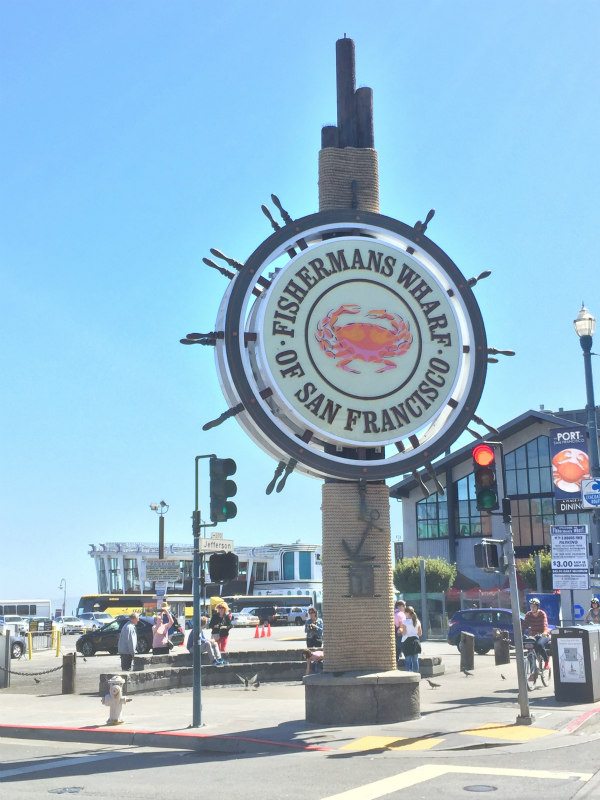 Of course, the first thing we did when we left the hotel was to explore Fisherman's Wharf!  It's an easy walk from the hotel– very touristy but a must-do.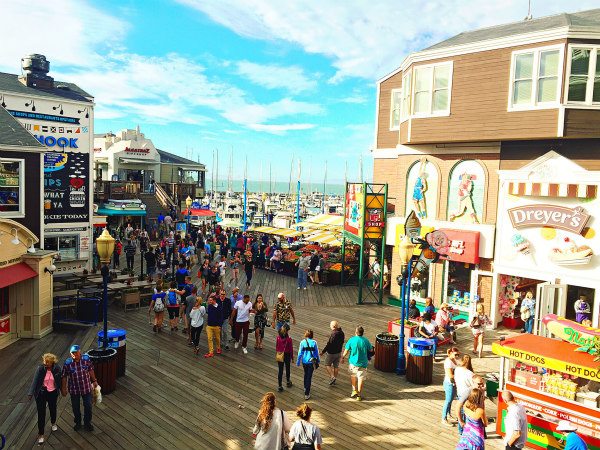 There are all kinds of fun shops and food spots (a store for lefty's, memorabilia, fudge, donuts, ice cream, crepes, souvenirs), a carousel and street performers.  We had a blast there!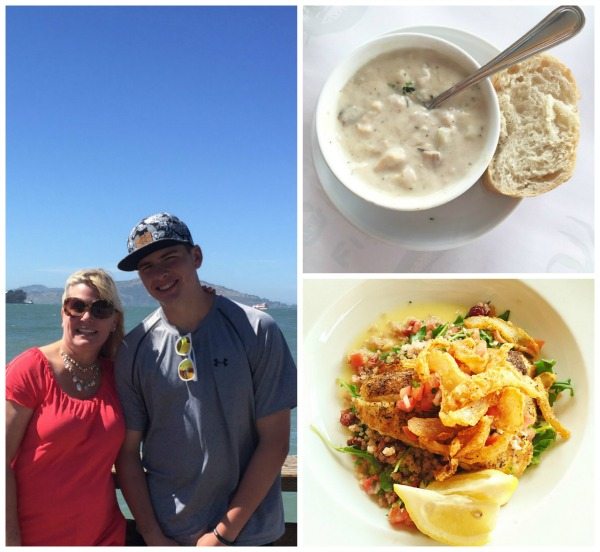 We chose to eat at Fog Harbor Fish House for our first night.  It's quite a touristy place right on the wharf, but they had really good seafood, and the views were amazing.  I enjoyed chowder and halibut for dinner.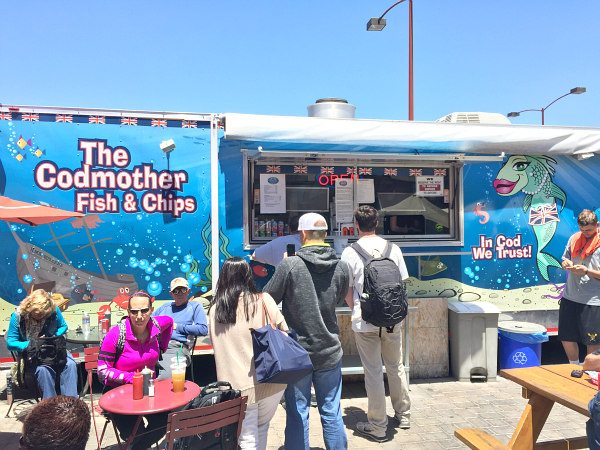 For lunch:  just one block away from the hotel was a stationary food truck:  The Codmother.  We spotted it, and then we checked out reviews on Yelp.  It was clear that we had made a great discovery.  This place was started as a roadside food trailer with a couple of plastic chairs back in 2011- serving up freshly cooked fish at a reasonable price.  Now they're #83 on Yelp's Top 100 Places to Eat in America!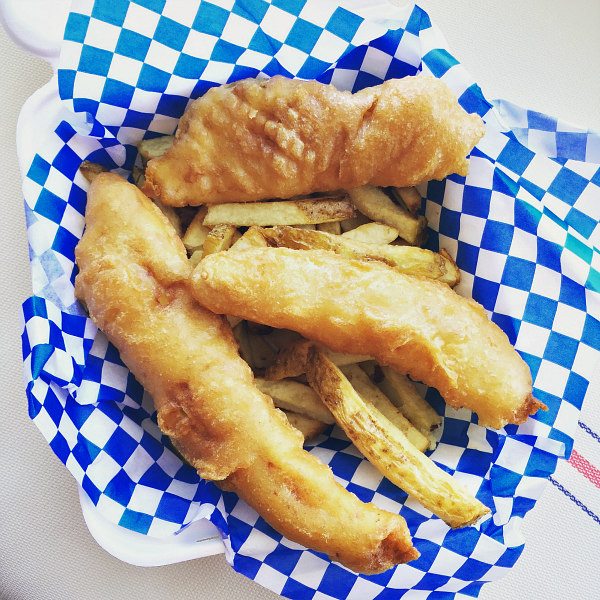 My son ordered the fish and chips- which were pretty much the best fish and chips ever.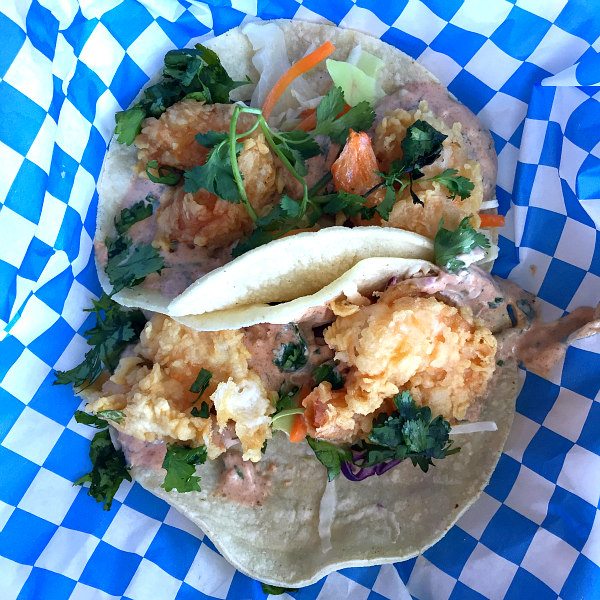 I ordered shrimp tacos.  Having lived in San Diego for so many years, I have had so many seafood tacos.  These were excellent.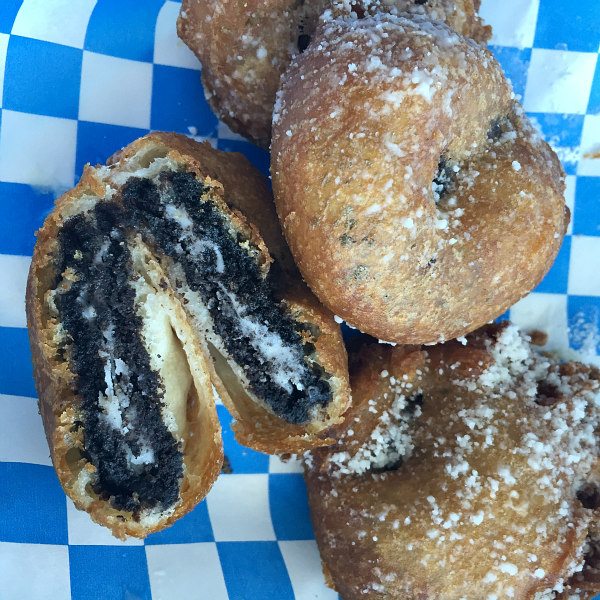 And we absolutely couldn't resist trying their Deep Fried Oreos– LOVED THEM.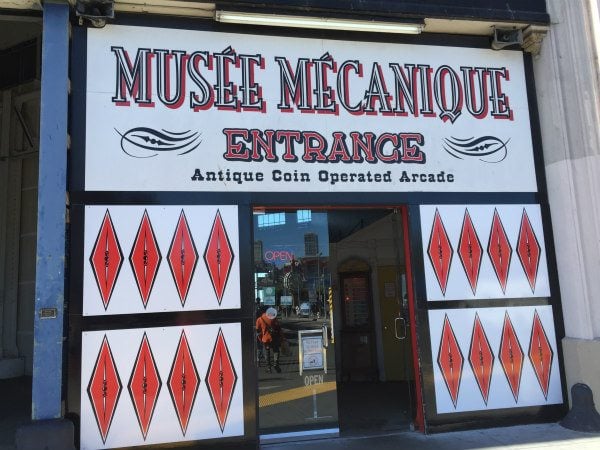 One of the most enjoyable things we did together on this trip was visit the Musée Mécanique (short walk from the hotel).  It's filled with antique coin-operated arcade games– everything from the really, really old stuff, to skee-ball and Pac Man.  All of the games are super cheap to play, and — after spending $50 at the aquarium (where we spent less than an hour), we were super happy with spending $10 here and having such a fun time.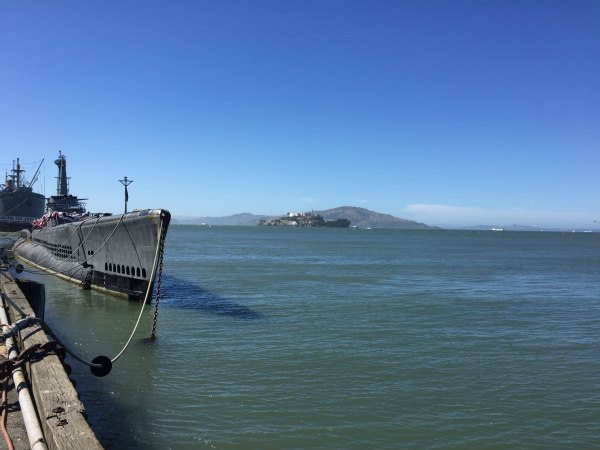 Just outside the arcade place, you'll find a view of Alcatraz.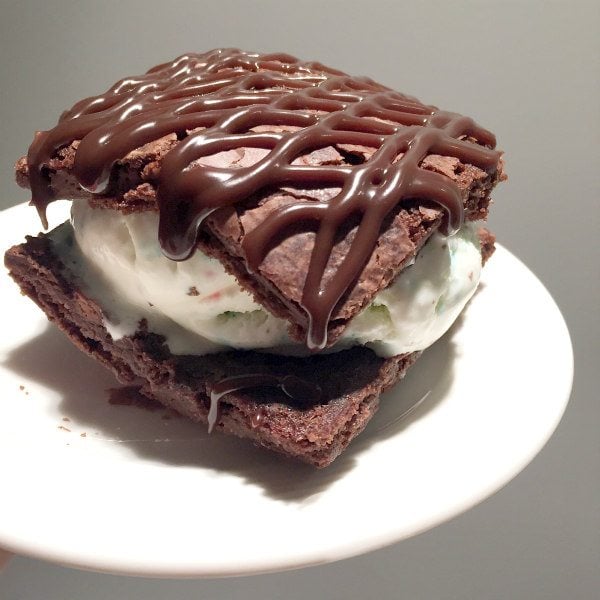 Another not-miss place to grab a goodie:  The Baked Bear— make sure you order an ice cream sandwich!  Mine was a brownie ice cream sandwich with birthday cake ice cream and hot fudge.  Turns out they're a chain with 9 CA/AZ locations.  So good though!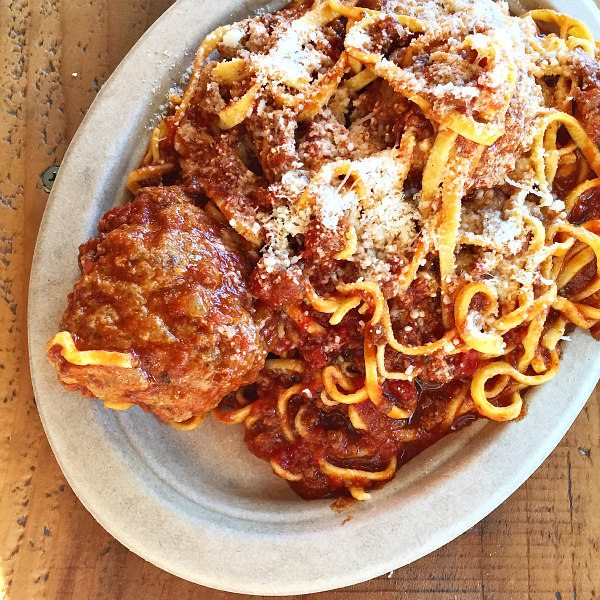 A short walk from the hotel was another awesome find for dinner:  Italian Homemade Company— the best homemade pasta (all made right there in front of you) and homemade sauces too.  There are a few salads and flatbread too.  The place is inexpensive- you order your food, choose your table, and they bring you your meal.  It's very casual, and the place is fairly small.  Well worth a visit.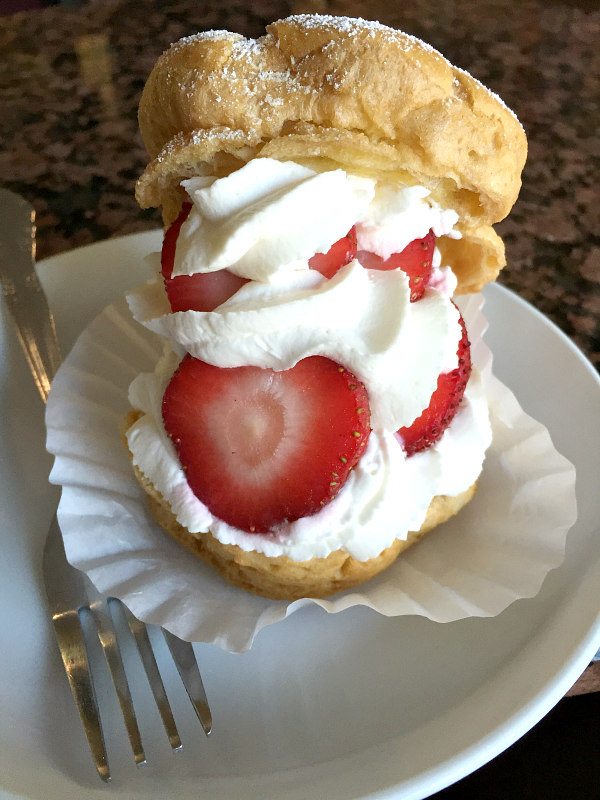 Just a couple doors down from Italian Homemade Company is Victoria Pastry Company.  Tons of homemade Italian pastries and cookies.  It's a nice way to end your Italian night dinner.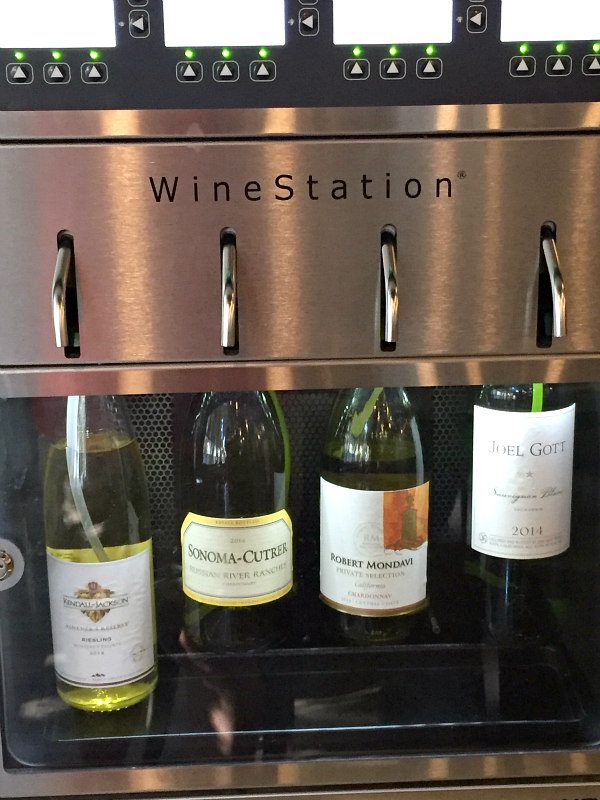 The bar in the hotel – Evenkeel Lounge- offers a full bar selection of cocktails with a bartender serving from 5 to 11 each evening.  You can also choose to create your own tasting flight of local wines from their self-serve Napa Technology Wine Station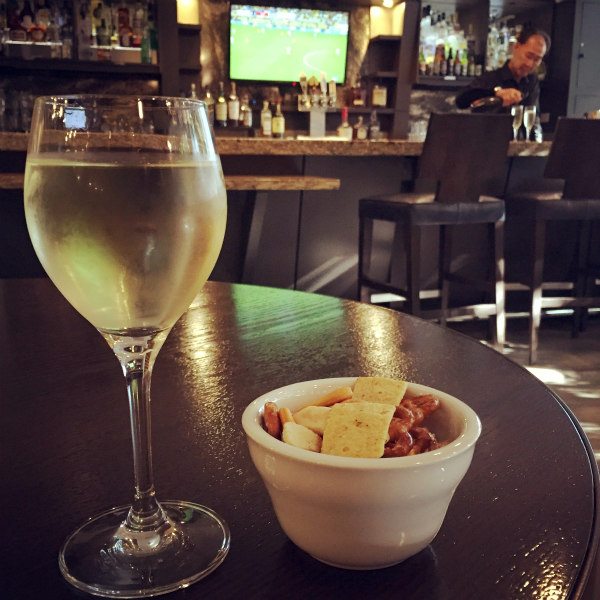 Happy hour boasts $6 house wine and an $8 cocktail of the day.  Help yourself to a big bowl of bar snacks.  It's a nice way to start your evening, and I spotted a lot of people hanging out in this spot after dinner too.  The hotel also offers freshly cooked breakfast at their in-lobby Bay Street Bistro.
I loved this hotel so much!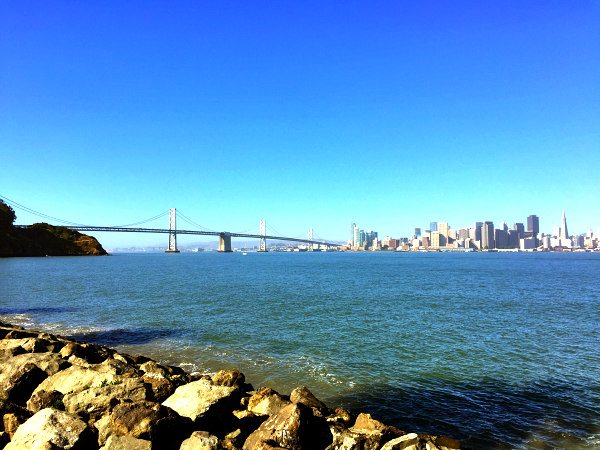 Until next time, beautiful San Francisco!
Hotel Details:
website:  Pier 2620 Hotel: located at 2620 Jones St. (Fisherman's Wharf), San Francisco : 800-228-8408
Things to do in the area (some of these shared from my fabulous contact at the hotel!):
The Filbert Steps on Telegraph Hill, near Coit Tower (http://sfist.com/2015/05/11/the_steps_of_san_francisco_all_abou.php) – LOVE this walk. There's actually a pandemonium of parrots (such a fitting term for a group of parrots!) that live on Telegraph Hill. It's so amazing that something like this exists in the middle of a city!
The Exploratorium (http://www.exploratorium.edu/) is a really cool interactive museum along the Embarcadero – great for all ages.
Musee Mechanique (http://museemecaniquesf.com/) is a really cool antique arcade that's sort of hidden on Fisherman's Wharf – don't let the creepy website scare you!  My son and I spent a good deal of time at this place.  We only spent about $10- all of the games are 25 – 50 cents.  We had so much fun for such a low price!
Walk through the Ferry Building – a gorgeous walk along the Embarcadero, or hop on the F-line Street Car that's 2 blocks away from the hotel.
Get fresh, hot fortune cookies in Chinatown – There are a few places in Chinatown where you can try fresh fortune cookies right out of the oven – SO DELICIOUS!
Walking Tours – food, history, architecture, etc. There are lots of themes to choose from.
Tour Alcatraz:  http://www.alcatrazcruises.com/  You must get tickets before you come to SF– they sell out!
The City Pass is a great idea if you are going to be in the city for a few days: discount access to cable car/buses, museums, aquarium and cruises on the bay.
Restaurants to consider within walking distance of the hotel (most of these shared by my contact at the hotel):

Disclosure:  Pier 2620 Hotel hosted our rooms in San Francisco so that I could share a review of our stay with RecipeGirl readers.  All opinions shared are my own, and there was no agreement in place to write a positive review.  We enjoyed this hotel so much and would stay there again in a heartbeat.  I recommend this one 100%.
Comments