Pop Rocks Brownie Bites
If are a child of the 70's, I have a nostalgic favorite for you to consider. And today's kids are clued in to the magical powers of this exploding candy too. Here's a super easy, last-minute 4th of July idea using these fizzy little crumbles: Pop Rocks Brownie Bites.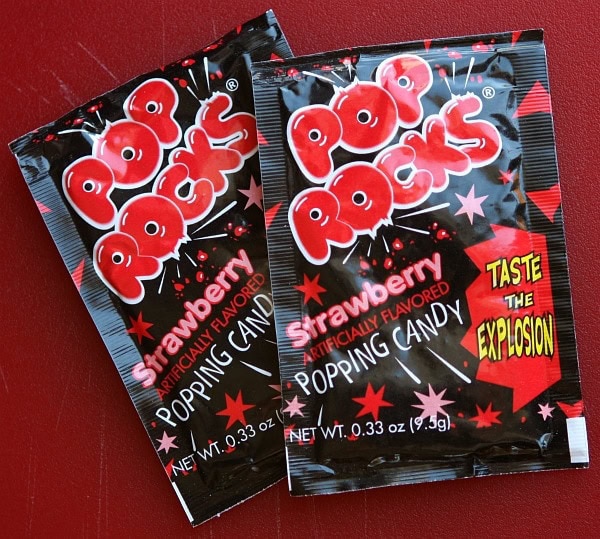 Remember Pop Rocks? Remember the urban legend that mixing Pop Rocks with carbonated beverage could result in a person's stomach exploding? Yeah, that wasn't true. They disappeared off the shelves for many years, but now they're back 🙂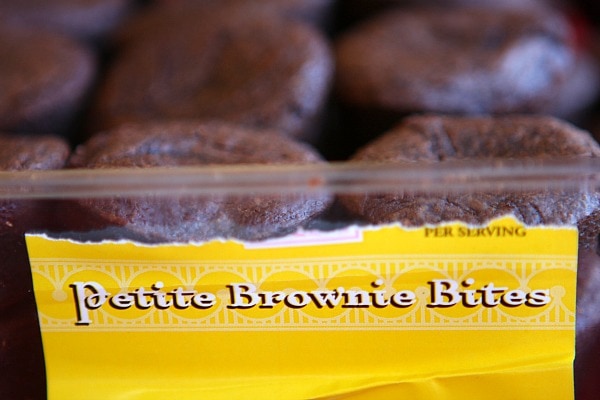 I usually go all-out and make everything homemade, but this recipe you don't really need to.  You can take the time to make your own brownie bites in mini muffin pans, as long as the tops come out nice and smooth and the brownies are sturdy enough to pick up.  Avoid that hassle and just pick these up in your market's bakery (or one of those warehouse stores).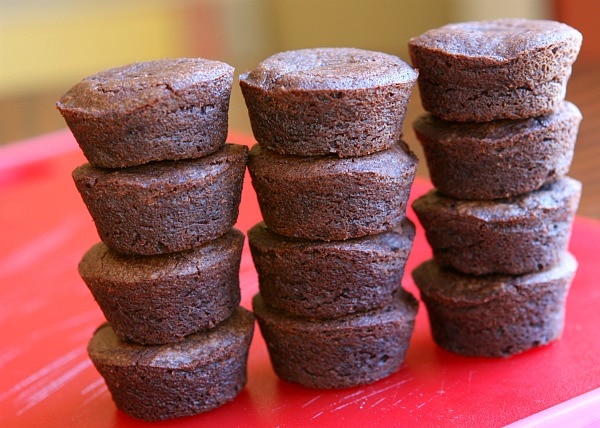 The ones I bought were just as good as anything I can make at home.  They're innocent looking enough, but be careful… you'll find yourself wanting to pop one after another into your mouth.  Brownies (even store bought) are hard to resist.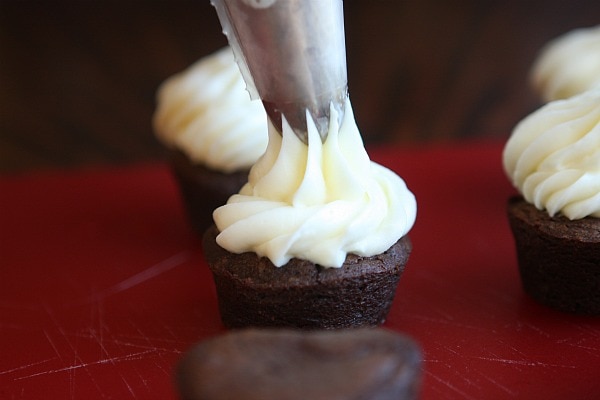 Again, you can use any frosting you want here.  If you have a favorite homemade frosting that turns out more firm than wet, use that one.  Otherwise, just use the easy canned frosting that you find in your market's baking aisle.  Pipe the frosting onto the tops of the brownie bites– or simple spread on a little bit of frosting.  Get as fancy as you'd like.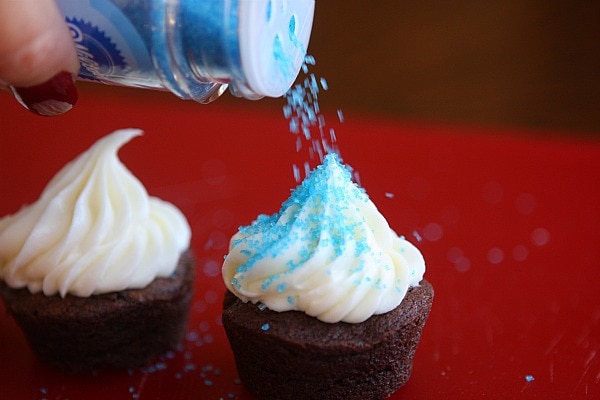 Add blue sprinkles.  These are from Wilton (purchased at Michaels craft store).   Here's the really important part:  refrigerate the frosted brownie bites for at least an hour or so- and until you are ready to serve these.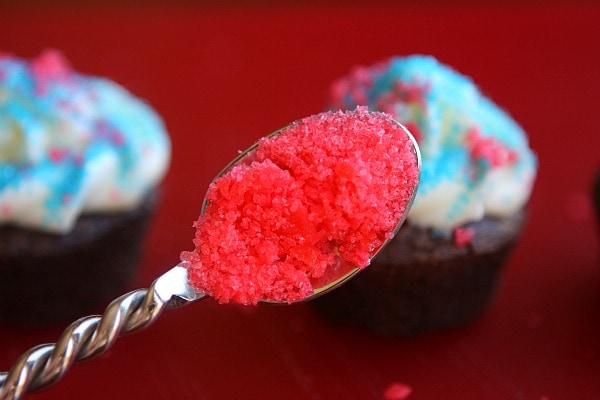 Open up your Pop Rocks package and get out those crumbles!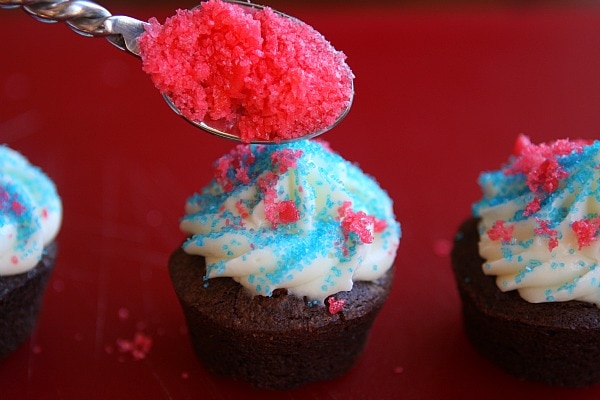 Sprinkle them onto the tops of the frosted brownie bites.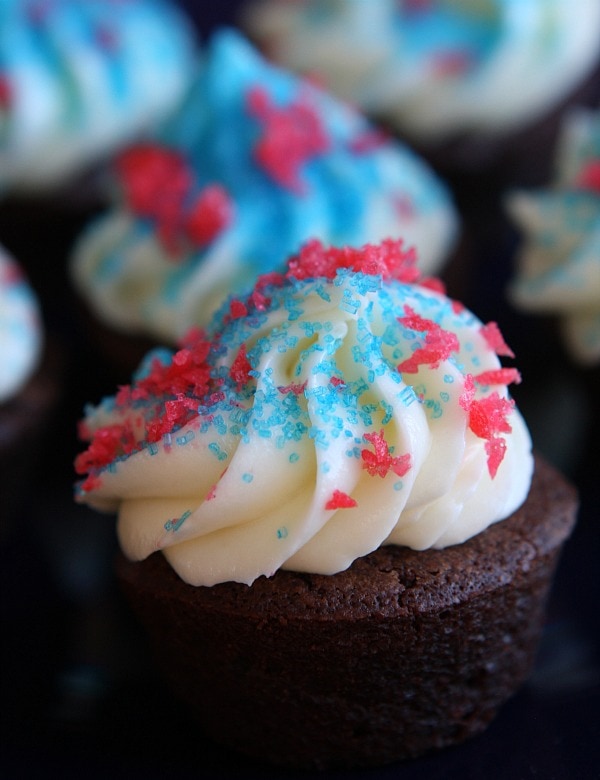 Serve immediately, and let the fun begin.  The Pop Rocks will do a little bit of crackling in your mouth as you eat them.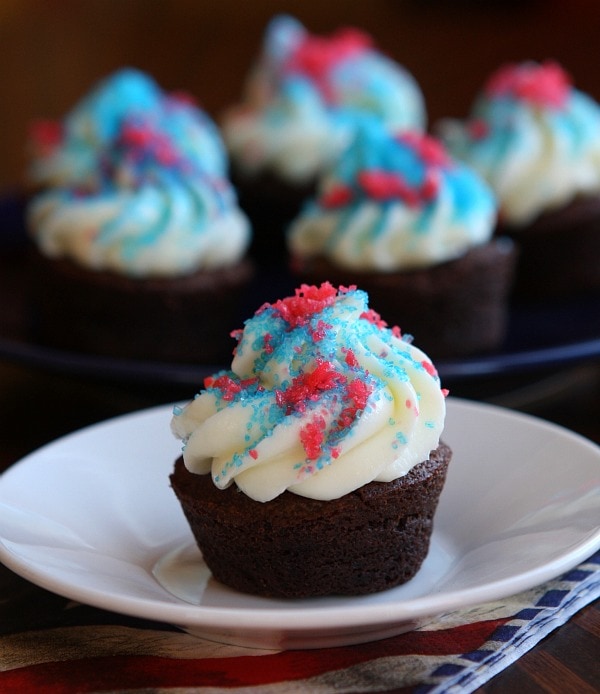 Don't let them sit around all day, and if it's a hot and humid day then you'll need to eat them very quickly.  Pop rocks don't like humidity!  You'll likely hear some crackling while they're sitting on your serving platter, which means they lose a little bit of that explosion factor… but if they're gobbled up fairly quickly then the explosions in your mouth will still happen!
Have a happy, safe, & delicious 4th of July!
Pop Rocks Brownie Bites
A fun recipe for all on the 4th of July, or any patriotic holiday where fireworks are happening...
Yield:
As many as you'd like to make!
Prep Time: 20 min + refrigeration time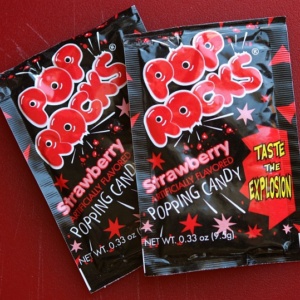 Ingredients:

miniature brownie bites (purchased from the store or homemade- made in a mini muffin pan)
frosting (homemade or purchased from the store)
blue sprinkles
strawberry- flavored Pop Rocks (see *tips below)

Instructions:

1. Frost brownie bites with desired frosting, using a piping bag with a fancy swirl-- or simply spread on a bit of frosting. Sprinkle them with blue sprinkles. Refrigerate them until you are ready to serve (you really want to let that frosting set up and get a little bit of a crust on it so it's not "wet" when you add the Pop Rocks. This is an important step!

2. When ready to serve, open your Pop Rocks and crumble onto the tops of the cupcakes. You might hear a little bit of crackling from the Pop Rocks interacting with the frosting. Serve immediately!