My Mother's side of the family is from Portugual… famous Grandmother poet & all.  I haven't visited this fabulous country yet, but my intention is to go there someday and sample all of the classic Portuguese dishes.  Inspired by David Leite's book, The New Portuguese Table, it was a good excuse to throw together a dinner party.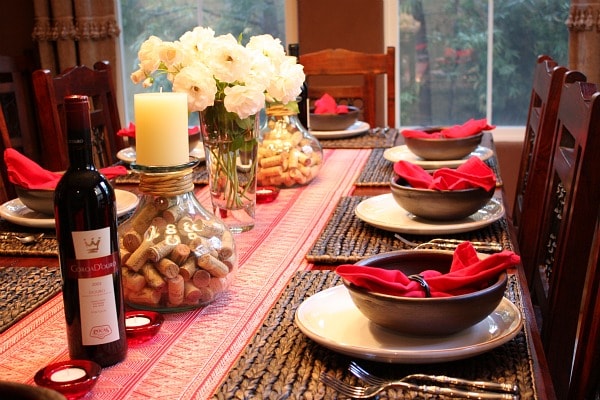 When I think of Portugal, I picture cobblestone streets, rustic buildings with colorful tiles and wine.  With those images in mind, I created my table setting.  I never throw away my wine corks, which came in handy for this party.  I bought a couple of glass vases with wide necks, filled them with corks, wrapped raffia around the neck & topped them each with a candle.  It was simple and cheap.  My Peruvian friend had these gorgeous brown ceramic bowls that she had hauled back with her from South America, and I knew those would be perfect for the main dish.  Red added the bit of color needed to make the party festive and warm.  We went with Spanish wines and classic sangria for drinks.  This is a typical menu of what you might find in Portugal.
You can read more about my Portuguese Dinner Party (and see photos) in this blog post: but for recipes with photos, click on titles below to print. This dinner menu serves 8.
Cocktail:
Classic Sangria
Appetizers:
Green Olive Dip (pate de azeitonas verdes)
Smoked Ham w/ Melon (presunto com melao) wrap chopped cantaloupe w/ prosciutto & skewer w/ a pick
Marcona Almonds (purchase these in a gourmet shop- or Costco carries them too)
Salad:
Portuguese Salad
Main Dish:
Pork Stew w/ Clams & Spicy Red Pepper Sauce w/ Garlic Toast
Roasted Portuguese Potatoes w/ Smoked Sausage & Tomato
Dessert:
Orange Cake (Bolo de Laranja)
Click here for a printable .pdf copy of the Portuguese Dinner Party Menu:
Portuguese_Dinner_Party_Menu