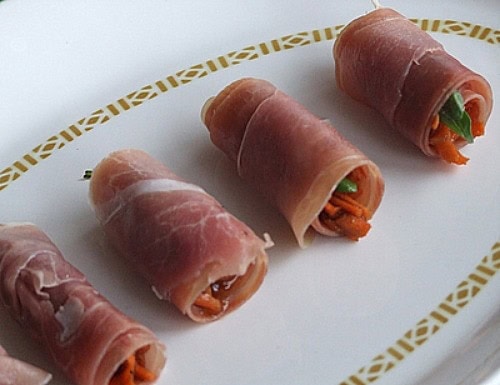 Prosciutto and Carrot Bundles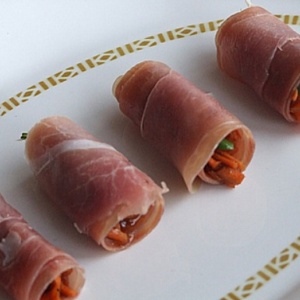 Yield: 4 bundles Servings: 2 (2 bundles per person)
Prep Time: 15 minutes
These are a surprisingly delicious, easy appetizer. They're a nice and light app to have before a heavy pasta meal. Double the recipe and feed them to the kids too!
Ingredients:
2 medium carrots, shredded, about 1/2 cup
1 Tablespoon balsamic vinegar
1 1/2 Tablespoons extra-virgin olive oil
pinch of salt
pinch of freshly ground black pepper
4 slices prosciutto
4 whole fresh basil leaves
Directions:
1. In a medium bowl, toss together the carrots, vinegar, olive oil, salt and pepper.
2. Lay out the 4 slices of prosciutto. Top each with 1/4 of the carrot mixture. Place a basil leaf on top of each and roll the prosciutto up and around the basil and carrots. Secure the bundles with toothpicks and serve.
Recipe Source: Adapted from Everyday Italian