Protein Packed Breakfast Sandwich
Here's a breakfast idea that will keep you feeling full: Protein Packed Breakfast Sandwich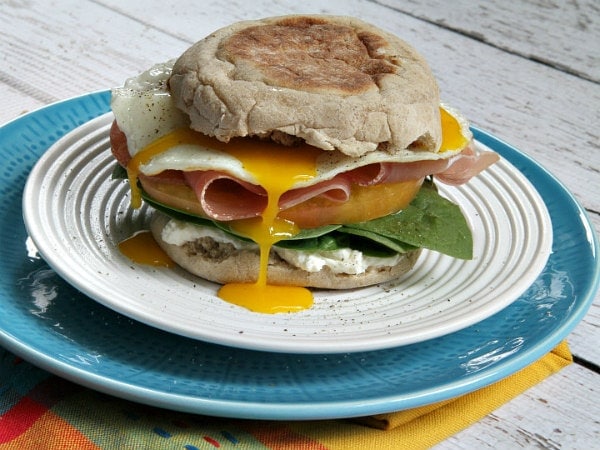 I really wish I had thought to create this sandwich a couple years back when I was training for a half-marathon.  It was crazy back then trying to come up with creative breakfasts that weren't too heavy and had a lot of protein.  I was starving before and after every run.  And I really got tired of eating scrambled eggs.  This breakfast sandwich is perfect for active people.  It's packed with prosciutto, spinach, tomato, cream cheese and a fried egg.  And if you're not active, then it's just a good breakfast sandwich 🙂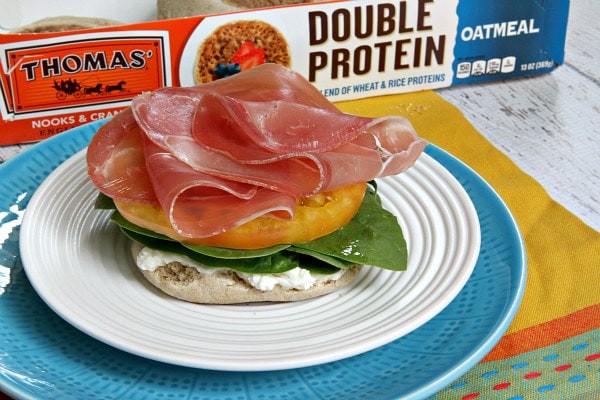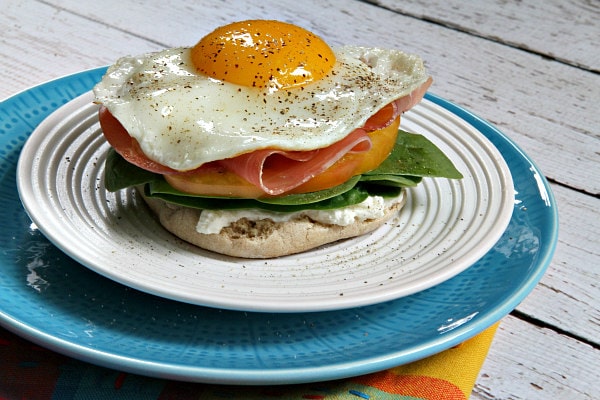 And I was especially psyched to discover Thomas' Double Protein Oatmeal English Muffins to use for my breakfast sandwiches too!  We really enjoyed this variety- there is a slightly sweet and tangy flavor to them that works perfectly with all of these additions!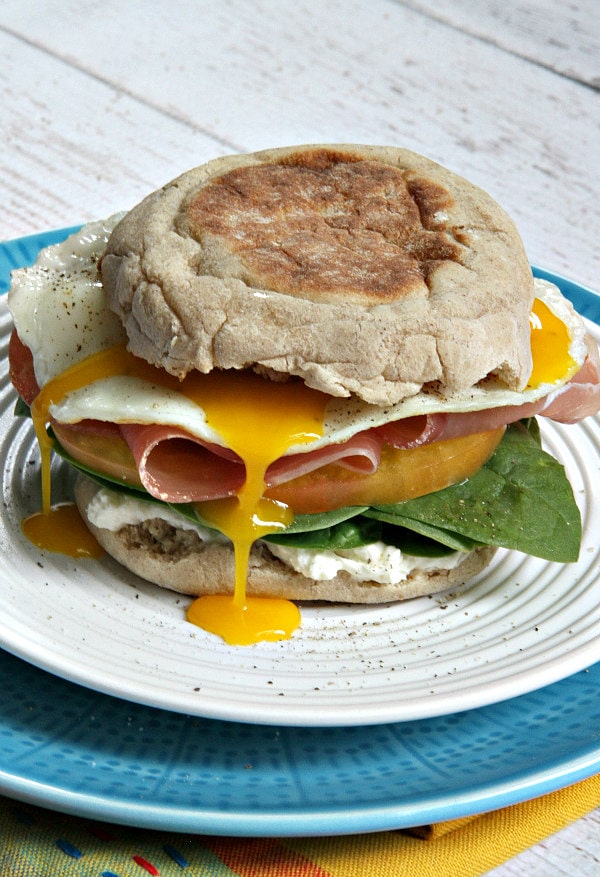 The sandwich begins with whipped cream cheese spread onto a toasted English muffin.  I piled on a stack of fresh spinach leaves next.  Spinach is not necessarily high in protein, but it's packed with vitamins and minerals.   A thick slice of heirloom tomato tops the spinach (tomatoes are a good source of protein!)  Prosciutto, of course, has a good amount of protein too, and I slid a sunny-side-up egg on top!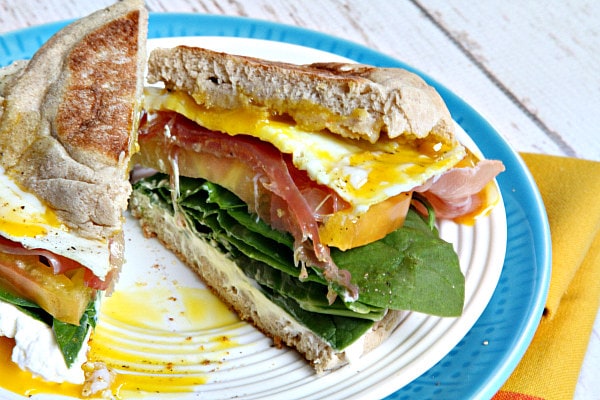 Once you break the yolk, that really gets things going on how delicious this breakfast sandwich is going to taste.  The yolk acts as the "sauce" for the sandwich, and everyone will be fighting for a bite like they did in my house on the day these were made!
Protein Packed Breakfast Sandwich
Yield:
1 sandwich
Prep Time: 15 minutes
Cook Time: 2 minutes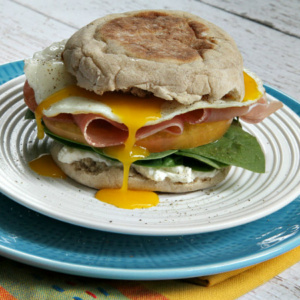 Ingredients:

1 Thomas' Double Protein Oatmeal English Muffin

2 tablespoons whipped cream cheese

several fresh spinach leaves

1 slice from a large tomato

2 slices prosciutto

1 large egg

salt and pepper, as desired

Instructions:

Separate your English Muffin.

 

Toast in the toaster or under the broiler.
Spread one half of the toasted muffin with cream cheese.

 

Top with spinach leaves and tomato.

 

Fold and layer the two prosciutto slices so they fit the size of the muffin.
Fry an egg sunny-side-up until whites are cooked through and yolk is still runny.

 

Slide the fried egg on top of the prosciutto and top with the 2nd half of the muffin.

 

Eat!
SOURCE:  RecipeGirl.com
Here are a few more breakfast sandwich recipes you might enjoy:
Disclosure:  I am working with Thomas' English Muffins and Bagels to create recipes using their products.  I love to work with brands that I use in my kitchen every day, and this is one of them!  Thank you for helping me to support great products.