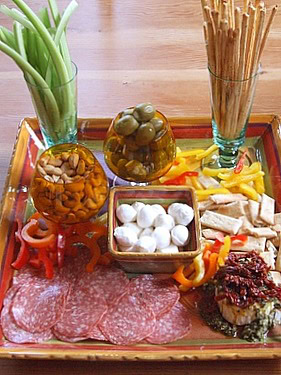 Quick and Easy Antipasto Platter
Servings: 10 to 12 Prep time: 30 minutes
It can be fun to search for different things to put on the platter. Add roasted red peppers, eggplant rolled up with prosciutto, and cherry tomato with goat cheese too. This makes for a very colorful display, and it'll give you a good excuse to find a cute new Tuscan-style platter too!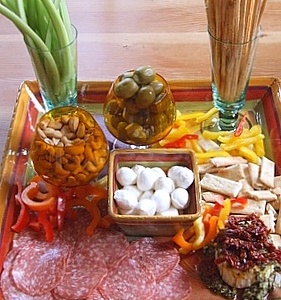 Ingredients:

5 ribs celery, trimmed and cut into thin, long strips
5 carrots, peeled, trimmed and cut into thin, long strips
3 bell peppers- multicolored, seeded and cut into strips
1 container olives
1 container fresh mozzarella
1/2 pound sliced salami or other Italian deli meat
1 round boursin or Allouette Cheese
1/4 cup prepared pesto
1/4 cup sun-dried tomatoes in oil
1 package skinny Italian breadsticks
1 package Italian crackers
nuts (optional)

Instructions:

1. Create a platter with interesting glasses and containers of varying height. Place celery, carrots and breadsticks in the back of your display. Use brandy glasses to house olives and nuts. Place fresh mozzarella in a container smack in the middle.

2. To prepare a quick torta, place the round of cheese on the platter, spread pesto on cheese and top with sun-dried tomatoes.

3. Spread out deli meat, and sprinkle platter with peppers and crackers.

4. It's ready to serve! Be sure to provide toothpicks for easy grazing.

Cooking Tips
*Be creative with your olive choice. For the pictured display, I used fresh olives stuffed with blue cheese (found at Trader Joes).
*Italian crackers and breadsticks are found in specialty shops such as Cost Plus World Market.
*Nuts are considered optional, as they are not typically found on an antipasto platter... but who doesn't like nuts on an appetizer tray?
*For another cute twist, place fresh mozzarella on toothpicks with a pear tomato and a small basil leaf threaded in between.