Red, White and Blueberry Cheesecake Bars
Since some folks have had trouble with this recipe, I took the advice of a reader and made some adjustments to the recipe so you'll be more successful with it.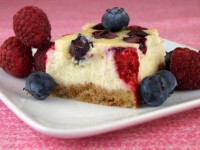 Ingredients:
1 1/2 cups graham cracker crumbs
1/2 stick (4 Tablespoons) butter, melted
1 1/2 packages (12 ounces) reduced-fat cream cheese, at room temperature
3/4 cup granulated sugar
3 large eggs, whisked together
1/4 cup 1% milk
2 Tablespoons cornstarch
2 Tablespoons fresh lemon juice
1 cup fresh raspberries (more or less, as desired)
3/4 cup fresh blueberries (more or less, as desired)
Directions:
1. Preheat oven to 350°F. Line an 8x8-inch pan with aluminum foil. Spray lightly with cooking spray.
2. In a small bowl, mix crumbs and melted butter. Press mixture firmly into the bottom of the prepared pan.
3. In a food processor (highly recommend) combine the cream cheese and sugar (hit pulse a couple times). Add the eggs (hit pulse again a couple times). Place the milk in a small bowl, and slowly whisk in the cornstarch, whisking until smooth. Add the milk/cornstarch and lemon juice to the food processor and hit pulse a few more times until it is blended and creamy. (Using the "pulse" button prevents the mixture from becoming over-beaten.)
4. Spread the cream cheese mixture on top of the crumb crust. Scatter raspberries and blueberries on top.
5. Bake 35 to 40 minutes, or until touch to center feels slightly firm and set.
6. Cool completely before cutting. Use foil to lift cheesecake out of pan and onto a cutting board. Use a thin, sharp knife to cut into clean-looking bars (wiping blade clean with a paper towel between cuts). Refrigerate until ready to serve.
Nutritional Information per serving:
Serving size: 1 square
Calories per serving: 197
Fat per serving: 11.33g
Saturated Fat per serving: 6.44g
Fiber per serving: .91g
Protein per serving: 4.32g
Cholesterol per serving: 66.97mg
Carbohydrates per serving: 19.26g
WW POINTS per serving:
Points Plus Program: 5 Old Points Program: 5