Roasted Butternut Squash Hummus with Toasted Pepitas
This Roasted Butternut Squash Hummus with Toasted Pepitas is the perfect crowd-pleasing fall-inspired appetizer.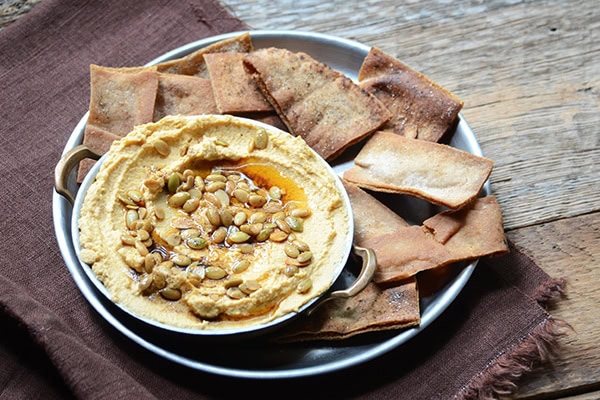 One of my favorite ways to eat seasonally is to take a classic recipe and give it a seasonal spin, like adding cranberries to basic muffins or pumpkin to macaroni and cheese. Butternut squash is one of my favorite autumnal ingredients, but it somehow often gets overlooked in my kitchen. It's definitely a star in this hummus though!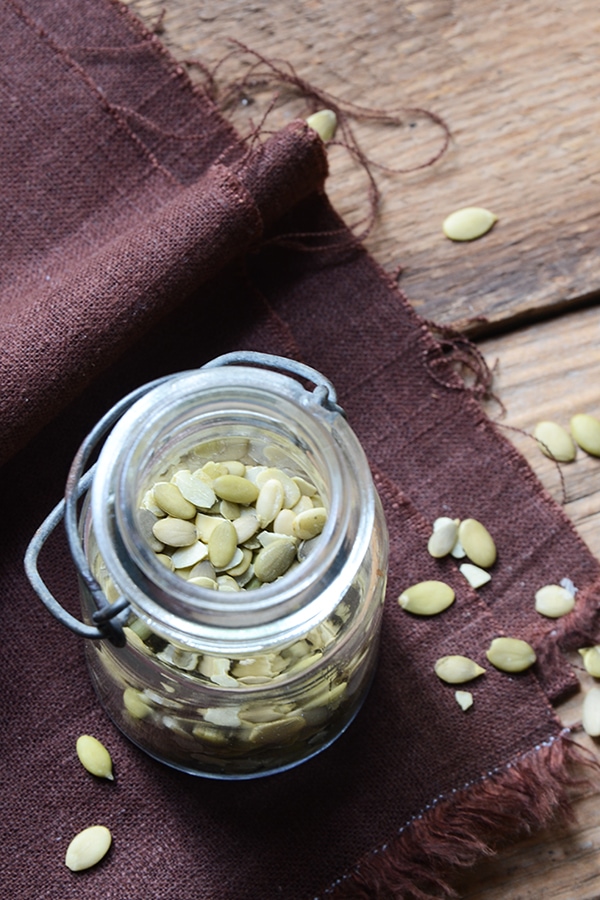 With good TV back in full force in the fall, along with football season and the holidays, it seems like I'm always in need of a good appetizer to whip up this time of year. This hummus recipe is perfect because it's familiar enough to appeal to most people, but just different enough to be interesting.
Here butternut squash is roasted and combined with chickpeas, tahini, fresh lemon juice, and a few spices like smoked sweet paprika and ginger for a really addictive dip. Pumpkin seeds (also called pepitas) are quickly toasted in olive oil on the stovetop and drizzled on top of the hummus to add an addictive crunch factor.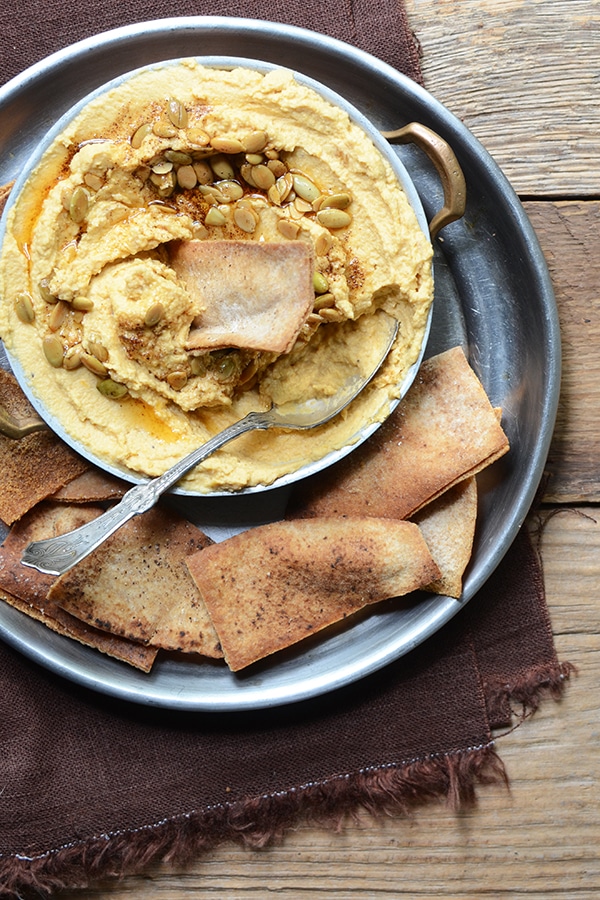 You can serve this hummus with just about anything for dipping: pita bread, toasted pita chips, sliced baguette, crackers, or raw veggies all work well. If there are any leftovers, you can spread this hummus on a turkey or roasted veggie sandwich for a little fall flair.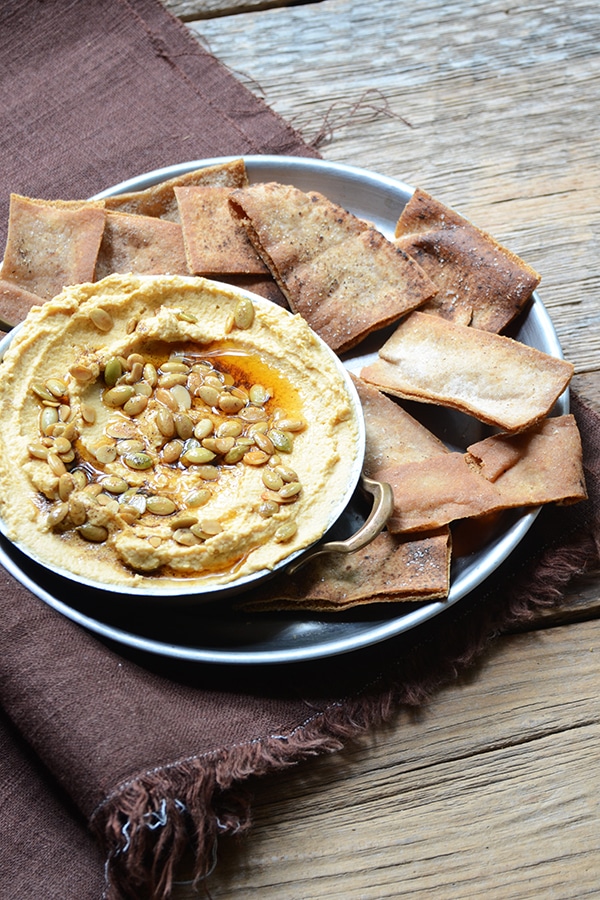 Roasted Butternut Hummus with Toasted Pepitas
Yield:
8 servings
Prep Time: 10 minutes
Cook Time: 20 minutes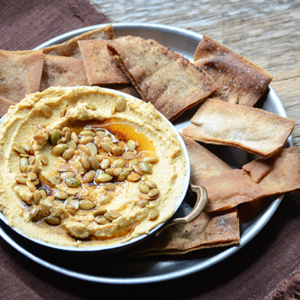 Ingredients:

Roasted Butternut Hummus:

2 cups cubed butternut squash
2 tablespoons olive oil
3/4 teaspoon salt, divided
1/8 teaspoon black pepper
1 (15.5 oz) can chickpeas, rinsed and drained
1/4 cup tahini
3 tablespoons fresh lemon juice
1/2 teaspoon ground cumin
1/2 teaspoon garlic powder
1/4 teaspoon smoked sweet paprika
1/4 teaspoon ground ginger
2 to 4 tablespoons water

Toasted Pepitas:

1 tablespoon light olive oil
1 tablespoon raw pumpkin seeds (pepitas)
1/8 teaspoon smoked sweet paprika

Instructions:

Preheat the oven to 400 degrees F. Toss the squash with the olive oil, 1/4 teaspoon salt, and the black pepper and spread it out on a baking sheet. Roast until golden, about 15 to 20 minutes, tossing once halfway through. Cool.
Add the cooled squash, remaining 1/2 teaspoon salt, chickpeas, tahini, lemon juice, cumin, garlic powder, paprika, and ginger to a blender or food processor and puree until smooth, gradually adding enough water so it reaches your desired consistency.
Heat the olive oil in a small skillet over medium heat. Add the pumpkin seeds and cook until starting to turn golden, but not yet popping, about 2 minutes. Turn off the heat and stir in the paprika.
To serve, spread the hummus out in a shallow bowl. Drizzle the pumpkin seeds and oil on top, and serve with pita bread, toasted pita chips, sliced baguette, crackers, or raw veggies for dipping.

Nutrition:

3 Weight Watchers Freestyle SmartPoints per serving (8 servings).
If you are preparing this recipe as GLUTEN FREE, just be sure to use brands of chickpeas and tahini that are known to be GF.
SOURCE:  RecipeGirl.com
Here are a few more hummus recipes you might enjoy: