Here is my family's new favorite dinner recipe:  Roasted Chicken Southwestern Baked Burritos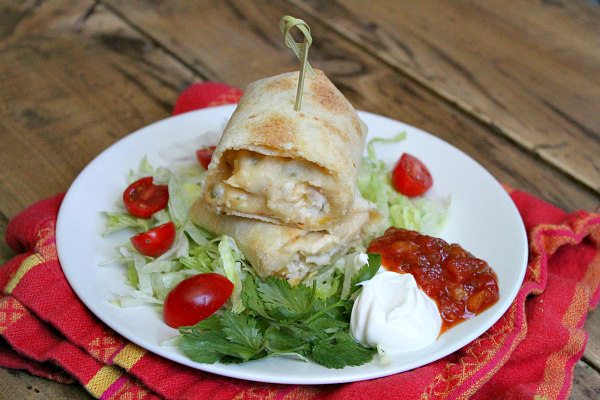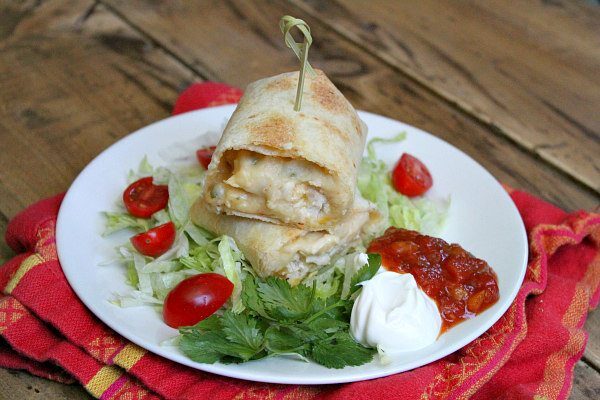 Hey, Happy National Potato Day!  Yes, that's a real thing.  Our country has food holidays happening every single day, and today is the day to celebrate potatoes!  These burritos are made from a base of already-prepared southwestern mashed potatoes.  The mashed potatoes are combined with a few goodies to turn them into perfect little burritos that your family will love!
I've partnered with Bob Evans Foods to create a few recipes showing you what you can do with their line of refrigerated side dishes.  Bob Evans' sides are the #1 selling refrigerated side dishes in the country.  They're great on their own or as the basis for quick, easy and delicious recipes.  With Bob Evans, you can have convenience without sacrifice.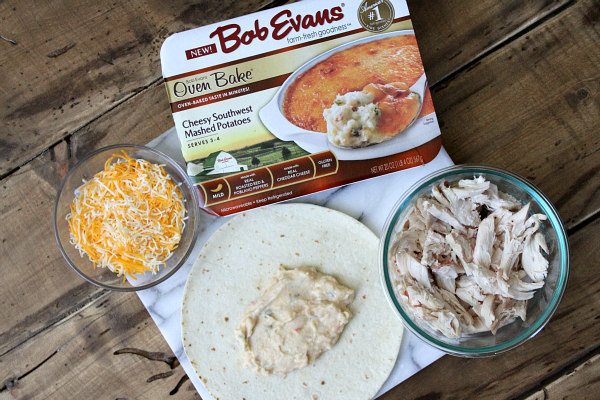 Bob Evans' line of mashed potato refrigerated sides are what I'm working with today.  I used their Cheesy Southwest Mashed Potatoes for this recipe.  They're made with real potatoes, real milk and real butter.  I love these because they are great for when you want to pick up a quick side to go with your main dish, and the Southwest have a great flavor that can complement a lot of different meat choices from pork to chicken.  All I have to do is grab some from the store, and throw them in my fridge for those busy days.  Plus, they are a perfect ingredient for quick weeknight dinners like these burritos.  We always have a few packages on hand.
Of all the Bob Evans' side dishes, this variety of mashed potatoes is my absolute favorite!!!  We eat these all the time at my house as a side dish, but today I'm showing you how to use these delicious mashed potatoes as the main flavor ingredient in burritos!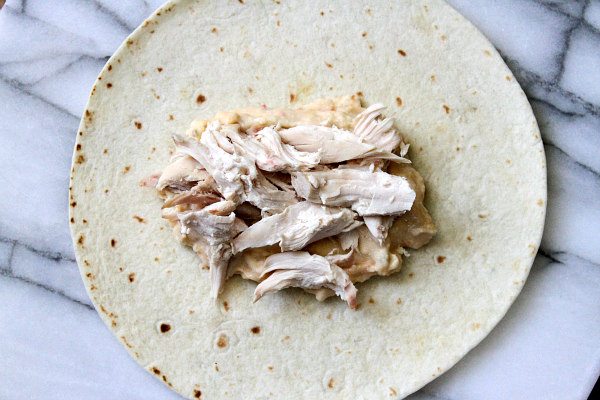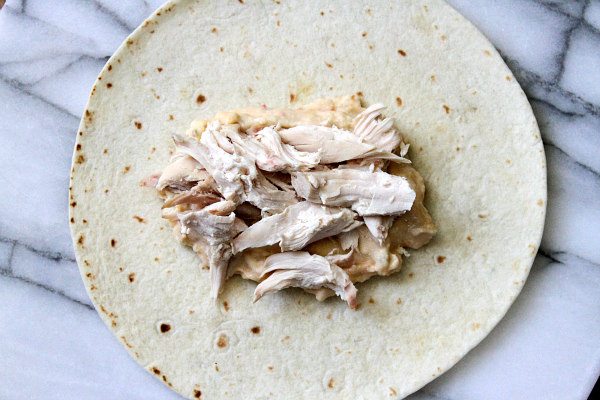 For this recipe, you'll want to pick up a roasted chicken from the store.  The chicken is nice and tender, and it's just easy to utilize for this recipe.  To prepare the burritos, you'll put a spoonful of the mashed potatoes on a tortilla, and then top with some of the roasted chicken.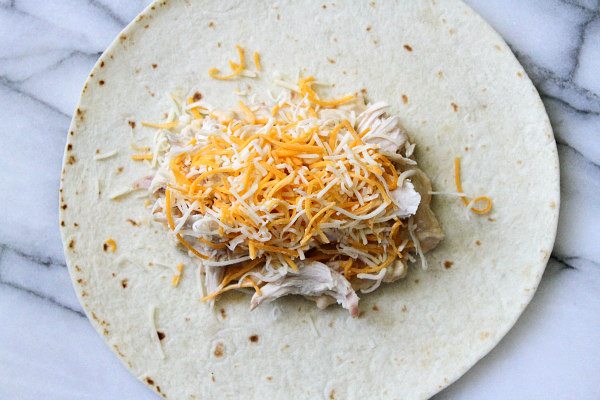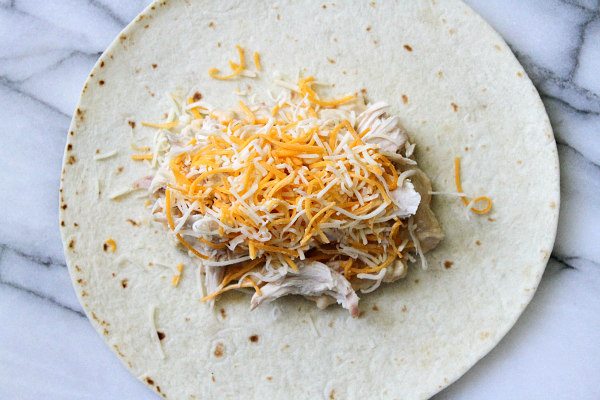 A sprinkle of cheese finishes it off.  That's it!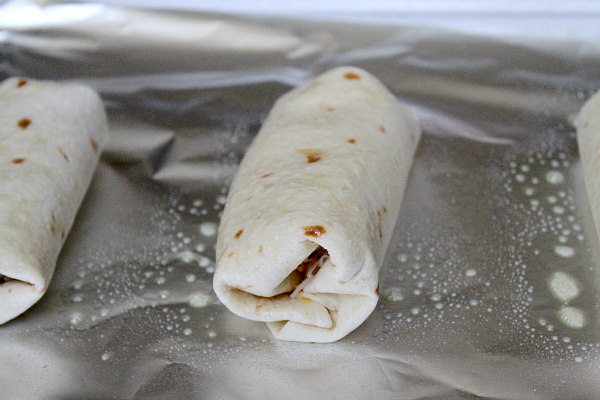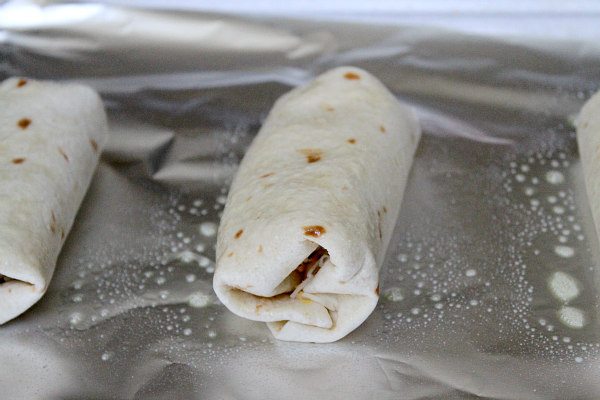 Each burrito is wrapped burrito- style >> folded in on each side and wrapped tightly.  They are placed seam-side-down on a foiled-lined baking sheet and sprayed with a little bit of nonstick spray.  10 minutes of baking, and these burritos are done!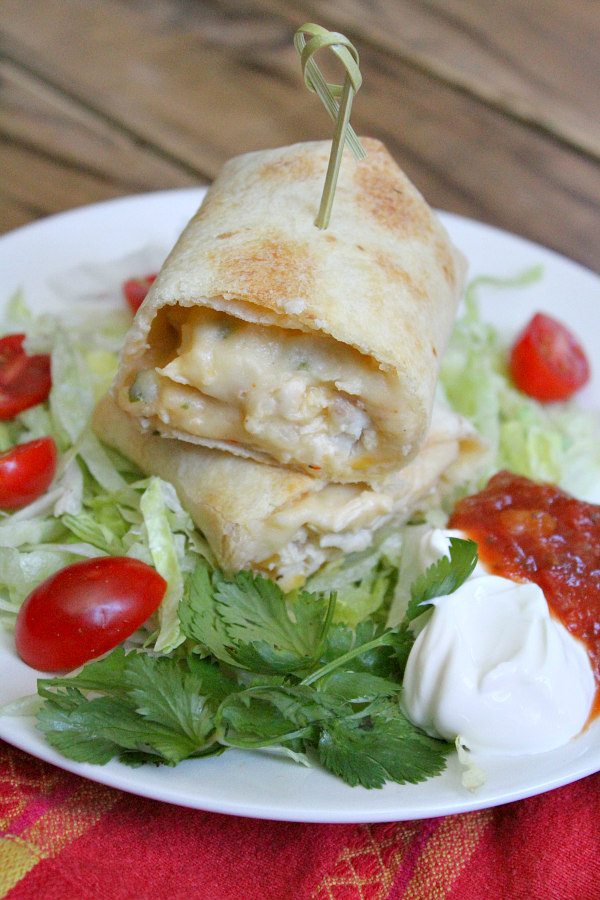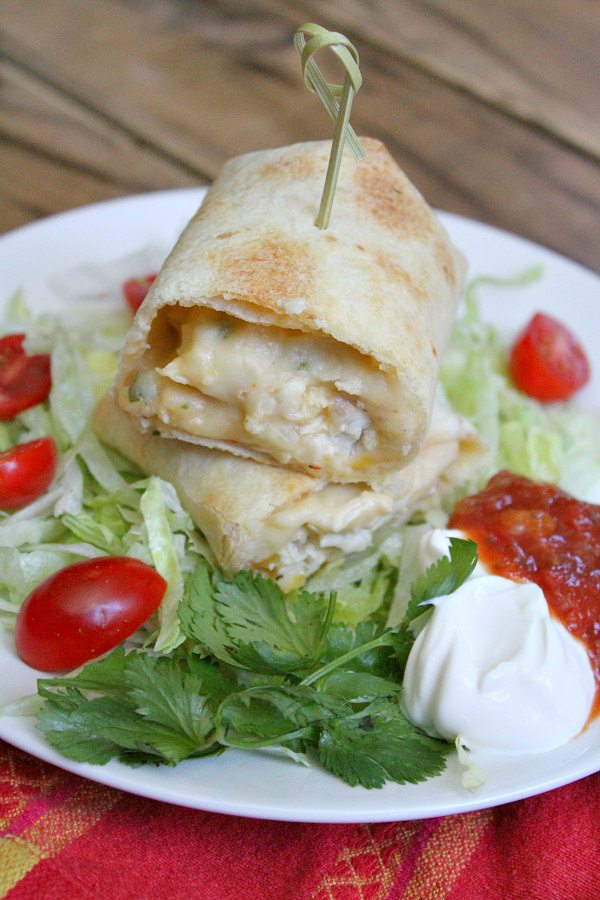 Serve with desired garnishes.  A peek at the inside shows you the creamy potato filling that makes these burritos so good!
Isn't it fun to see what you can create with mashed potatoes?  For more recipes using Bob Evans' products, visit https://www.bobevansgrocery.com/farm-fresh-ideas.
Roasted Chicken Southwestern Baked Burritos
Yield:
6 burritos
Prep Time: 25 minutes
Cook Time: 10 minutes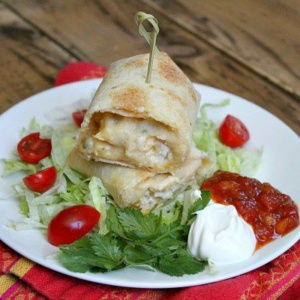 Ingredients:

6 medium-sized flour tortillas
One 20-ounce container Bob Evans Cheesy Southwest

Mashed

Potatoes

About 2 cups shredded roasted chicken
About 3/4 cup shredded cheddar-Jack cheese
nonstick spray

Instructions:

Preheat the oven to 400 degrees F.  Line a large baking sheet with foil or parchment paper.
Lay out the 6 tortillas on a flat surface.
Divide the

mashed

potatoes

evenly between the 6 tortillas.  Spread the tortillas with the

potatoes

- just in the center of each tortillas.  Add about 1/3 cup of chicken on top of each tortilla, then sprinkle with cheese.
Fold up the sides of each tortilla and roll over to tightly enclose each one into a burrito shape.  Place each burrito seam-side-down on the prepared baking sheet.  Spray the burritos lightly with nonstick spray and bake for 10 minutes.
Serve with desired toppings- sour cream, salsa and guacamole are recommended.
SOURCE:  RecipeGirl.com
Here are a few more burrito recipes you might enjoy:
Disclosure:  This recipe was made in partnership with Bob Evans Foods.  This is a product that I know and use in my kitchen.  All opinions shared are my own.