This dinner is gluten-free adaptable– please see tips below the recipe…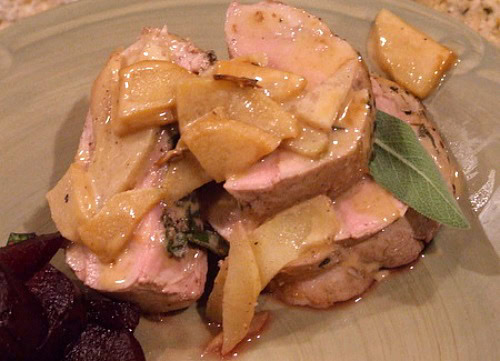 Roasted Double Pork Tenderloin w/ Fresh Sage Rub & Apple Pan Sauce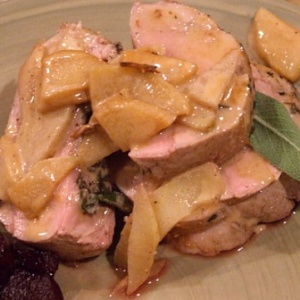 Yield:
4 to 6 servings
Prep Time:40 min
Cook Time:30 min
Ingredients:
2 Tablespoons unsalted butter
1 large Granny Smith or Pippin apple, peeled, cored and cut into thin slices
pinch of cinnamon
1 Tablespoon chopped fresh sage, divided
2 pork tenderloins (2 to 3 pounds)
1 teaspoon kosher salt
1/2 teaspoon freshly ground black pepper
1 Tablespoon olive oil
2 Tablespoons chopped shallots
1/4 cup white wine
1/2 cup chicken stock or low-sodium canned chicken broth
1/2 cup apple cider
1/4 cup heavy whipping cream
salt and freshly ground black pepper, to taste
Directions:
1. Preheat oven to 450°F.
2. Heat a large skillet over medium-high heat with the butter. Add apple slices, cinnamon, and 1/2 teaspoon sage and fry and stir for 3 to 5 minutes or until the apples are softened, but still firm. Set aside.
3. Lay the tenderloins parallel to each other so the thin end of one is next to the thick end of the other. That way, when you tie the two pieces together, you will end up with a roast of equal thickness. Using the heel of your hand, gently press the tenderloins to flatten them a bit. Combine the remaining sage, salt and pepper and sprinkle some of it over the up side of each tenderloin, then place two layers of apples to cover one of the tenderloins. Place the other tenderloin on top, so that the apples are sandwiched the two roasts then tie with butcher's twine (or string) at 2-inch intervals. Sprinkle the rest of the sage seasoning mix all over the tied roast.
4. Heat oil over medium-high heat in a large oven-proof skillet. Add the tied tenderloin roast and brown on all sides, about 5 minutes total. Insert pan into the oven and roast for 15 minutes or until it reaches an internal temperature of 140°F. Transfer roast to a heated platter and cover loosely with foil while you make the apple pan sauce.
5. Place the roasting pan over a medium burner and add the shallots. Fry for 1 minute, then add wine, chicken stock, and cider. Stir, scraping up any browned bits from bottom of the pan. Add reserved apple slices and any juices to the pan. Bring to a boil, and cook until the sauce just begins to thicken and become syrupy. Pour in the cream and cook a few minutes more until the sauce just thickens. Season to taste with salt and pepper.
6. Remove the twine from the roast and slice into 1-inch thick slices. Spoon sauce and apples over the slices and serve.
Tips:
*Since most pork tenderloins are sold 2 per package, look for a package that is 2 to 3 pounds (to feed 4 people).
*If preparing this recipe as gluten-free, just be sure to use chicken broth and apple cider that is free of gluten.