Romaine and Broccoli Salad with Creamy Roasted Garlic Dressing
The dressing is what makes this salad so good > Romaine and Broccoli Salad with Creamy Roasted Garlic Dressing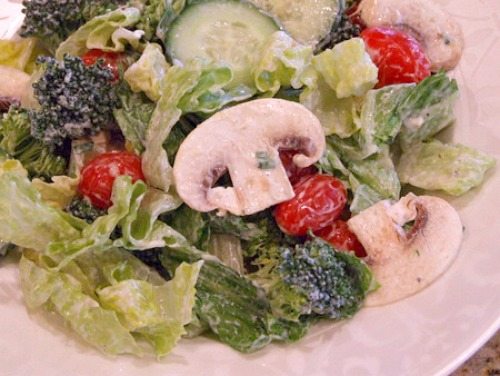 Yield: 10 servings
Prep Time: 25 min
Cook Time: 1 hour 30 min
Romaine and Broccoli Salad with Creamy Roasted Garlic Dressing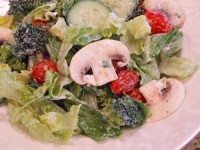 Ingredients:
DRESSING:
2 whole heads of garlic, unpeeled
olive oil
1 cup mayonnaise
1/2 cup buttermilk
2 1/2 tablespoons minced fresh chives
1 tablespoon freshly squeezed lemon juice
1 1/4 teaspoons celery salt
1/4 teaspoon freshly ground black pepper
VEGETABLES:
One 18-ounce package hearts of romaine (about 3) coarsely torn
One pint grape tomatoes
1 1/2 cups small broccoli florets
1 small English hothouse cucumber, thinly sliced
8 ounce package of thinly sliced mushrooms
1 small red onion, sliced paper thin
Directions:
1. Roast the garlic: Preheat oven to 325°F. Slice top 1/2 inch from each head of garlic. Place each, cut side up, on large square of foil. Sprinkle with salt and pepper; drizzle with oil. Enclose each in foil. Roast packets directly on oven rack until garlic is tender, about 1 hour 10 minutes. Carefully open foil; cool.
2. Prepare the dressing: Squeeze roasted garlic into a medium bowl; mash. Whisk in remaining dressing ingredients.
3. Put together salad: Combine vegetables in a large bowl. Add dressing, a little at a time (you may not wish to use it all); toss. Season with more salt and pepper, as desired.
Tips:
*If you are preparing this recipe as GLUTEN-FREE, just be sure to use a brand of mayonnaise that is known to be GF.
*The dressing may be made up to one day ahead- cover and chill.
*Use low fat mayo and buttermilk to cut back on some of the calories.
*Cut this recipe in half if you don't have to feed 10 people.
SOURCE: RecipeGirl.com (adapted barely from Bon Appetit)