This Salmon Wellington Recipe is simple enough to make for a weeknight dinner, and it's elegant enough to make for guests too.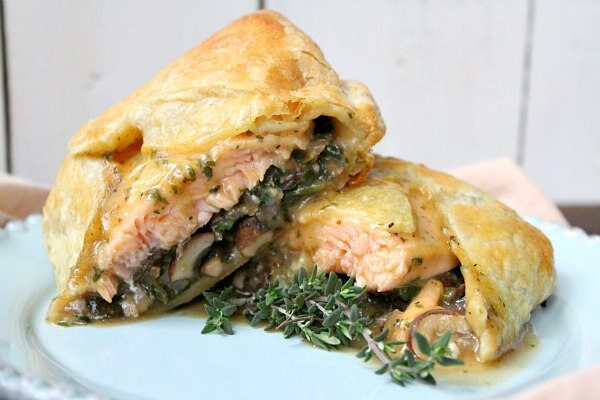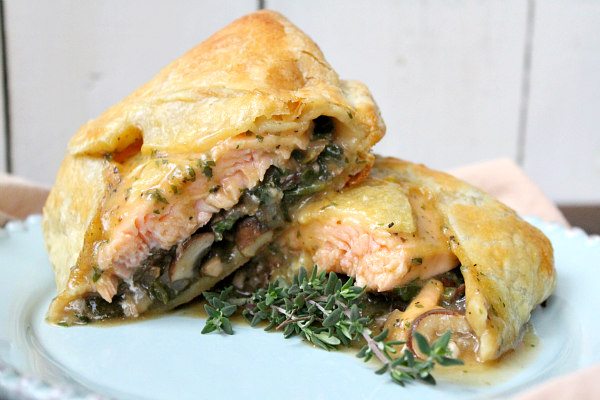 Salmon Wellington Recipe
When I worked for a catering company in my college days, one of our signature dishes to make for dinner parties was a Salmon Wellington Recipe.  I've had that recipe swimming around in my head for years now., so it's high time I share it with you!
Another note of importance is that a lot of people practice Lent this time of year and are looking for fish recipes for Fish Fridays.  This is a great Fish Friday recipe!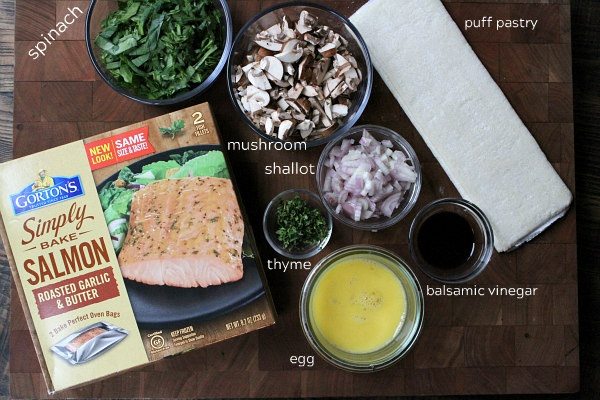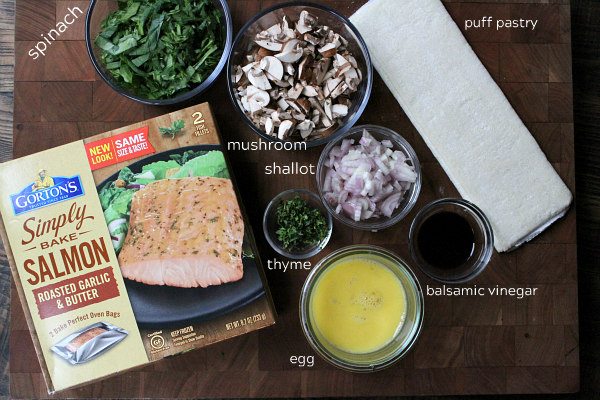 What You'll Need to Make Salmon Wellington
The recipe begins with Simply Bake Salmon by Gorton's– a company that has been selling quality frozen seafood for 167 years- which is perfect for making easy dinner recipes.  There are two frozen salmon filets in each box, and they're already perfectly seasoned with roasted garlic and butter.  Besides the salmon, grab a sheet of puff pastry, chopped spinach, chopped mushroom, chopped shallot, fresh thyme, balsamic vinegar and egg.  This is what you'll need to make Salmon Wellington.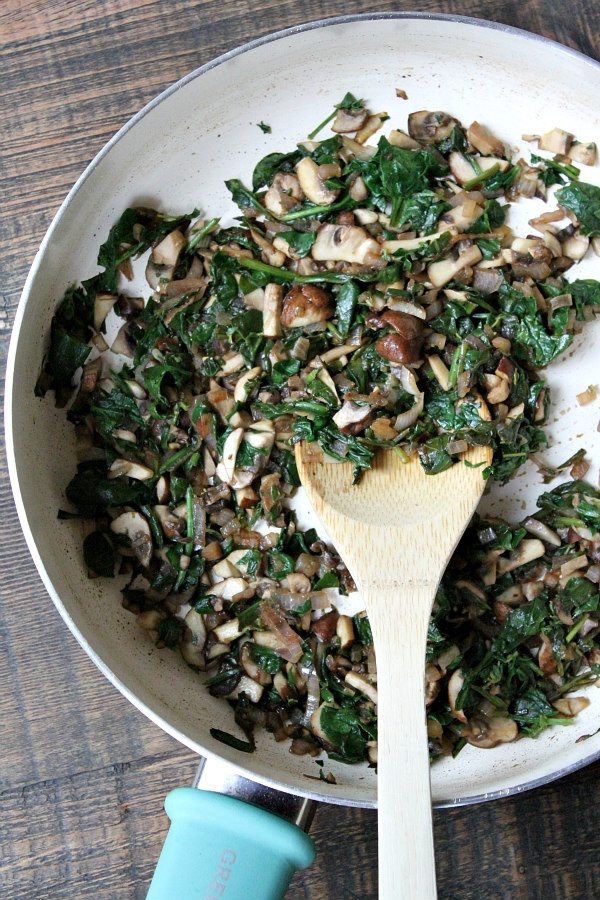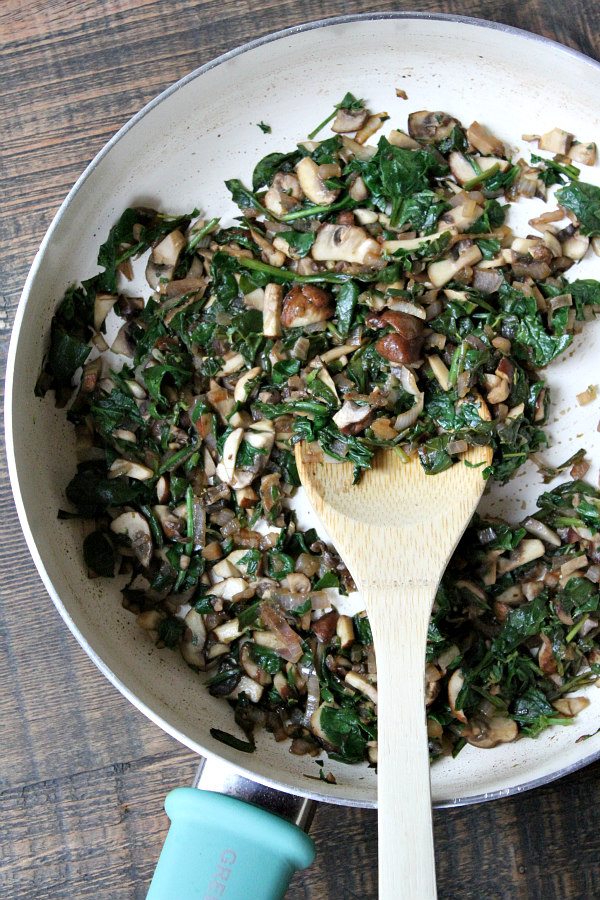 How to Make Salmon Wellington
The photos that follow show you how to make Salmon Wellington.  It's so easy!  The topping for the salmon is made up of sauteed spinach, mushroom and shallots.  Thyme and balsamic vinegar are stirred in toward the end of sauteing.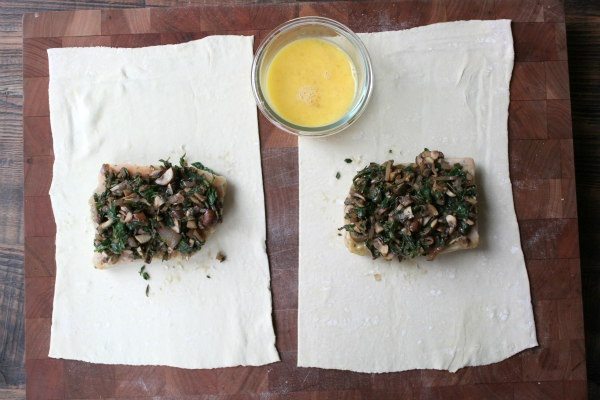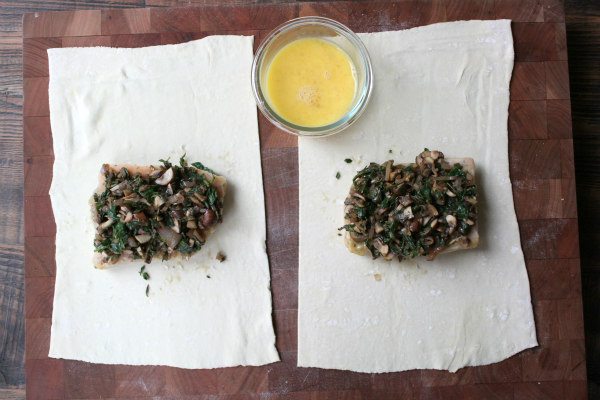 The puff pastry sheet is rolled out to make it larger and thinner.  Then it's cut in half.  The frozen salmon is placed on the puff pastry and topped with the sauteed veggies.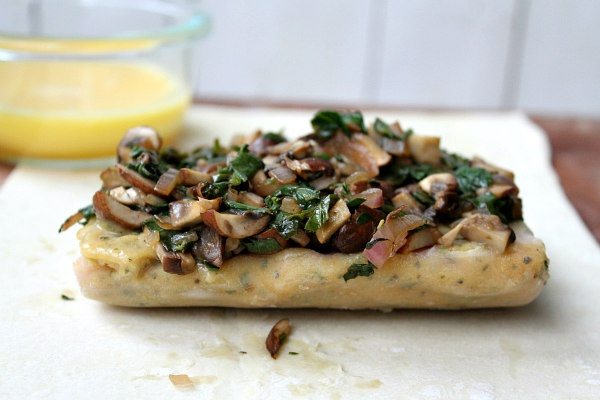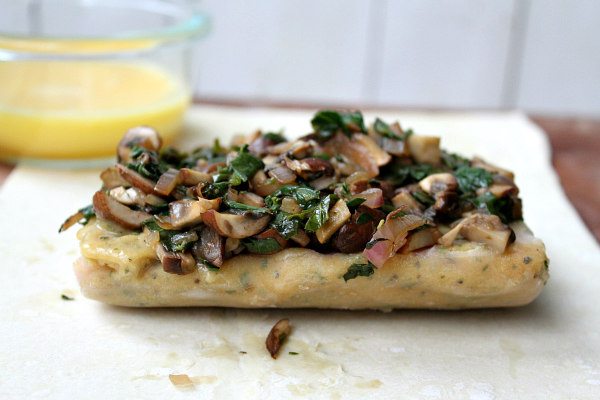 The salmon is placed on the puff pastry sheet butter-side-down.  This is because you're going to flip this over to bake, and you want all of that butter and garlic that tops the frozen salmon to melt down and keep the salmon nice and tender.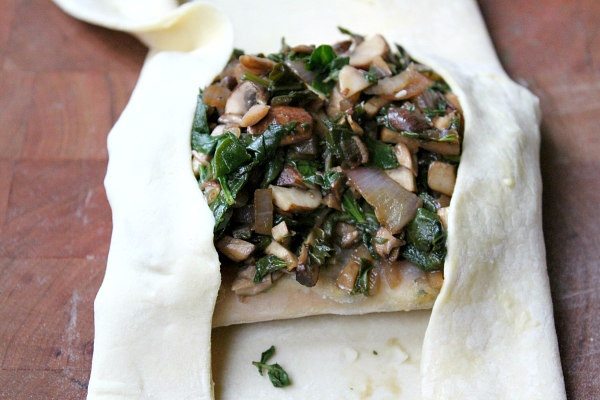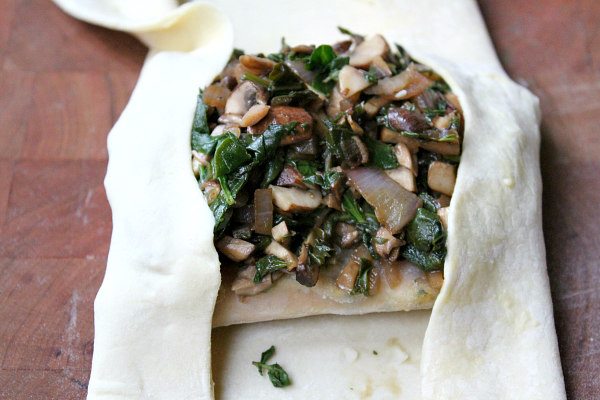 You'll use the egg wash like it's glue.  Rub the edges of the puff pastry with the egg wash and fold them into the middle.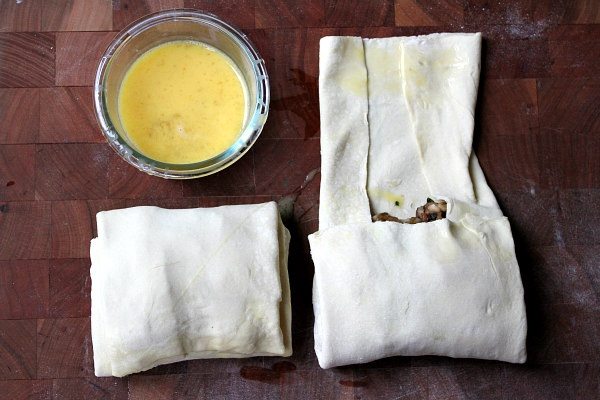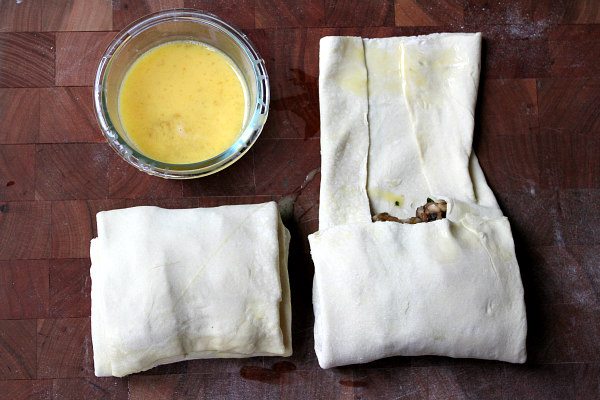 Use more egg wash to seal it over the top and then seal the other side back over the top too.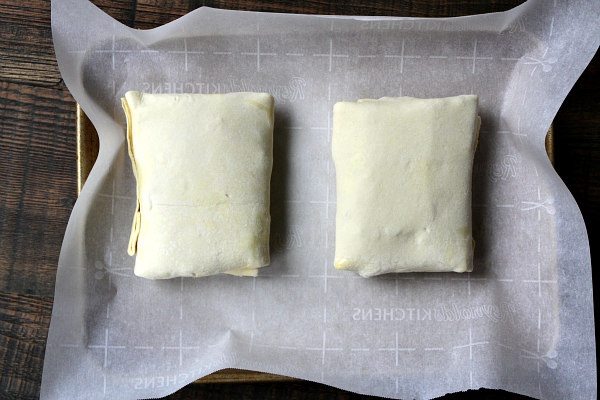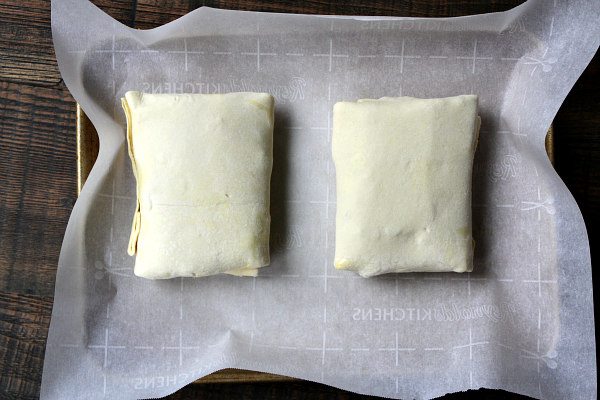 Then you'll flip them over and place them on a parchment-lined baking sheet.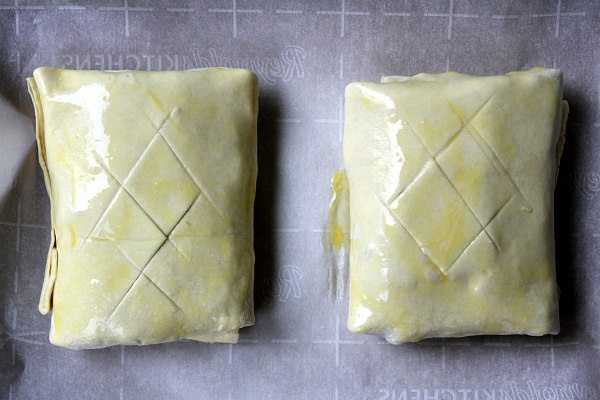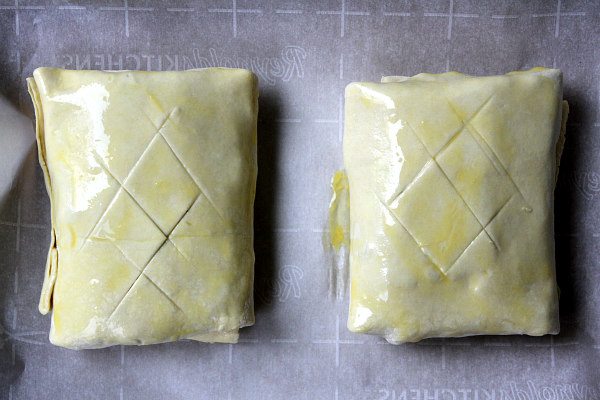 Brush with egg wash and score the tops lightly with a sharp knife.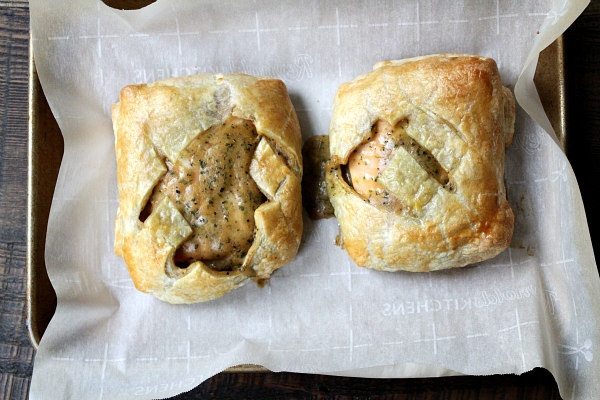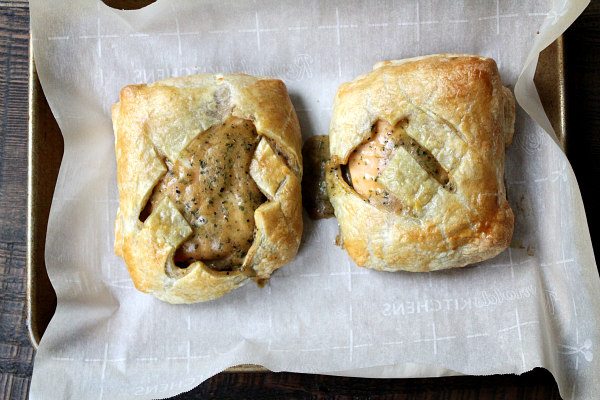 30 minutes at 400 degrees, and they're all done and ready to eat.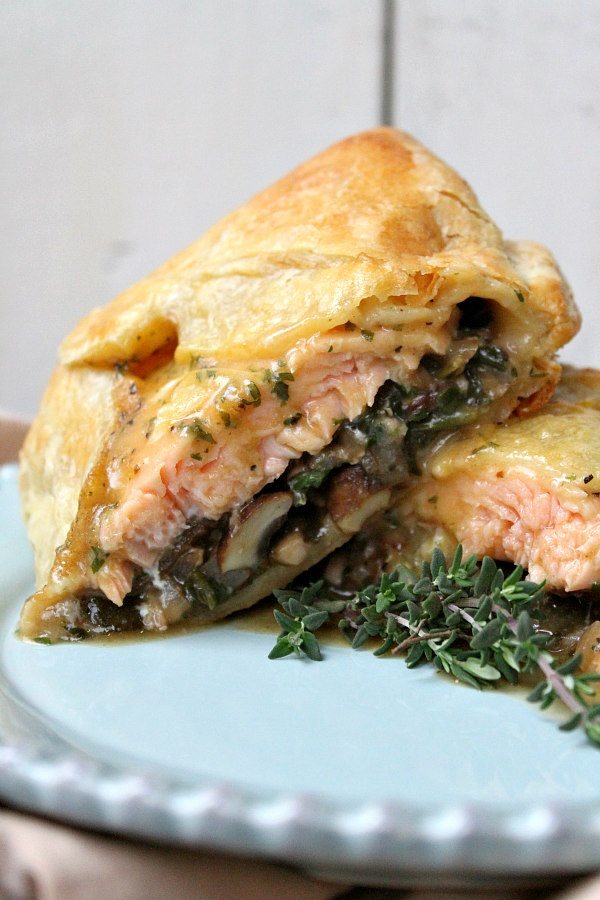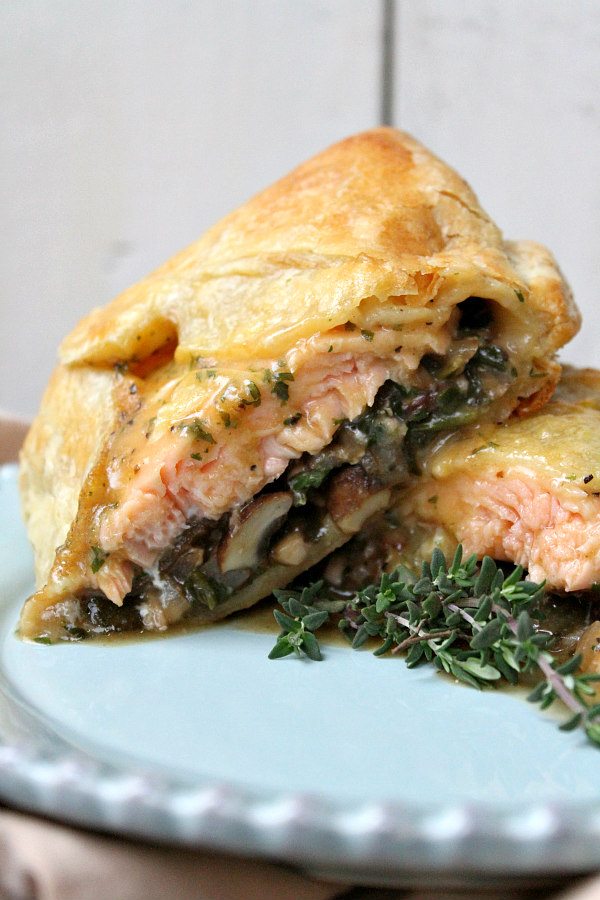 Here's a peek at what they look like inside.  You can see that the salmon turns out so very tender.  The butter and garlic sauce adds some nice flavor to the sauteed vegetables.  It all works out to be a nice combination.  Try this Salmon Wellington Recipe, and let me know what you think!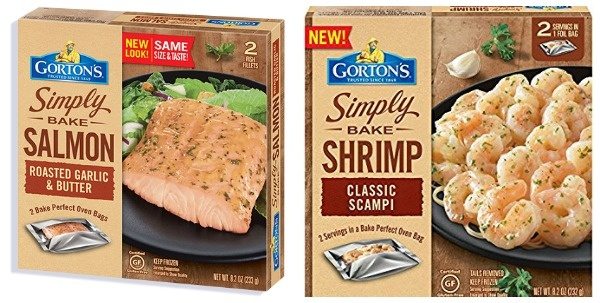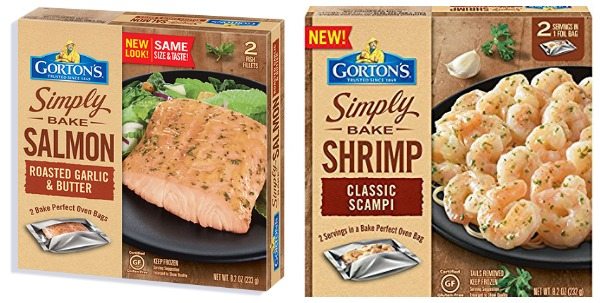 I'm pleased with the Gorton's Simply Bake products that I've tried.  The salmon worked great in this recipe. I also made the shrimp scampi for a quick dinner for my son this week- serving it over rice.  He thought it was "yummy," and he enjoyed the sauce that he got to drizzle over the rice too.  It's nice to have products like this on hand for easy weeknight dinners once in a while.  It turns out that you actually can "trust the Gorton's fisherman" (as their long-running slogan emphatically suggests)!
Visit Gorton's online to see their whole line of products you can find in your frozen food section. They have quite a variety of options to choose from for meals and appetizers.
Also, I wanted to let you know about a sweepstakes that is happening on the Gorton's Instagram page from 3/5/ to 3/14. Gorton's is giving its Instagram audience the chance to win a Magic Bullet, Ninja, Fitbit Ionic among other prizes (including $$). To enter, simply follow Gorton's on Instagram (@gortonsseafood) and check their story each day.
Salmon Wellington
Yield:
2 servings
Prep Time: 25 minutes
Cook Time: 30 minutes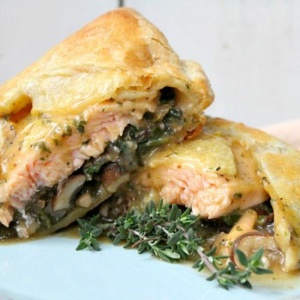 Ingredients:

1 tablespoon extra-virgin olive oil
1 large shallot, chopped finely
10 medium mushrooms, cleaned & trimmed and chopped
2 handfuls of fresh spinach, chopped finely
1 tablespoon balsamic vinegar
1 tablespoon chopped fresh thyme
salt and pepper
1 sheet frozen puff pastry, thawed
1 box Gorton's Simply Bake Salmon (Roasted Garlic & Butter)
1 large egg whisked with 1 teaspoon water

Instructions:

Preheat the oven to 400 degrees F.  Line a small baking sheet with parchment paper.  If you don't have parchment, be sure to spray your baking sheet with nonstick spray or use a nonstick pan.
Heat the oil in a medium skillet.  Add shallots and saute until softened.  Add mushrooms and cook a few more minutes until those are softened too.  Stir in spinach until wilted.  Add balsamic vinegar, thyme and a little bit of salt and pepper.  Stir to combine.  Remove from heat and let cool.
Roll out the puff pastry on a cutting board until it is larger and thinned out- about 12x15 inches.  Cut the puff pastry exactly in half.
Remove the frozen salmon from the foil packaging and place each salmon filet butter-side down in the middle of the puff pastry.  Spoon the cooled veggies on top of the salmon filets.
Brush the edges of the puff pastry with the egg wash and fold over just like you're wrapping a gift.  Keep using the egg wash to brush so that it acts like glue and holds it all together.
Flip each puff pastry packet over onto the prepared baking sheet (salmon will be on top when you flip them over).  Brush each packet with egg wash and score gently with a sharp knife.
Bake 30 to 35 minutes, or until the pastry turns golden brown.  Let cool a few minutes on the baking sheet before serving.
SOURCE:  RecipeGirl.com
Disclosure:  This post was written in partnership with Gorton's Seafood to showcase their Simply Bake line of frozen seafood.  I only work with companies that I know and trust and already use in my day-to-day life.  Thank you for supporting the companies I work with!