This is an easy chicken dish that the whole family will enjoy: Sauteed Chicken Breasts with Mushroom- Madeira Sauce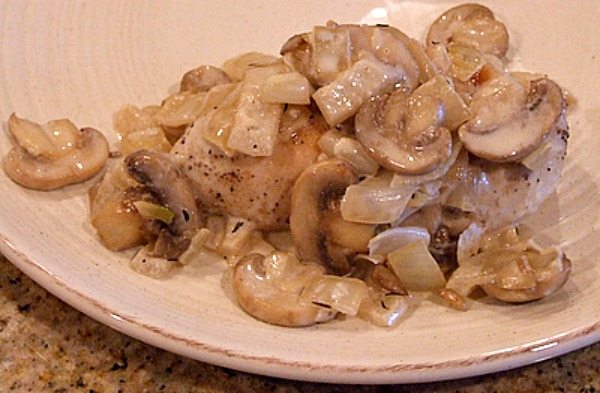 Sauteed Chicken Breasts with Mushroom- Madeira Sauce
Yield:
4 servings
Prep Time: 20 min
Cook Time: 20 min
Ingredients:

4 boneless skinless chicken breast halves
salt and freshly ground black pepper
1 tablespoon canola or vegetable oil
1 tablespoon unsalted butter
1 medium onion, finely chopped
8 ounces fresh mushrooms, sliced
1/8 teaspoon dried thyme
1/4 cup Madeira wine
1/4 cup heavy whipping cream
1/4 teaspoon salt
1/4 teaspoon freshly ground black pepper

Instructions:

1. Pat chicken breasts dry, sprinkle with salt and pepper, and cook in oil over medium-high heat until firm to the touch, 4 to 5 minutes per side. Remove chicken and keep warm.

2. In the same pan, combine butter, onion, mushrooms, and thyme and cook over medium heat, stirring occasionally, 5 minutes. Add Madeira and cook until almost all liquid is absorbed, 2 minutes. Stir in cream, salt and pepper and continue cooking until sauce is slightly thickened, 3 to 5 minutes. Spoon sauce over chicken.