5 ingredients & 15 minutes! That's all you'll need for this dinner: Sauteed Chicken with Dill Orzo & Tomatoes. This Greek-Style dinner is light and fresh and uses just a handful of ingredients. Tomatoes and fresh dill are combined with tender orzo pasta to provide a base for sautéed chicken. Squeeze a lemon wedge on top to bring all of the flavors together.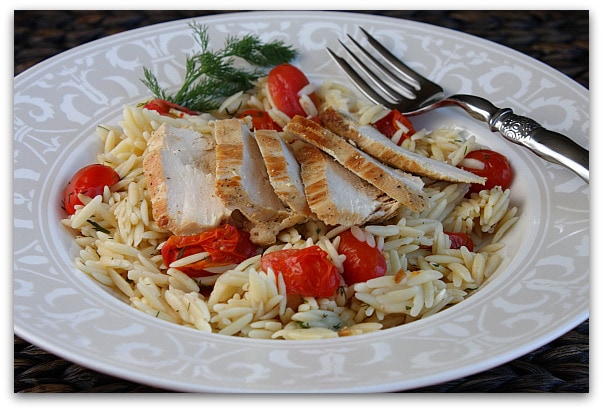 Sauteed Chicken w/ Dill Orzo & Tomatoes
A 5-ingredient, 15 minute dinner!
Yield:
4 servings
Prep Time: 15 min
Cook Time: 15 min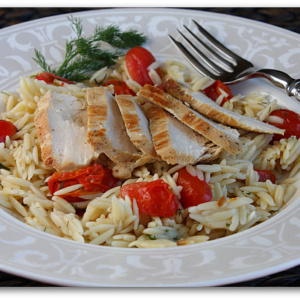 Ingredients:

1 pound seasoned/marinated chicken breasts (lemon, garlic, or herb), pounded thin
1 1/2 cups dry orzo pasta
2 Tablespoons chopped fresh dill
1 1/2 cups sliced pear tomatoes
1 lemon, cut into wedges
olive oil, salt & pepper

Instructions:

1. Fill medium saucepan with about 2 quarts of water. Cover & bring to a rolling boil.

2. In a large skillet, swirl in about 1 Tbsp. olive oil; heat to medium-high. Place chicken breasts in the pan and cover with a lid. Saute 4 to 5 minutes on each side, just until cooked through.

3. While chicken is cooking, boil the orzo for 10 to 12 minutes, or until tender. Drain. Pour orzo back into the saucepan. Add a swirl of olive oil, fresh dill and tomatoes. Stir to combine.

4. Divide orzo- tomato mixture between 4 bowls. Add salt and pepper, to taste. Slice chicken breasts and place them on top of the orzo. Serve with lemon wedges.

Tips:

*You should be able to find seasoned/marinated chicken breasts in your market's poultry section. If you just have regular chicken, pound it out thinly and toss it into a zip baggie with some fresh lemon juice, olive oil, dill, salt and pepper. Let it sit at room temperature to quick-marinate for about 15 minutes (or do this the night before & let it marinate overnight).
*Other good additions for this dish: peas, chopped zucchini, broccoli. You can throw these into the boiling orzo for a couple of minutes at the end of cooking. Sprinkle feta cheese on top too!