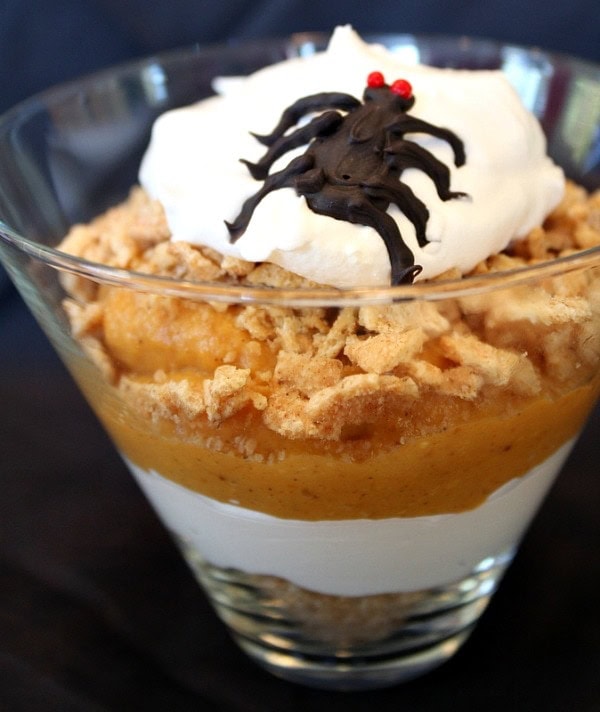 Scary Spider "No- Bake" Pumpkin Parfaits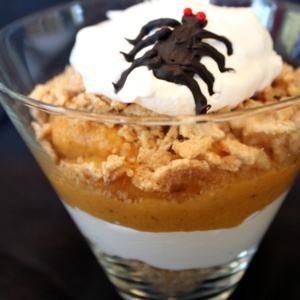 Yield:
4 servings
Prep Time:30 min
Ingredients:
Scary Spiders:
1/3 cup chocolate chips
red non-pareils
Crumble:
2 cups Cinnamon Toast Crunch Cereal, crushed
Layer 1:
2-ounces cream cheese, at room temperature
1 Tablespoon milk
1 Tablespoon granulated white sugar
3/4 cup Cool Whip
Layer 2:
1 cup canned pure (unsweetened) pumpkin puree
1 small package of vanilla instant pudding
1/2 cup milk
1 Tablespoon granulated white sugar
1/2 teaspoon ground cinnamon
1/4 teaspoon ground ginger
1/8 teaspoon ground cloves
4 Tablespoons Cool Whip
Directions:
Create Scary Spiders:
Wrap waxed paper around a rolling pin (or an empty paper towel holder) and fasten with tape. In a small glass bowl, melt chocolate in short bursts in the microwave until fully melted and smooth. Scoop chocolate into zip baggie, seal and cut a tiny piece off of the corner of the baggie. Squeeze the chocolate into the cut corner and pipe onto the waxed paper in the shape of a spider body, head and eight legs. Gently add red eyes. Place in the freezer to harden until ready to use.
Prepare Layer 1: In a medium bowl, use electric mixer to mix cream cheese, milk and granulated sugar; beat until smooth. Use rubber spatula to fold in Cool Whip.
Prepare Layer 2: In a medium bowl, whisk together all ingredients for layer two until well blended.
Assemble Parfaits:
Sprinkle 2 Tablespoons of crumbled cereal into bottom of each dessert cup. Top with layer 1, dividing between the four cups. Scoop in pumpkin layer next. Sprinkle remaining cinnamon crumble on top of pumpkin layer and spoon on a dollop of Cool Whip. Remove spiders from freezer and place them strategically on top of each dessert. Serve immediately.
Tips:
*Try subbing crumbled gingersnap cookies for the Cinnamon cereal.