Share Our Holiday Table: Sundried Tomato Polenta Bites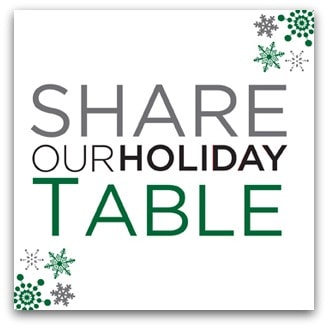 Today, I'm featuring Share Our Holiday Table, a virtual, progressive fund-raising dinner designed to raise awareness of child hunger in the U.S. and raise funds for Share Our Strength during the critical holiday season. One in 4 kids in the USA faces hunger. Their next meal could come from you 🙂  Learn how to help here.  More than 50 bloggers are participating in this Holiday Table and the dinner will unfold across 7 courses and in 4 tracks (Gourmet, Family-Friendly, Gluten Free and Vegetarian) from now through December 14th.
I was tasked with providing a gourmet appetizer for this event, and I've chosen to share with you my Sundried Tomato Polenta Bites, a perfect appetizer treat for a holiday party that is simple enough to assemble, festive-looking and delicious.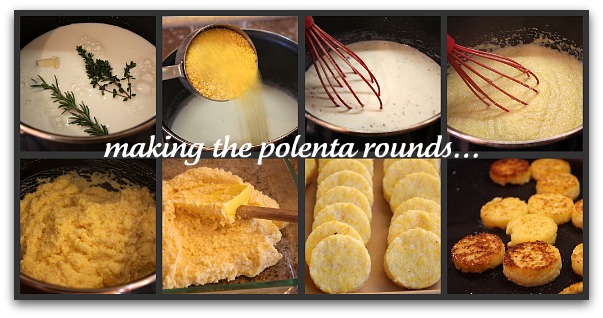 Making the polenta rounds couldn't be easier. Hot milk is infused with herbs and garlic, then drained and mixed with the polenta… which is cooked for several minutes until it gets really thick. It's then spread into a pan and cooled. I used a 1-inch round to punch out small bite-sized polenta rounds, but you can certainly use any size you'd like. Just refrigerate these guys until you're ready to continue the recipe.  Fry them up in a little oil to lightly brown both sides (again, you can make the fried polenta rounds until you're ready to assemble… just warm them again when you're ready to serve!)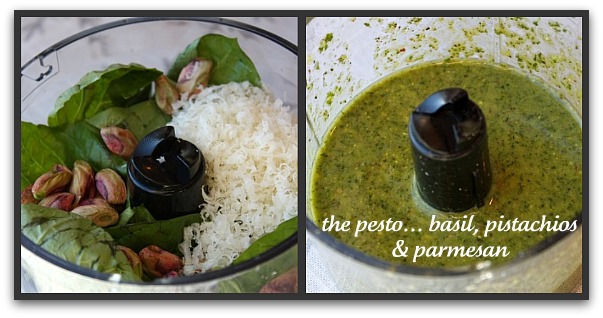 A simple pesto is made from fresh basil, pistachios, Parmesan cheese and olive oil. (If you wanted to use purchased pesto as a quickie sub, that would be ok, too.)  Assembling the bites… you'll need the sauteed polenta rounds, pesto, chunks of goat cheese, sundried tomatoes and some chopped pistachios (optional).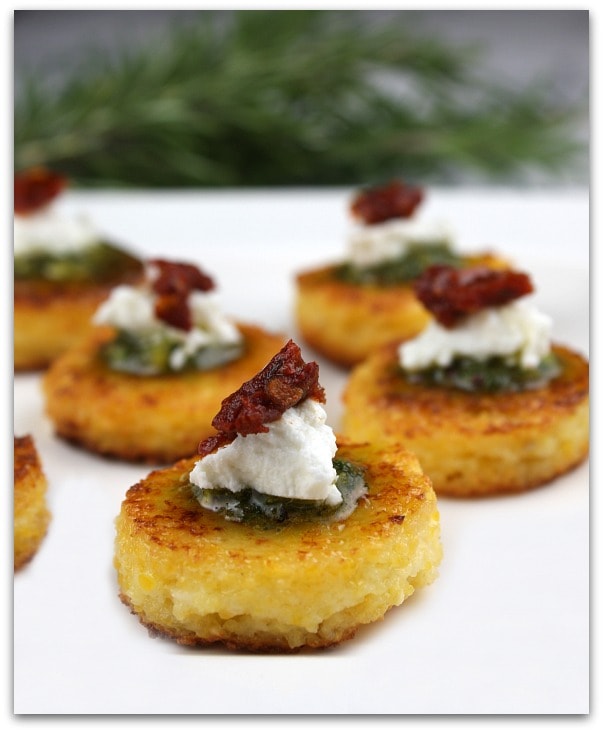 See?  Festive and delicious!  This is a great make-ahead appetizer recipe (see recipe for details).  And it also just happens to be naturally gluten-free!
This recipe can be found here:  Sundried Tomato Polenta Bites
And if you'd like to donate to Share Our Strength this holiday season… helping to ensure that no child goes hungry, you can donate HERE.  Even just a $25 donation helps feed a child 3 meals a day for an entire month.
Visit the other bloggers who are participating in this virtual dinner party!
APPETIZERS:
The Italian Dish– Parmesan Gougeres
Neo-Homesteading– Potato, Bacon & Onion Pizza
Family Fresh Cooking– Cheese & Bacon Stuffed Mushrooms
Giving Up on Perfect– Tortilla Rolls & Seven Layer Dip
Two Peas and Their Pod– Cranberry, Orange-Brie Crostini
Smith Bites– Dates Stuffed w/ Parmesan Slivers & Walnuts
La Fuji Mama- Endive Boats with Pomegranate, Avocado & Crab
Wenderly– Prosciutto- Wrapped Asparagus

Comments