Shrimp Po Boy
This Shrimp Po Boy is the perfect summer sandwich, with shrimp that has a light, crispy crunch and a pillow soft center, and packs big flavor when served with a spicy remoulade sauce.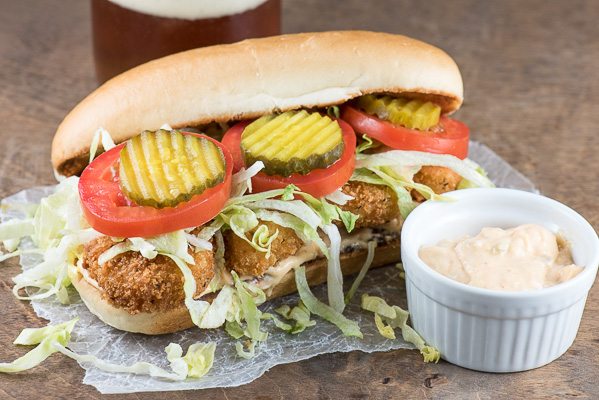 The days of summer have finally hit the Pacific Northwest, and at a balmy, beautiful and welcome 85 degrees, the biggest blessing is 0% chance of rain. I wasn't sure that was even possible here! 🙂
I say we break out the BBQ, grab a festive beverage and head-out, no RUN, outside. Meet me there?
These longer, brighter and warmer days make me long for rest, relaxation and vacation days – and lighter, summertime recipes. I say we set aside the the comfort foods (hello meatloaf) and break out the seafood.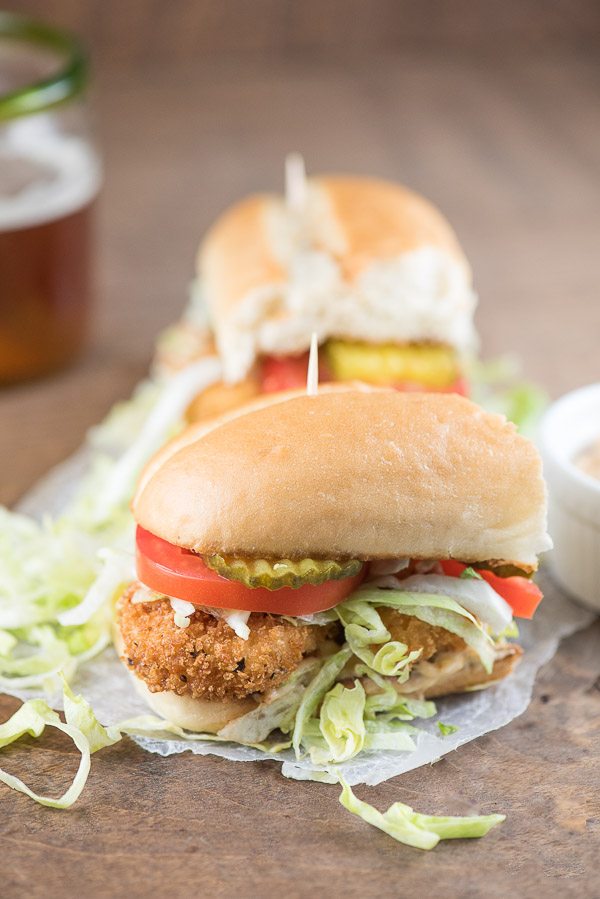 Now before I share about my undying love for seafood, let me tell you that I wasn't born anywhere near Seattle. A city known for some of the freshest seafood, I have come to adore the fish of the Pacific Northwest! And shrimp happens to be one of my all-time favorites because of it's versatility.
Yes, I'm the one in line at Costco where I've had people ask (as they stare at the 6 bags of shrimp in my cart) "what are you going to do with all that shrimp?" In which, I just smile and say "just about everything!"
Truth = shrimp is light, fantastic and super fast to cook. You can use it in tacos, sandwiches, stir-fries, on skewers, on the grill, the oven, or the stove top. See why it's a family favorite?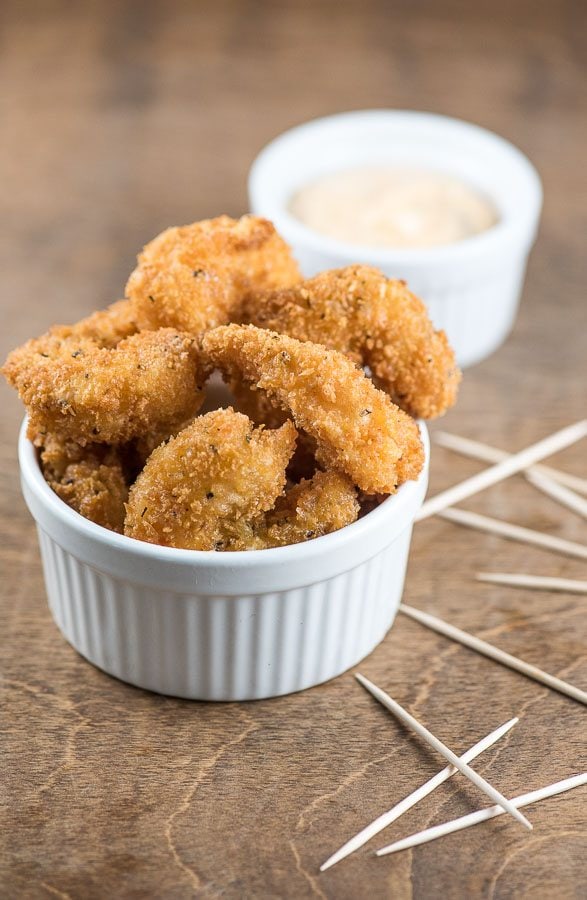 You will love the layers of flavor in this sandwich, as you enjoy it on your deck, soaking in the sun. And if you don't want to bother with a sandwich, sans the bread, this shrimp also makes a fantastic appetizer. Grab your toothpicks and enjoy!
Shrimp Po Boy
Yield:
4
Prep Time: 15 minutes
Cook Time: 15 minutes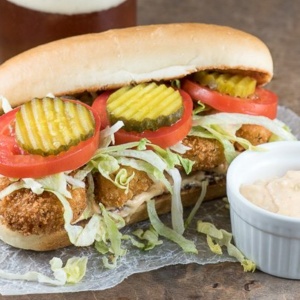 Ingredients:

Remoulade Sauce:

1/2 cup mayonnaise
1 tablespoon Dijon mustard
1 tablespoon horseradish
1 tablespoon dill pickle relish
1 teaspoon hot sauce*
1/2 teaspoon minced garlic
1/2 teaspoon Cajun seasoning

Buns:

4 French roll hoagie buns, split
4 tablespoons butter, melted
1 teaspoon minced garlic

Shrimp:

4 cups canola oil
3/4 cup all-purpose white flour
2 tablespoons Cajun seasoning
3 large Eggland's Best eggs
2 cups Italian seasoned Panko bread crumbs
1 1/2 pounds raw shrimp, peeled, deveined, tails removed
2 cups shredded lettuce
2 Roma tomatoes, sliced
12 dill pickle slices

Instructions:

Mix all remoulade ingredients in a small bowl and refrigerate until ready to use.
Add garlic to softened butter, and spread 1 tablespoon of butter on each hoagie roll. Toast rolls under a broiler for 2 to 3 minutes until browned and crispy. Remove from oven and set aside.
Heat oil on medium-high heat until hot, then turn down to medium.
Add flour and Cajun seasoning to a dredging bowl. Whisk eggs into a second dredging bowl. Add Panko bread crumbs to a third dredging bowl. Working in batches, toss shrimp in flour, egg, and then panko and add to hot oil, working in batches. Cook shrimp until golden brown, then remove with a fish spatula and place on a paper-towel lined plate.
Spread remoulade on buns and layer sandwiches with shrimp, lettuce, tomato and top with pickles. Serve while hot!

Nutrition:

I used Frank's Red Hot sauce.
SOURCE: RecipeGirl.com
Here are a few more shrimp recipes you might enjoy: