Smashed Potato Salad
GREAT potato salad. Very simple to make. Slightly sweet if you like that sort of salad.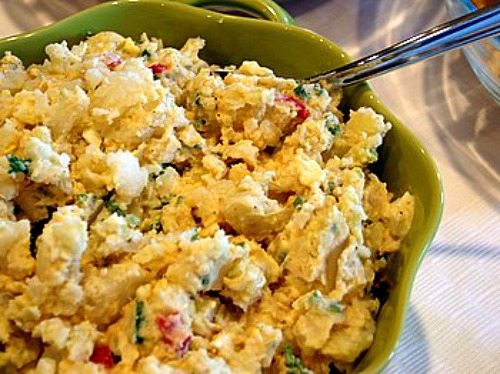 Smashed Potato Salad
Yield:
12 servings
Prep Time: 40 min
Cook Time: 40 min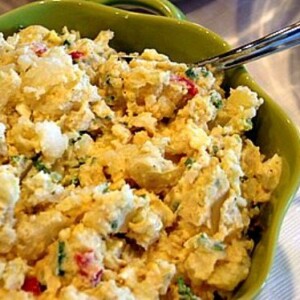 Ingredients:

3 pounds Idaho russet potatoes (don't peel or slice)
salt to taste
3 large eggs, hard-boiled
1/2 cup mayonnaise
2 tablespoons spicy brown mustard
1 tablespoon granulated sugar
1 tablespoon cider vinegar
1/2 teaspoon ground black pepper
1/2 teaspoon paprika
1/3 cup finely chopped sweet pickles
1/3 cup minced green onions
1/3 cup finely chopped fresh parsley
2 tablespoons chopped roasted red bell peppers
2 teaspoons salt

Instructions:

1. Place potatoes in large pot with enough cold water to cover generously and a large pinch of salt. Bring to a boil, then lower heat slightly to prevent boiling over, and partially cover. Cook until tender (35 to 40 min. for medium potatoes, or 45 to 55 min. for larger ones). Drain and let cool to room temperature.

2. Peel and finely chop eggs in a large bowl. Mash slightly with a fork. Stir in remaining ingredients. Cover and chill until needed.

3. Peel potatoes, cut into chunks, and put in a large bowl. Smash with fork or potato masher to a texture somewhere between mashed and chunky. Pour the dressing over the potatoes and stir until evenly combined. Cover and chill overnight.