This dish is gluten-free adaptable– please see tips below the recipe…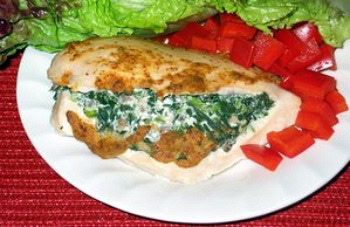 Spinach and Cheese Stuffed Chicken
Yield:
4 servings
Prep Time: 25 min
Cook Time: 20 min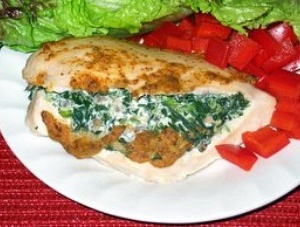 Ingredients:

1 Tablespoon butter
4 ounces mushrooms, finely chopped
10 ounce package frozen, chopped spinach, thawed and squeezed dry
6 ounces reduced-fat cream cheese
1/3 cup chopped fresh chives
6 large chicken breast halves (boneless)
6 Tablespoons Dijon mustard

Instructions:

1. Preheat oven to 450 degrees. Melt butter in skillet over medium heat. Add chopped mushrooms and sauté until tender (about 3 minutes). Set aside.

2. Mix spinach, cream cheese and chives in bowl. Add mushrooms and season with salt and pepper.

3. Use knife to slice a pouch in each chicken breast. Divide spinach mixture between the six breasts, spooning into pouch and then folding the chicken down to cover the spinach.

4. Place chicken breasts on cookie sheet. Spread a dollop of Dijon mustard on top of each breast.

5. Bake chicken for about 20 minutes, or until golden brown.

Tips:

*If preparing this recipe as gluten free, just be sure to use a brand of Dijon mustard that is designated as GF.