Here's another edition of Stuff I've Gotta Share and You've Gotta See! >>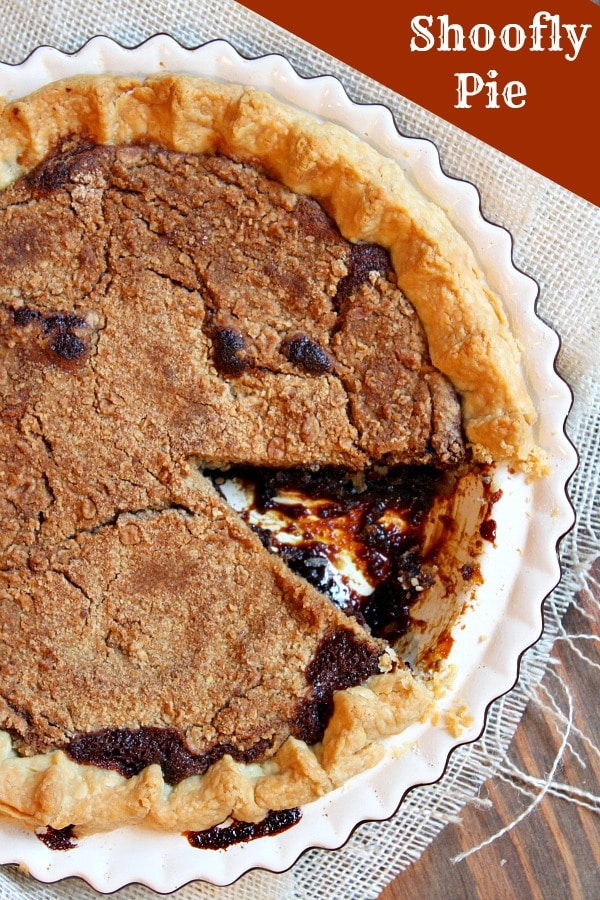 On Parade Magazine's blog this week, I'm sharing an old recipe for SHOOFLY PIE.  Have you ever tried this pie???
I tell you a little bit about how I first came across it and how this pie got its odd name here >>  Serve an Old-Time Classic for Thanksgiving Dessert: Shoofly Pie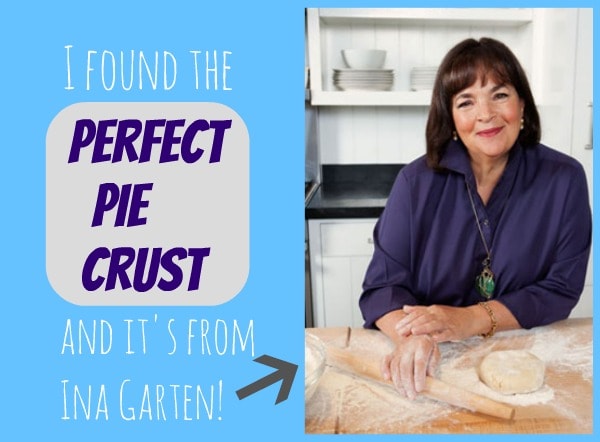 I've tried a million pie crust recipes (if you follow my blog, you will know that I am sometimes severely pie-crust-challenged), but I have finally tried a pie crust recipe that I will use from here on out:  PERFECT PIE CRUST by Ina Garten.  It's easy to make, it rolls out easily, it doesn't stick or tear, and it's delicious.  DONE DEAL!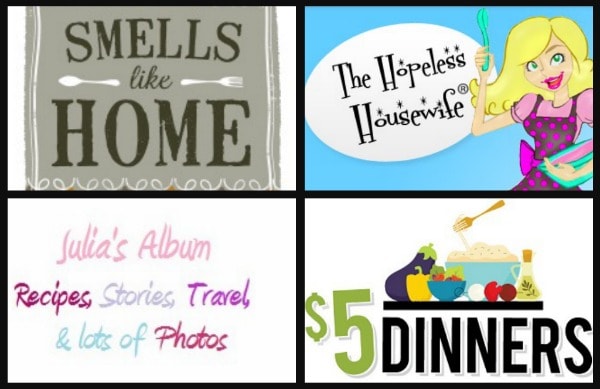 Here are 4 blogs that you should be following!
1. SMELLS LIKE HOME:  Tara blogs from New England (since 2007), and I'm completely enamored with her delicious recipe choices and fabulous photos.  I want to pin everything on her site!!
Currently featured on Smells Like Home:  Creamy Fresh Herb Mashed Potatoes
2.  THE HOPELESS HOUSEWIFE:  Erika blogs from Arizona, where she lives with her husband and daughter.  Would you believe that we figured out that I went to high school with her husband??  Crazy, small world.  A former news anchor, Erika has a ton of experience cooking on TV, and she shares recipe videos on her site too.  The things she chooses to make on her site are definitely my style of food- totally family-friendly!
Currently featured on The Hopeless Housewife:  Turkey Shepherd's Pie
3.  JULIA'S ALBUM:  I just discovered this blog created by Julia- who blogs from… I'm not sure where!  Her blog is just a year old and you'd never know it.  Simply mouthwatering food- she shares a lot of vegetarian/fish meals and then baking, breakfast and everything else too,
Currently featured on Julia's Album:  Pumpkin Pancakes with Caramel- Pecan Sauce
4.  $5 DINNERS:  I met Erin (from Texas) at the Pillsbury Bake Off a couple of weeks ago.  LOVELY person 🙂  On her blog, she shows you how to make meals for less than $5.  She also shares coupons and giveaways.  Erin has been a guest on The View, the Rachel Ray Show and more.  She's wicked talented.  Check out her site!
Currently featured on $5 dinners:  20 Meals from Sam's Club for $150 (recipes and printable shopping list included)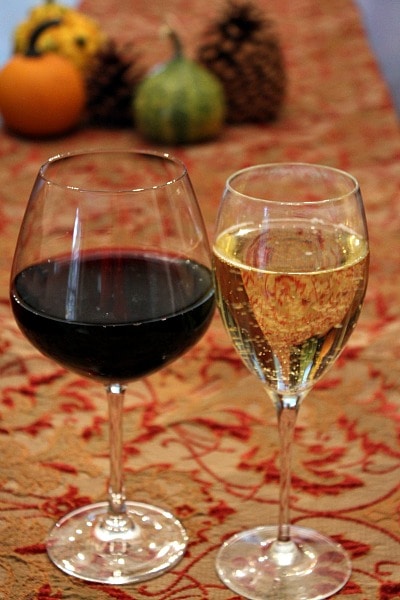 Check out the post I wrote for KitchenAid's blog: The Kitchenthusiast... : Wine Pairings for Your Holiday Meal.  Should you serve red or white wine with your turkey??  I met major wine expert Cary Gott at a party recently, and he shared his thoughts on what sort of wine you should drink at Thanksgiving.  It's a worth a read!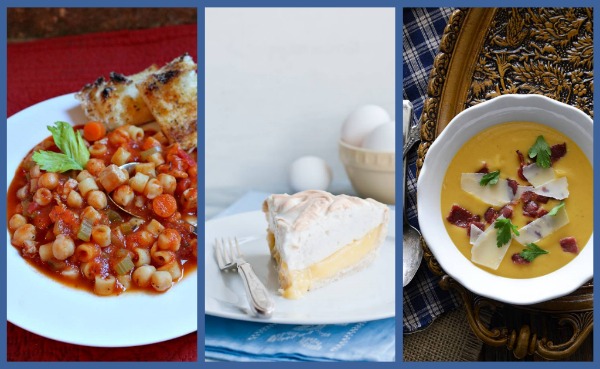 Come check out these recipes shared on my other blog:  Culinary Covers!
Chicken, Pasta and Chickpea Stew
Lemon Meringue Pie
Creamy Sweet Potato Soup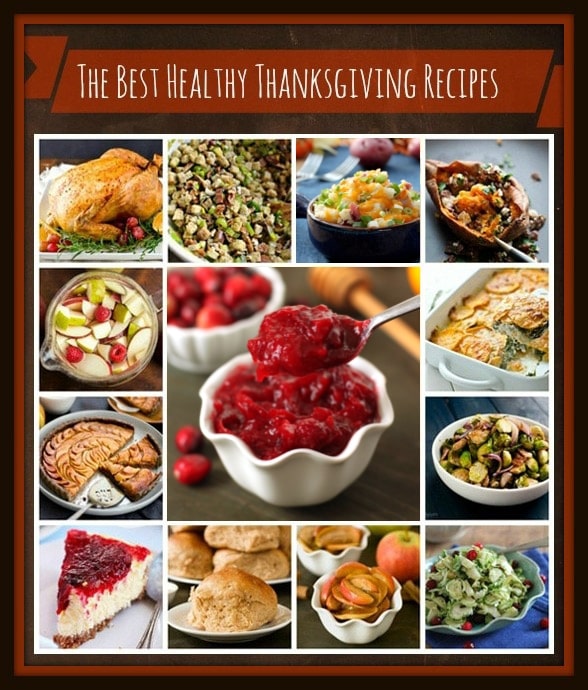 My friend Erin from TexanErin Baking wrote up a totally extensive, fabulous and helpful post for everyone:  THE BEST HEALTHY THANKSGIVING RECIPES.  Lots and lots and lots of great recipe links (180 in all!!) for your turkey day.  And a ton of gluten-free/ grain-free/ Paleo stuff mixed in there too!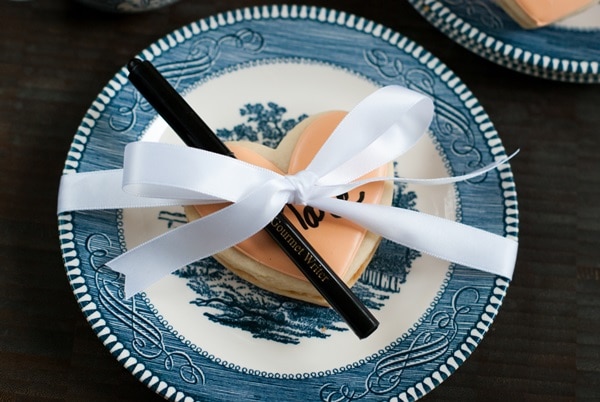 You have to see this ADORABLE and very creative idea Thanksgiving dessert idea from my friend Bridget, the cookie expert at Bake at 350.  It centers around being THANKFUL, the whole point of Thanksgiving, right?  I'm just gonna send you over the the post she wrote where she shows you in detail what it's all about >>  Express Your Gratitude With Interactive Thanksgiving Cookies 

Are you following me on FACEBOOK?  I'm sharing all kinds of links to fabulous recipes- breakfast in the AM, then family-friendly dinners, unique finds and desserts too.  Saturdays are "theme days" on my FB page.  I've shared all-day cakes, all-day soups, all-day Pies and all-day Thanksgiving side dishes.  What will it be this Saturday?  Well, probably something related to Thanksgiving since that's coming up pretty quick here.  Come join the fun!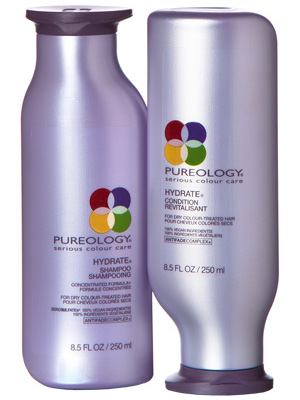 And finally, I have found the shampoo/conditioner of my dreams.  Since I moved to Nevada, my hair has been beyond dry and super tangly after washing… like impossible to comb-out.  My stylist recommended this shampoo:  PUREOLOGY HYDRATE.  It's definitely expensive, but she told me to use just a small amount of shampoo and a small amount of conditioner (they both go a long way).  She's right!  I bought a small size and have been trying it out, and no more tangles!
Until next week, my friends!  Have fun planning your big turkey day!
Disclosure:  There are Amazon affiliate links included within this post.