When GoodBite asked me to participate in a secret-ingredient recipe challenge, I was a little freaked out. What the heck would they give me? What if it was something that I'd never used before? What if it was something "icky?" What if I couldn't come up with a good recipe?? While I wouldn't be any good at an Iron Chef-style competition, the idea of being given an ingredient that I can think about for a few days and experiment with… that's more my style. I agreed to the challenge.
Chef Dave explored cool food markets in Los Angeles and came up with an adventurous ingredient that I truly have never cooked/baked with before: Cacao Nibs. I decided to incorporate them into a shortbread recipe, and I must say that these shortbread cookies turned out mighty good. A good dunker for coffee, for sure.
View the video below to see where Dave found cacao nibs (I found mine at Whole Foods) and how the cookies are assembled. Recipe can be printed out below…
Sweet & Spicy Almond- Toffee Shortbread w/ Cacao Nibs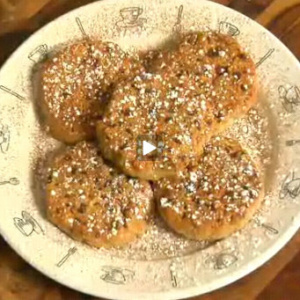 Yield:
About 40 cookies
Prep Time:40 min + chill time
Cook Time:30 min
Ingredients:
SWEET & SPICY ALMONDS
1/4 cup honey
1 Tablespoon unsalted butter
1 cup sliced almonds, toasted
1/4 teaspoon sea salt
1/2 teaspoon ground cinnamon
1/8 teaspoon ground cayenne pepper
1/4 teaspoon vanilla extract
SHORTBREAD
1 cup (2 sticks) unsalted butter
3/4 cup powdered sugar
2 1/4 cups all-purpose flour
1 1/2 teaspoons sea salt
1 cup cacao nibs
1 cup toffee pieces
chopped almonds (from recipe above)
FOR DUNKING:
1 cup powdered sugar
3/4 teaspoon ground cinnamon
Directions:
1. Prepare almonds: Heat honey and butter in medium skillet and let sizzle until it becomes lightly browned (careful not to burn). Turn off heat and stir in vanilla. In a small bowl, mix together salt, cinnamon and cayenne. Add almonds to the honey mixture and stir quickly to coat. Sprinkle spices evenly over almonds. Remove spiced-up almonds to a greased baking sheet, spread out and let cool. Chop into small pieces when almonds are cool.
2. Prepare shortbread: Mix butter and sugar on medium speed until fluffy. Add in flour and salt and continue mixing until dough begins to come together, scraping sides as needed. Mix in cacao nibs, toffee bits and chopped almonds until well combined.
3. Divide shortbread dough in half and turn out onto two pieces of waxed paper. Form into two 8x2 1/2-inch logs, rolling carefully with your hands until well shaped/rounded. Wrap waxed paper around each log and twist ends to seal. Refrigerate for at least 1 hour or up to 2 days.
4. When ready to bake, preheat oven to 300°F. With a sharp knife, carefully cut 1/4-inch slices from shortbread log and arrange on parchment-lined sheets. The dough will be thick and chunky, so you can use your fingers to help seal the edges of the cookies if they lose their shape or crumble when slicing. Refrigerate until the oven is well-heated. Bake for 30 to 35 minutes, or until edges begin to brown lightly and dough is set.
5. Remove cookies to a wire rack. Cool for about ten minutes. Mix powdered sugar/cinnamon in low, flat bowl. Dunk top of each cookie in the sugar mixture and return to wire rack to cool completely.
Tips:
*Add cayenne to rolling mixture if you'd prefer a little more spice. Leave it out of the almonds if you don't want any spicy spice at all.