Sweet and Tangy Roasted Pork Tenderloin
A family favorite for a long time: Sweet and Tangy Roasted Pork Tenderloin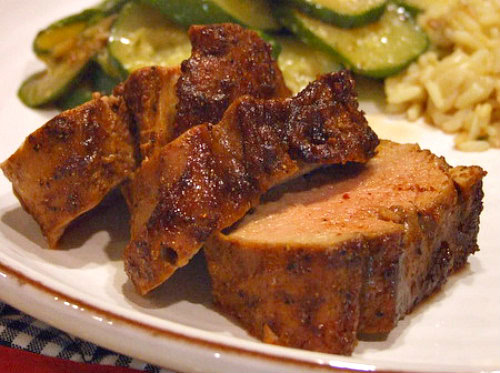 Yield:
3 servings
Prep Time: 10 minutes + marinating time
Cook Time: 20 minutes
Ingredients:
1/4 cup packed brown sugar
2 tablespoons cider vinegar
1 tablespoon tomato paste
1 1/2 teaspoons chili powder
1 teaspoon ground cumin
1/4 teaspoon freshly ground black pepper
1 pound pork tenderloin, trimmed
Directions:
Combine all ingredients except pork in a gallon zip bag. Add pork, turning to coat. Refrigerate for 1 hour.
Preheat oven to 450°F.
Remove pork from bag, saving marinade.
Place pork on a broiler pan coated with nonstick cooking spray. Brush with reserved marinade. Insert a meat thermometer into the thickest portion of the pork. Bake for 20 minutes or until thermometer reaches 155°F. Remove from oven; cover and let stand for 5 minutes.
Nutrition:
Nutrition Facts Amount Per Serving (pork divided into 3 servings):  Calories 264, Calories From Fat (19%) 51, Total Fat 5.56g, Saturated Fat 1.84g, Cholesterol 98.28mg, Sodium 140.35mg, Potassium 721.80mg, Carbohydrates 20.60g, Dietary Fiber 0.81g, Sugar 18.41g, Net Carbohydrates 19.79g, Protein 32.28g
Weight Watcher's Points Plus:  7   Old Points Program:  6