Thai Beef Coconut Curry Soup
If you're new to Thai flavors, this crowd-pleasing Thai Beef Coconut Curry Soup is a great place to start!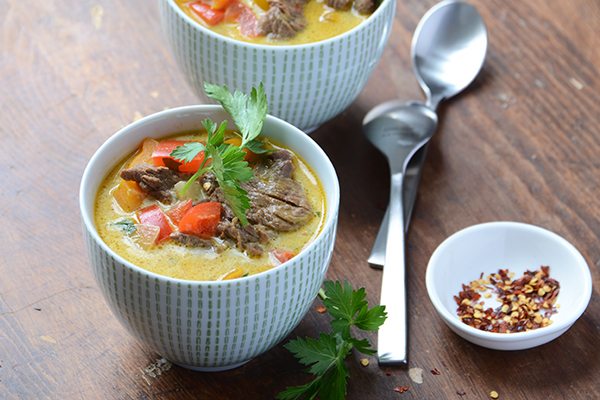 If you think you don't like curry or if you haven't tried a Thai-inspired curry, this is the recipe for you. There is no bright yellow curry powder in sight, and instead, aromatics like onion, garlic, and ginger take center stage. Coconut milk lends subtle flavor, creaminess, and a touch of sweetness.
Speaking of sweetness, there's also a touch of coconut sugar (light brown sugar also works!) in this soup. Thai cuisine is all about a balance of flavors; here we have soy sauce and fish sauce for salty and umami flavor, rice vinegar for sour, crushed red pepper flakes or bird's eye chili for spicy heat, and coconut sugar and milk for sweetness. No single flavor stands out; instead, the blending of these flavors forms something unique and definitely greater than the sum of its parts.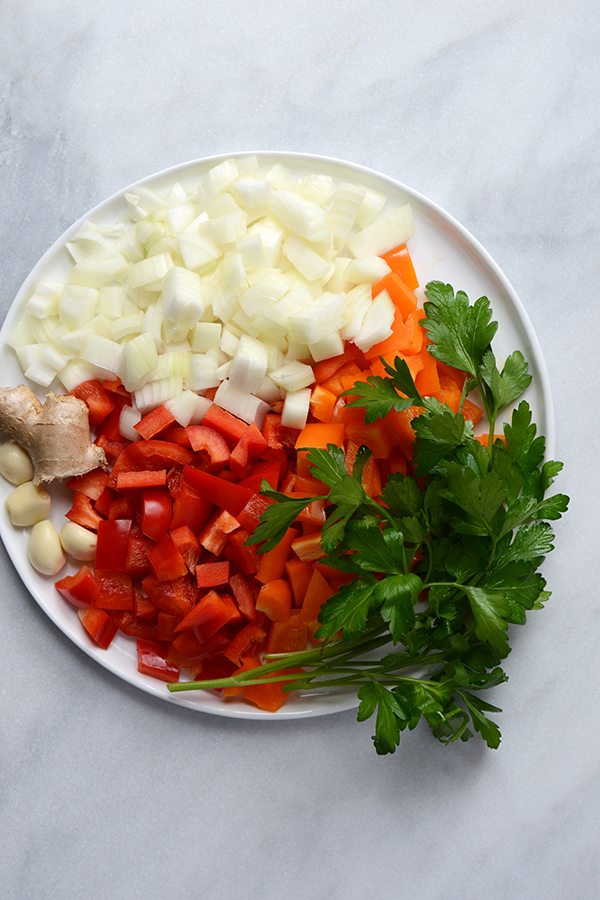 As a bonus, this curry comes together quick enough for a weeknight dinner! You can serve it as-is or with a scoop of jasmine rice on top (or cauliflower "rice" to keep it low-carb). And because the flavors are balanced and not too spicy, this soup is even kid-approved (but of course if your family likes things spicy, you can easily bump up the heat level!).
I have one more tip for you: if you enjoy peanutty flavors in Thai food (like Pad Thai and Massaman Curry), stir two or three tablespoons of creamy peanut butter into this soup at the end of cooking and garnish it with chopped roasted, salted peanuts!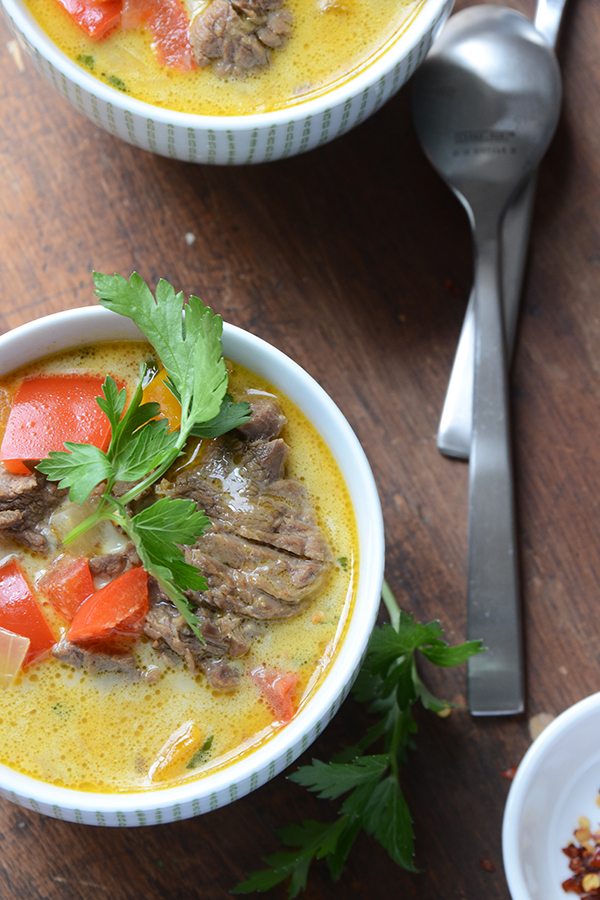 Thai Beef Coconut Curry Soup
Yield:
6 servings
Prep Time: 20 minutes
Cook Time: 20 minutes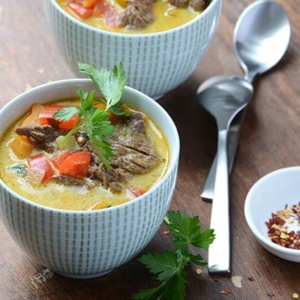 Ingredients:

2 tablespoons avocado oil, light olive oil, or coconut oil, divided
1 1/2 pounds skirt steak, very thinly sliced across the grain
2 large bell peppers (any color), chopped
1 medium-large onion, chopped
4 cloves garlic, crushed
1 tablespoon fresh-grated ginger
32 ounces low-sodium beef broth
2 tablespoons soy or tamari sauce
2 tablespoons rice vinegar
2 tablespoons coconut sugar (or light brown sugar)
2 teaspoons fish sauce
1 teaspoon ground coriander
1/4 teaspoon crushed red pepper flakes, or 1 minced red Thai bird's eye chili pepper (more or less to taste)
1/4 teaspoon turmeric (optional, for yellow color)
1/2 teaspoon salt
1/8 teaspoon black pepper
1 (14 oz) can full-fat coconut milk
2 tablespoons chopped fresh cilantro or parsley leaves

Garnish Ideas:

Fresh chopped herbs, such as cilantro, parsley, or mint
Crushed red pepper flakes

Instructions:

Heat the oil in a 5-quart pot over medium-high to high heat; add half the steak in an even layer on the bottom and cook until browned. Use a slotted spoon to transfer the browned steak to a bowl; cook the remaining steak the same way and transfer it to the bowl.
To the pot that you cooked the steak in, add the bell peppers and onion; cover the pot and cook over medium heat until the vegetables start to soften, about 4 minutes, stirring occasionally. Add the garlic and ginger and cook 1 minute more, stirring constantly.
Stir in the broth, soy sauce, rice vinegar, sugar, fish sauce, coriander, crushed red pepper flakes, turmeric, salt, and black pepper. Bring to a boil, and then cover the pot, turn the heat down to simmer, and cook 5 to 10 minutes.  Add the cooked beef back to the pot.
Stir in the coconut milk and cilantro or parsley and turn off the heat; taste and add additional salt as desired.
Serve garnished with anything you like.
SOURCE:  RecipeGirl.com
Here are a few more Thai-inspired recipes you might enjoy: