Tri- Berry Muffins
Here are some delicious summery muffins to consider: Tri- Berry Muffins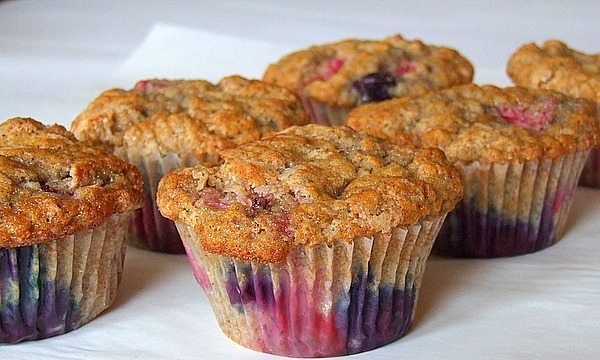 I'm truly not obsessed with Ina Garten. Really. The fact is that I pull a couple of cookbooks off of my shelf and that becomes my reading material for a while. My 6 year old recently asked me if I could… for once, just read a normal book.
"I read normal books sometimes," I said.
"No you don't, Mommy. You're always reading about recipes."
"Well, that's why they call me RecipeGirl." I explained. "I enjoy finding new recipes." (what I really wanted to say is that Mommy has a cookbook addiction that can't be kicked… and don't tell Daddy.)
(deep sigh) "Promise me that you won't read a cookbook when we're on vacation this summer?"
"Deal." (and I do mean that… !)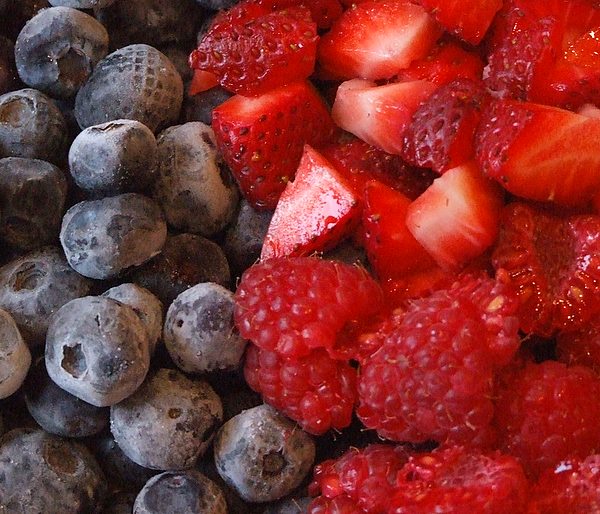 I have no idea why this bothers him so much. It's not like I'm taking my cooking magazines with me when I watch his little league games or anything (only sometimes!) No- seriously… finding a balance between blogging, reading other's blogs, my recipe site, exercising, laundry and family is tough. There just aren't enough hours in the day, for sure.  At least the family reaps the benefits of my cooking. I remind my son every day that not all Mommies cook (and how lucky he is, blah blah blah.) I think he mostly just hears the blah blah blah part. But he really does love most of Mommy's cooking and requests muffins often.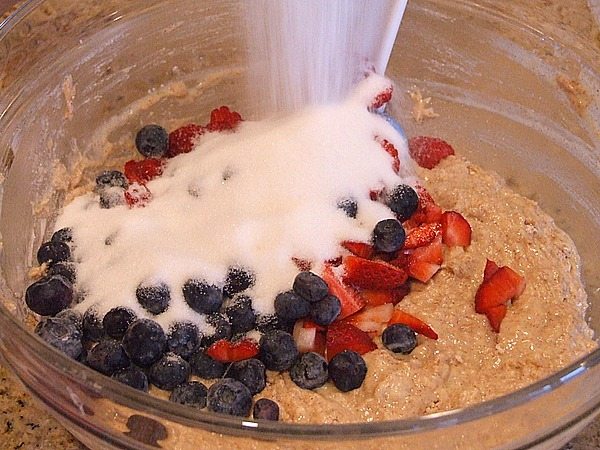 I spotted a couple of muffin recipes in Ina Garten's Barefoot Contessa at Home cookbook, so I made these gorgeous muffins for breakfast: Tri- Berry Muffins.  The name of the muffins indicates three berries- raspberries, blueberries and strawberries. And since those were all on sale and looking good already 'round here, this was the obvious choice. Funny thing about these muffins- the sugar is added at the end and folded in with the berries. Interesting, huh? This produces a muffin with a delicious, crunchy exterior without having to make a streusel.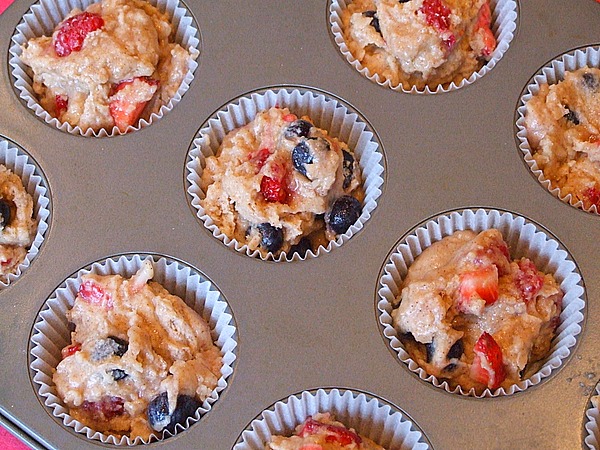 We could hardly wait for these muffins to finish baking. The thought of breaking open a warm muffin and having the hot berries ooze out was almost too much to handle.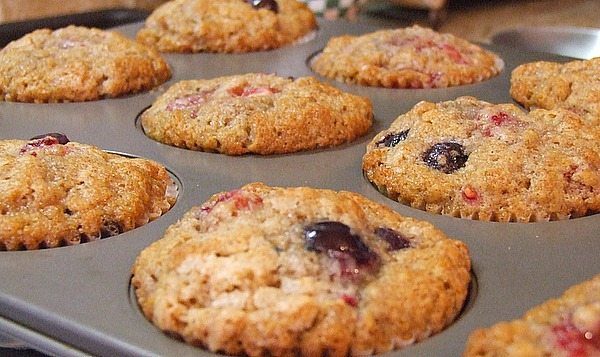 They were indeed fantastic right out of the oven (and even a couple of days later too.) A major thumbs up from all family members.
And I'm off to read more cookbooks (because the kiddo is tucked safely in bed!)
Tri- Berry Muffins
Three berries make these muffins over-the-top delicious!
Yield:
16 to 18 muffins
Prep Time: 25 min
Cook Time: 20 min
Ingredients:

3 cups all-purpose flour
1 Tablespoon baking powder
1/2 teaspoon baking soda
1/2 teaspoon kosher salt
1 1/2 Tablespoons ground cinnamon
1 1/4 cups milk
2 extra-large eggs, lightly beaten
1 cup (2 sticks) unsalted butter, melted
1 cup fresh blueberries
1/2 cup fresh raspberries (gently sliced in half)
1/2 cup diced fresh strawberries
1 1/2 cups granulated white sugar

Instructions:

1. Preheat oven to 375°F. Line muffin tins with paper liners.

2. Sift flour, baking powder, baking soda, salt and cinnamon together in a large bowl. Stir with your hand (or a whisk) to be sure the ingredients are combined. In another bowl, combine the milk, eggs and melted butter.

3. Make a well in the middle of the dry mixture, pour the wet mixture into the well, and stir until just combined. There will be some lumps but don't over-mix the batter. Add the blueberries, raspberries, strawberries and sugar and stir gently to combine.

4. Using a large spoon or scoop, spoon batter into the muffin cups to fill the liners. Bake for 20 to 25 minutes, until a cake tester comes out clean and the tops are nicely browned.