You may have noticed that I've created a couple of recipes lately using Puff Pastry. There were those Caramelized Apple Waffle Pastries, and then there were the Peanut Butter S'Mores Turnovers. Puff Pastry is so easy to work with, and it's been a lot of fun coming up with new recipe ideas for using it.
My newest creation using Puff Pastry is a good one for using up leftover turkey from Thanksgiving: Turkey-Cranberry Strudel with Maple Roasted Butternut Squash.
Here's the How-To:
First roast the squash.  Toss chopped butternut squash with sweet onions, olive oil, salt and pepper. Maple syrup finishes it off to create tender, caramelized squash. Mmmm.  The photo step-by-step below shows how the Puff pastry is cut, and how to layer the ingredients.  Layers include shredded turkey, dried cranberries, roasted squash/onions, shredded Swiss and fresh rosemary.  The sides of the Puff Pastry are then cut and braided to create a strudel.  It's finished off with a brush of egg wash.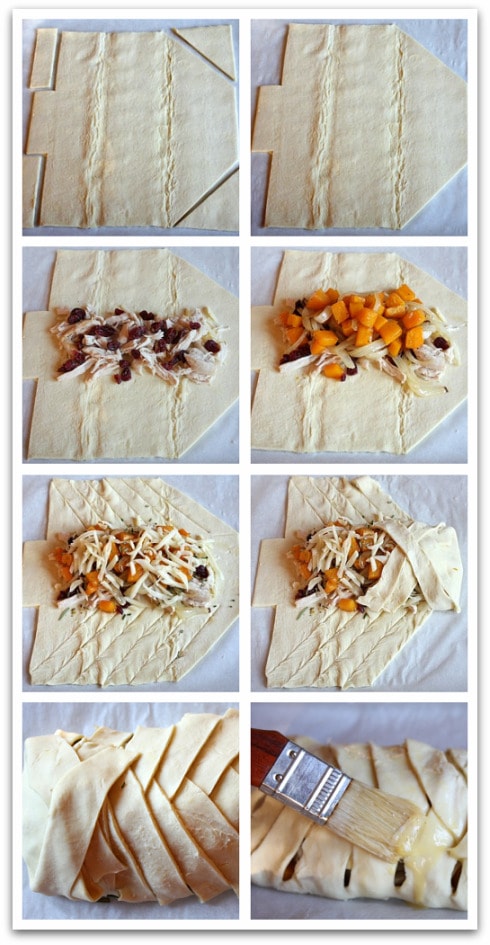 Here's what it looks like after baking…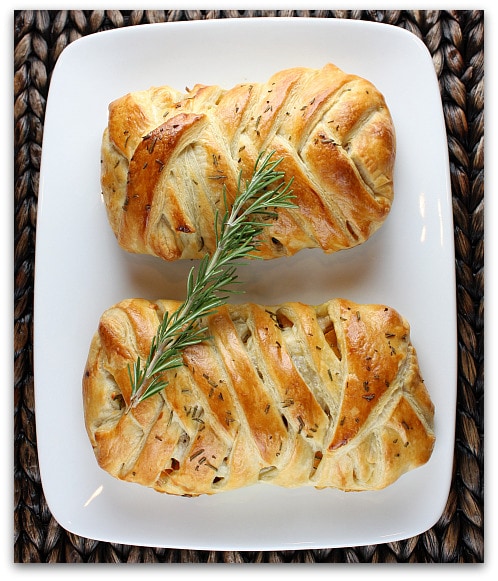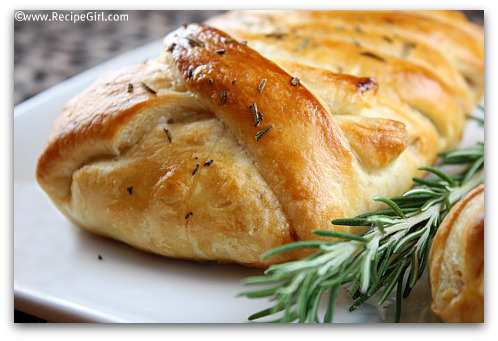 Cut into it and here's what you find inside…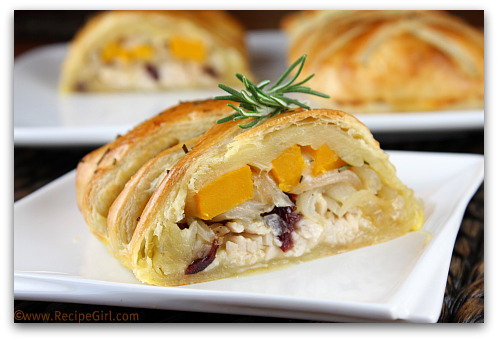 Serve it up with some chunky cranberry sauce…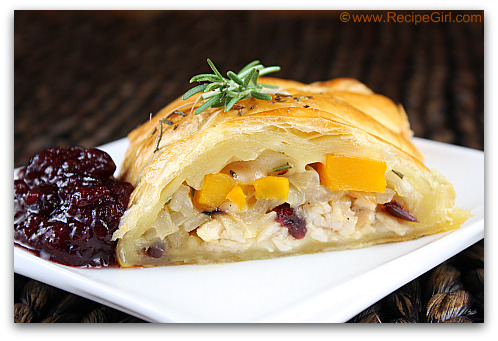 My family was very excited about this dinner.  The combo of ingredients inside the strudel- the turkey, the cranberries, the squash and melty cheese with a hint of rosemary- all wrapped up in a flaky Puff Pastry- were perfect.  YUMMM!  I served chunky cranberry sauce on the side.  With each bite of the strudel, we scooped up a bit of the cranberry sauce too, and it made this dinner even better.
Although there are seemingly a lot of steps involved in this recipe, it's really very easy to do.  Just follow the picture demo, and you'll have dinner in about an hour.
To print the RECIPE ONLY go here:  Turkey- Cranberry Strudel
This post was sponsored by Pepperidge Farm Puff Pastry.