Tween Boy Book Recommendations
I have an avid, voracious reader on my hands.  He turns 11 next week, and he's read just about everything he's been able to get his hands on.  I spent an hour on Amazon.com the other day just trying to find some new books that he hasn't already devoured.  Not having had much luck on my own, I took to my social networks to ask for Tween Boy Book Recommendations.  Here's what was recommended to me… and they all sound like great titles for a pre-teen boy.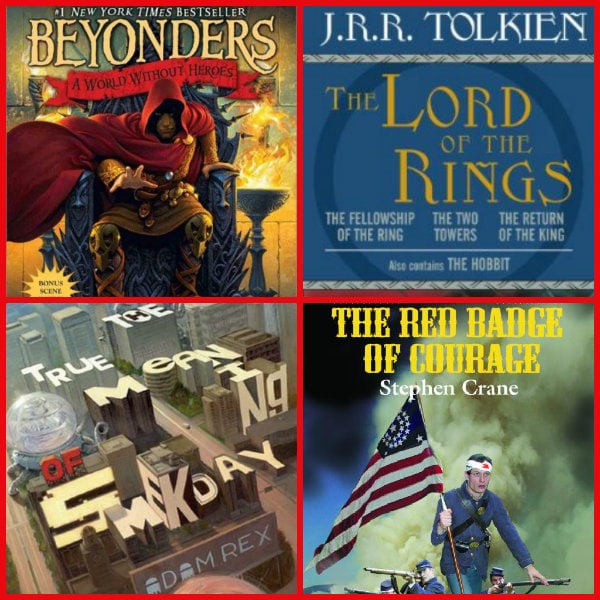 #1:  The Beyonders Series By Brandon Mull (author of the FableHaven Series– also good) available in all formats, including Kindle
It's a fantasy series- here's the description from Amazon-
Jason Walker has often wished his life could be a bit less predictable—until a routine day at the zoo ends with Jason suddenly transporting from the hippo tank to a place unlike anything he's ever seen. In the past, the people of Lyrian welcomed visitors from the Beyond, but attitudes have changed since the wizard emperor Maldor rose to power. The brave resistors who opposed the emperor have been bought off or broken, leaving a realm where fear and suspicion prevail.  In his search for a way home, Jason meets Rachel, who was also mysteriously drawn to Lyrian from our world. With the help of a few scattered rebels, Jason and Rachel become entangled in a quest to piece together the word of power that can destroy the emperor and learn that their best hope to find a way home will be to save this world without heroes.
#2:  The Lord of the Rings Series by J.R.R. Tolkien– My son read The Hobbit and loved it.  It's time he read the rest!  This book is available as an all-in-one book 1,178 pages- also available on Kindle.  A book of that length is bound to keep a boy busy for at least a couple of weeks, right?
Another fantasy series- here's the description from Amazon-
Hobbits and wizards and Sauron–oh, my! Mild-mannered Oxford scholar John Ronald Reuel Tolkien had little inkling when he published The Hobbit; Or, There and Back Again in 1937 that, once hobbits were unleashed upon the world, there would be no turning back. Hobbits are, of course, small, furry creatures who love nothing better than a leisurely life quite free from adventure. But in that first novel and the Lord of the Rings trilogy, the hobbits Bilbo and Frodo and their elfish friends get swept up into a mighty conflict with the dragon Smaug, the dark lord Sauron (who owes much to proud Satan in Paradise Lost), the monstrous Gollum, the Cracks of Doom, and the awful power of the magical Ring.
#3:  The True Meaning of Smekday By Adam Rex– I'm not familiar w/ this author.  It's not available on Kindle.
Adventure, humor- here's the description from Amazon-
It all starts with a school essay.  When twelve-year-old Gratuity ("Tip") Tucci is assigned to write five pages on "The True Meaning of Smekday" for the National Time Capsule contest, she's not sure where to begin. When her mom started telling everyone about the messages aliens were sending through a mole on the back of her neck? Maybe on Christmas Eve, when huge, bizarre spaceships descended on the Earth and the aliens – called Boov – abducted her mother? Or when the Boov declared Earth a colony, renamed it "Smekland" (in honor of glorious Captain Smek), and forced all Americans to relocate to Florida via rocketpod?  In any case, Gratuity's story is much, much bigger than the assignment. It involves her unlikely friendship with a renegade Boov mechanic named J.Lo.; a futile journey south to find Gratuity's mother at the Happy Mouse Kingdom; a cross-country road trip in a hovercar called Slushious; and an outrageous plan to save the Earth from yet another alien invasion.  Fully illustrated with "photos," drawings, newspaper clippings, and comics sequences, this is a hilarious, perceptive, genre-bending novel by a remarkable new talent.
#4:  The Red Badge of Courage by Stephen Crane– most of us probably had to read this book back in middle or high school, right?  It's a classic, and it's available for FREE on Kindle!  I would think that this book is for more mature middle schoolers.
Historical fiction- here's the description from Amazon-
Henry Fleming, a private in the Union Army, runs away from the field of war. Afterwards, the shame he feels at this act of cowardice ignites his desire to receive an injury in combat a red badge of courage that will redeem him. Stephen Crane's novel about a young soldier s experiences during the American Civil War is well known for its understated naturalism and its realistic depiction of battle.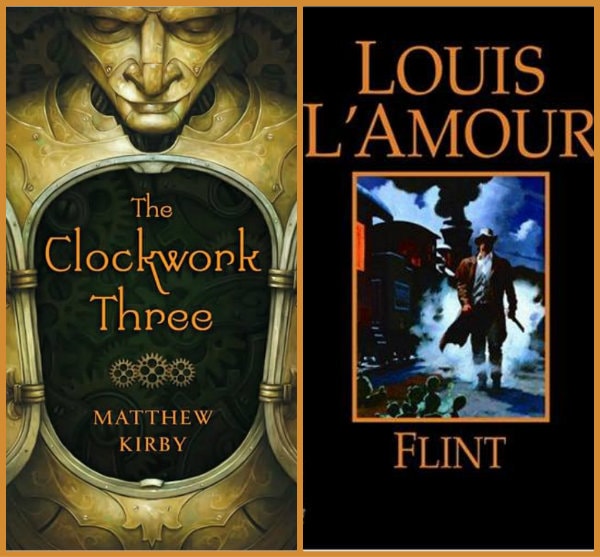 #5:  The Clockwork Three by Matthew Kirby– also the author of the newly released Icefall– I'm not familiar w/ this author- his books are available in all formats, including Kindle
Adventure- here's the description from Amazon-
Giuseppe is an orphaned street musician from Italy, who was sold by his uncle to work as a slave for an evil padrone in the U.S. But when a mysterious green violin enters his life he begins to imagine a life of freedom.  Hannah is a soft-hearted, strong-willed girl from the tenements, who supports her family as a hotel maid when tragedy strikes and her father can no longer work. She learns about a hidden treasure, which she knows will save her family — if she can find it.  And Frederick, the talented and intense clockmaker's apprentice, seeks to learn the truth about his mother while trying to forget the nightmares of the orphanage where she left him. He is determined to build an automaton and enter the clockmakers' guild — if only he can create a working head.  Together, the three discover they have phenomenal power when they team up as friends, and that they can overcome even the darkest of fears.
#6:  Flint by Louis L'Amour– I have to admit, I've never thought of introducing my son to this old series of Westerns, but this particular title was recommended as one of his best ones.  It's completely different than anything else my son has read, so why not give it a shot?  It's available in all formats, including Kindle.
Western- here's the description from Amazon:
He left the West at the age of seventeen, leaving behind a rootless past and a bloody trail of violence. In the East he became one of the wealthiest financiers in America—and one of the most feared and hated.  Now, suffering from incurable cancer, he has come back to New Mexico to die alone. But when an all-out range war erupts, Flint chooses to help Nancy Kerrigan, a local rancher. A cold-eyed speculator is setting up the land swindle of a lifetime, and Buckdun, a notorious assassin, is there to back his play.  Flint alone can help Nancy save her ranch…with his cash, his connections—and his gun. He still has his legendary will to fight. All he needs is time, and that's fast running out….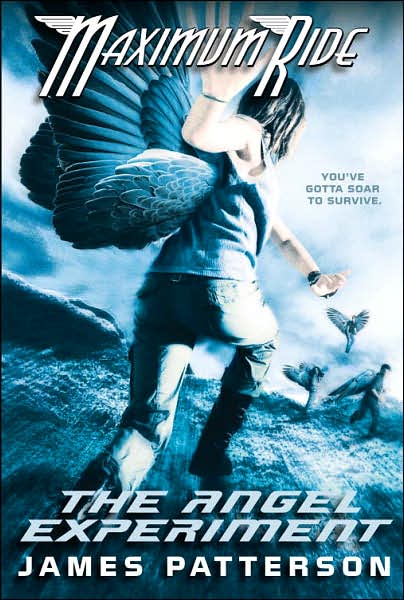 #7:  Maximum Ride- The Angel Experiment by James Patterson– yes, this is the same James Patterson who writes all of the adult mystery/murder novels.  That being said, I'm guessing this title would be more appropriate for more mature readers.  It's available in all formats, including Kindle- and it's also available in a boxed set since it's a series of books.
Fantasy/Adventure- here's the description from Amazon:
Fourteen-year-old Maximum Ride, better known as Max, knows what it's like to soar above the world. She and all the members of the "flock"–Fang, Iggy, Nudge, Gasman and Angel–are just like ordinary kids–only they have wings and can fly. It may seem like a dream come true to some, but their lives can morph into a living nightmare at any time…like when Angel, the youngest member of the flock, is kidnapped and taken back to the "School" where she and the others were experimented on by a crew of wack jobs. Her friends brave a journey to blazing hot Death Valley, CA, to save Angel, but soon enough, they find themselves in yet another nightmare–this one involving fighting off the half-human, half-wolf "Erasers" in New York City. Whether in the treetops of Central Park or in the bowels of the Manhattan subway system, Max and her adopted family take the ride of their lives. Along the way Max discovers from her old friend and father-figure Jeb–now her betrayed and greatest enemy–that her purpose is save the world–but can she?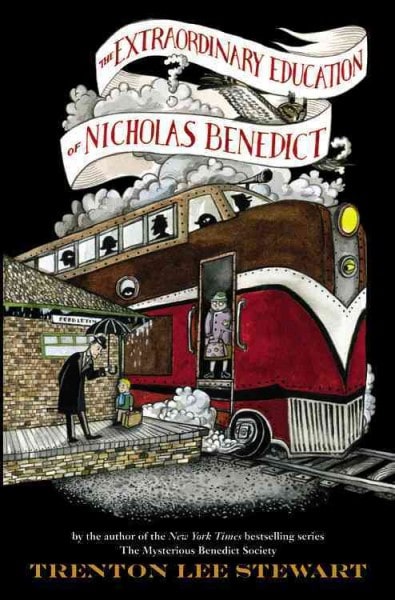 #8:  The Extraordinary Education of Nicholas Benedict by Trenton Lee Stewart– This book is a newly released prequel to the Mysterious Benedict Society trilogy.  My son loved the trilogy, so we'll be getting this one was well.  These books are probably more appropriate for younger pre-teens.  It's available in all formats, including Kindle.
Mystery- Here's the description from Amazon:
Before there was a Mysterious Benedict Society, there was simply a boy named Nicholas Benedict. Meet the boy who started it all… Nine-year-old Nicholas Benedict has more problems than most children his age. Not only is he an orphan with an unfortunate nose, but he also has narcolepsy, a condition that gives him terrible nightmares and makes him fall asleep at the worst possible moments. Now he's being sent to a new orphanage, where he will encounter vicious bullies, selfish adults, strange circumstances — and a mystery that could change his life forever. Luckily, he has one important thing in his favor: He's a genius.  On his quest to solve the mystery, Nicholas finds enemies around every corner, but also friends in unexpected places — and discovers along the way that the greatest puzzle of all is himself.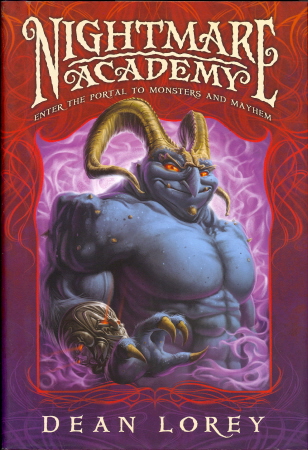 #9:  Nightmare Academy Series- Monster Hunters by Dean Lorey– Finally a series my son has never seen before!  These could be a fun summer read.  It's available in all formats, including Kindle.
Adventure, Humor- Here's the description from Amazon:
Hogwarts meets Men in Black in a thrilling comic adventure about a very gifted boy who joins a monster fighting academy. Charlie Benjamin is not like other children — when he sleeps he has terrible nightmares, and when he wakes it is to find his room has been wrecked. Then one day he wakes up to find a monster by his bed. Luckily, a band of monster-hunting strangers arrives and saves him, only to whisk him away for interrogation by the mysterious "Nightmare Division". It turns out that Charlie has the "Gift" — a rare ability to open portals into the dimension where monsters lurk, and the explanation for the devastating force of his nightmares. But his gift makes him a danger to himself and others: when he is made to open a portal his power is so great that he inadvertently wakes Barakkas, one of the most powerful and evil of all monsters. Threatened with "Reduction" (a lobotomy that would remove his imagination) Charlie is saved by the wise Headmaster of the Nightmare Academy, where he is taken to explore his talents — and prepare for the coming showdown with Barakkas!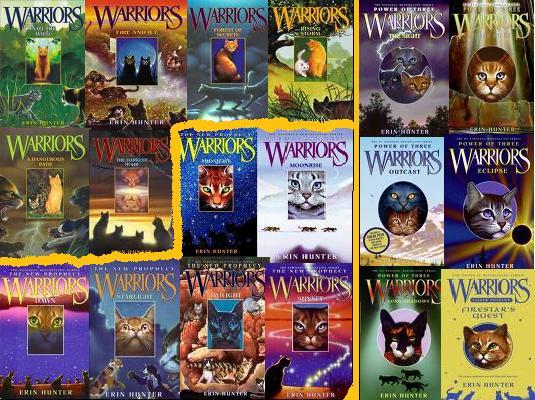 #10:  Warrior's Series (Book 1- Into the Wild) by Erin Hunter– My son is not a fan of books that have animals as the main characters.  But he found this series very interesting and read nearly all of the Warrior's books.  They are available in all formats- and individually on Kindle.
Adventure- here's the description from Amazon:
For generations, four clans of wild cats have shared the forest according to laws laid down by powerful ancestral clans. But now things are changing: ShadowClan has banished WindClan and is threatening RiverClan and ThunderClan by insisting on hunting rights within their territories. What's more, each year the TwoLegs encroach further into the forest, and prey is becoming scarce. A prophecy reveals, "Fire alone can save [the] Clan." Into this dangerous situation wanders a "kittypet," a young, bright orange tomcat whose courage earns him, despite objections by some, a place as an apprentice ThunderClan warrior and the new name of Firepaw. In this first spine-tingling episode in the planned Warriors series, Firepaw learns the ways of the wild life, facing many dangers and treachery both within and without his new clan.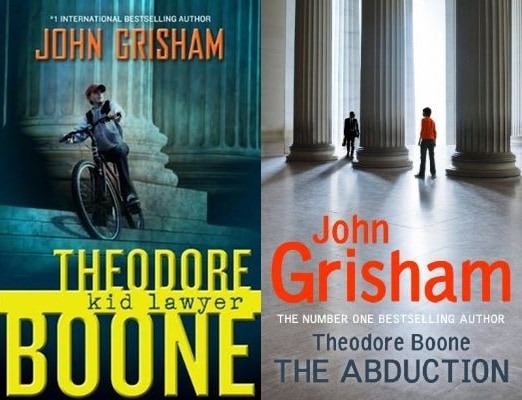 #11:  Theodore Boone- Kid Lawyer by John Grisham: We listened to the first book in this series a couple of summers ago on a road trip when my son was only 9.  We were all engaged in the book, but I'd recommend it for pre-teens who are avid readers since there's an awful lot of lawyer talk included.  This summer we're headed out on another road trip, so we'll be getting the 2nd and 3rd books in the series on audiobook as well.  These books are available in all formats, including Kindle.
Drama- here's the description from Amazon:
In the small city of Strattenburg, there are many lawyers, and though he's only thirteen years old, Theo Boone thinks he's one of them. Theo knows every judge, policeman, court clerkÑand a lot about the law. He dreams of a life in the courtroom. But he finds himself in court much sooner than expected. Because he knows so much- maybe too much- he is suddenly dragged into the middle of a sensational murder trial. A cold-blooded killer is about to go free, and only Theo knows the truth. The stakes are high, but Theo won't stop until justice is served.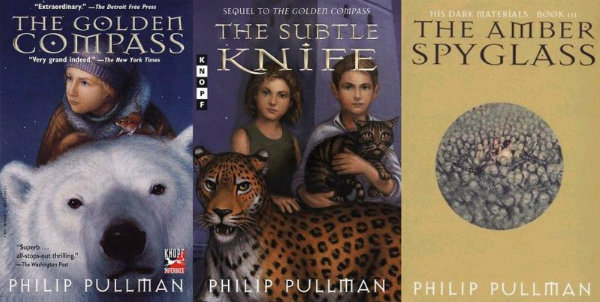 #12:  The Golden Compass trilogy by Philip Pullman– Yep, there was a movie made from the 1st book.  Admittedly, my son didn't enjoy the 1st book so much when he read it last year but I'd like to have him try it again as I've heard the trilogy as a whole is good.  It's available in all formats, including Kindle.
Fantasy- here's a description from Amazon:
The Golden Compass forms the first part of a story in three volumes. The first volume is set in a world like ours, but different in many ways. The second volume is set partly in the world we know. The third moves between many worlds.
In The Golden Compass, readers meet 11-year-old Lyra Belacqua, a precocious orphan growing up within the precincts of Jordan College in Oxford, England. It quickly becomes clear that Lyra's Oxford is not precisely like our own—nor is her world. In Lyra's world, everyone has a personal dæmon, a lifelong animal familiar. This is a world in which science, theology and magic are closely intertwined.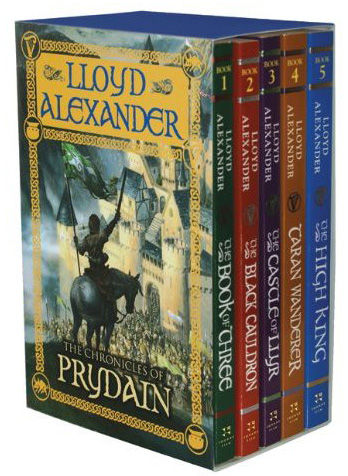 #13 The Chronicles of Prydain by Lloyd Alexander– this series was first written 30 years ago and has been reprinted many times since.  It has been compared to Lord of the Rings and Chronicles of Narnia.  It's available in all formats and individually on Kindle.
Fantasy- here's the description from Amazon:
Millions of young readers have been enthralled by the adventures of Taran the Assistant Pig-Keeper and his lively companions as they journey through the magical land of Prydain. First published more than thirty years ago and translated into twenty different languages, Lloyd Alexander's beloved series has become the standard of excellence in fantasy literature for children. Among their many accolades, the award-winning Chronicles of Prydain count a Newbery Medal, a Newbery Honor, and more than two million copies in print.
#14:  I Am Number Four by Pittacus Lore– There was a movie made from this book and there are other books in the series.  Seems best for older pre-teens.
Science Fiction- here's the description from Amazon:
John Smith has just arrived in Paradise, Ohio, just another stop in a string of small towns where the 15-year-old has been hiding out from the Mogadorians. Those terrifying aliens are hellbent on destroying him and the other nine Loric children who have sought refuge on Earth. The Mogadorians are picking off the surviving kids in numerical order. The first three are dead and John's number is up. Will his Legacies, his defining super powers, develop in time for him to fight against the enemy? I Am Number Four is a breathless page-turner of a sci-fi novel that will have readers rooting for the teen alien who must unleash his fire power to save himself, his human friends, and the planet.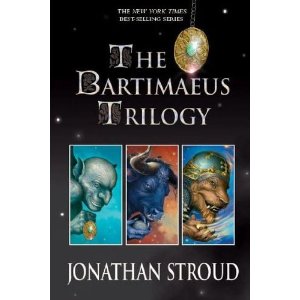 #15:  The Bartimaeus Trilogy by Jonathon Stroud– My son is currently on the second book in this series and is enjoying it a lot.  It's available in all formats, including Kindle.
Fantasy/Magic- Here's a description from Amazon of the first book in the series:
When the 5000-year-old djinni Bartimaeus is summoned by Nathaniel, a young magician's apprentice, he expects to have to do nothing more taxing than a little levitation or a few simple illusions. But Nathaniel is a precocious talent and has something rather more dangerous in mind: revenge. Against his will, Bartimaeus is packed off to steal the powerful Amulet of Samarkand from Simon Lovelace, a master magician of unrivalled ruthlessness and ambition. Before long, both djinni and apprentice are caught up in a terrifying flood of magical intrigue, murder and rebellion.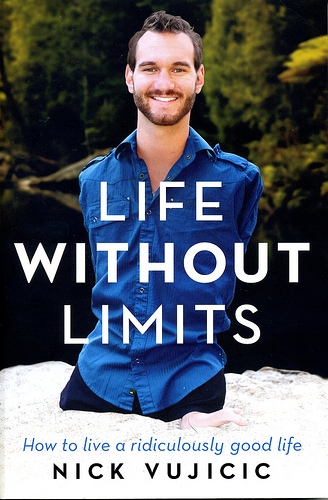 BONUS Recommendation:  Life Without Limits by Nick Vijicic – My Spin instructor is reading this right now.  She thought it would be a great, positive book for pre-teens to read.  I like to remind my son how lucky he is to have such a good life- this book may be an eye-opener.  It's available in all formats, including Kindle.
Non-fiction- here's the description from Amazon:
Life Without Limits is an inspiring book by an extraordinary man. Born without arms or legs, Nick Vujicic overcame his disability to live not just independently but a rich, fulfilling life, becoming a model for anyone seeking true happiness. Now an internationally successful motivational speaker, his central message is that the most important goal for anyone is to find their life's purpose despite whatever difficulties or seemingly impossible odds stand in their way.   Nick tells the story of his physical disabilities and the emotional battle he endured trying to deal with them as a child, a teen, and a young adult. "For the longest, loneliest time, I wondered if there was anyone on earth like me, and whether there was any purpose to my life other than pain and humiliation." He shares how his faith in God has been his central source of strength and explains that once he found his own sense of purpose—inspiring others to make their lives and the world better—he found the confidence to build a rewarding and productive life without limits.   Nick offers practical advice for realizing a life of fulfillment and happiness by building trust in others, developing supportive relationships, and gaining strength for the journey. He encourages the reader by showing how he learned to accept what he could not control and focus instead on what he could.
My son wrote up posts of his favorites on the following posts (so I didn't mention those here):
Best Books for Boys
More Best Books for Boys
There are plenty of other books out there that are great for pre-teen boys but sometimes it's hard to locate them.  If you have any favorites that were not mentioned, by all means please share in the comments below.  Let's get our boys reading this summer!
disclosure:  This post contains Amazon affiliate links.  If you should click through and order a book through one of the links, RecipeGirl receives a very small referral bonus- like 25 cents 🙂 
Comments