Here's another delicious recipe to make with mashed potatoes:  Two Cheese Garlic Zucchini Mashed Potatoes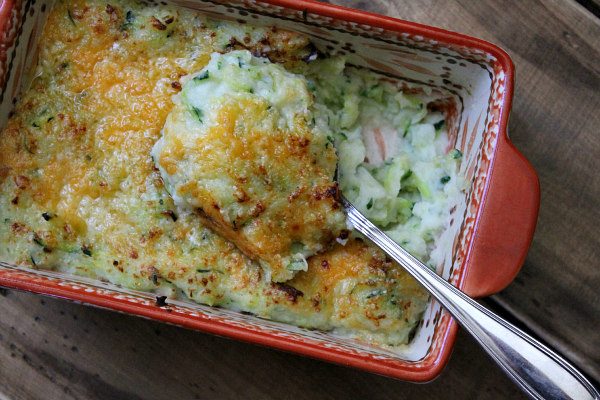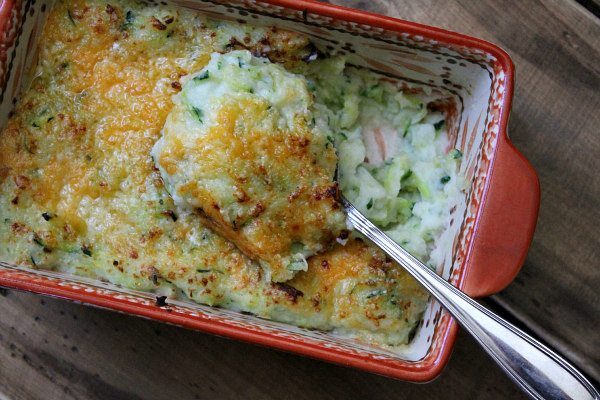 These special, summer-themed mashed potatoes are made from a base of already-prepared, creamy mashed potatoes.  The mashed potatoes are combined with a few goodies to turn them into a little something special.  It's such an easy fix to jazz up classic mashed potatoes!
I've partnered with Bob Evans Foods to create a few recipes showing you what you can do with their line of refrigerated side dishes.  Bob Evans' sides are the #1 selling refrigerated side dish in the country.  They're great on their own or as the basis for quick, easy and delicious recipes.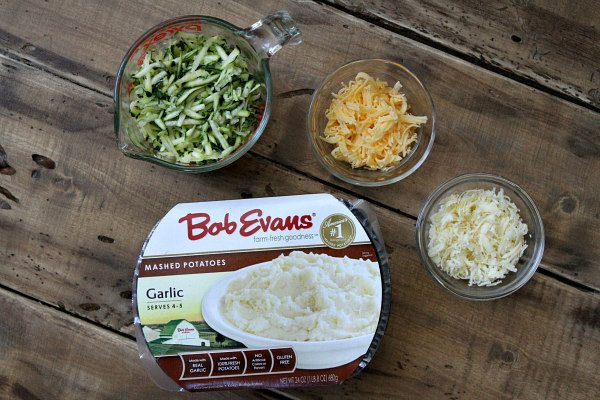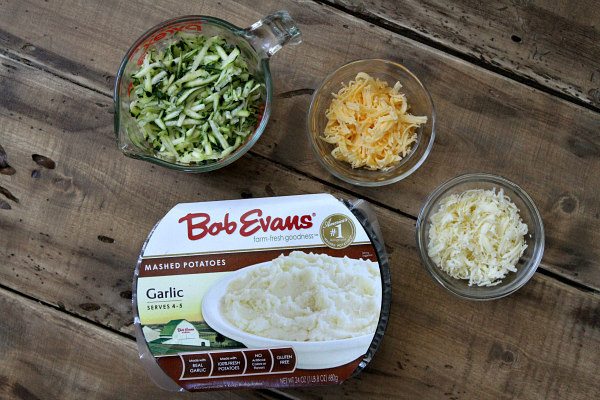 Bob Evans' line of mashed potato refrigerated sides are what I'm focused on today.  I used their Garlic Mashed Potatoes for this recipe.  They're made with real potatoes, real milk and real butter.  My family LOVES THESE POTATOES.  They are great for when you want to pick up a quick side to go with your main dish– so you don't have to spend an hour peeling, boiling and mashing from scratch.  These are a great, quick option to pick up from the store (think of those busy weeknights when you don't have time to make everything homemade!), and it's a quality product that your whole family will enjoy.  And I love that these are already flavored with garlic!
I do use Bob Evans' mashed potatoes on their own as a fabulous side dish, but today I'm showing you how to use them in a recipe to turn them into something else:  Two Cheese Garlic Zucchini Mashed Potatoes!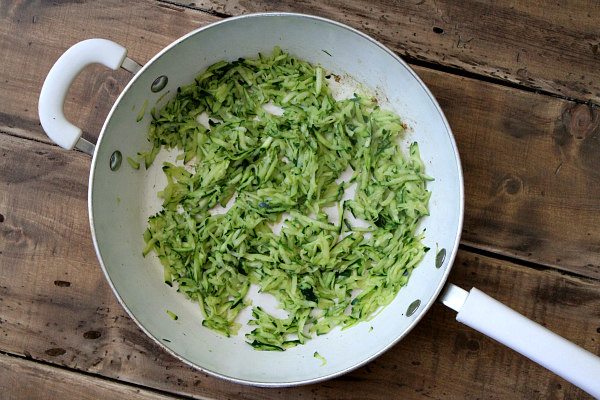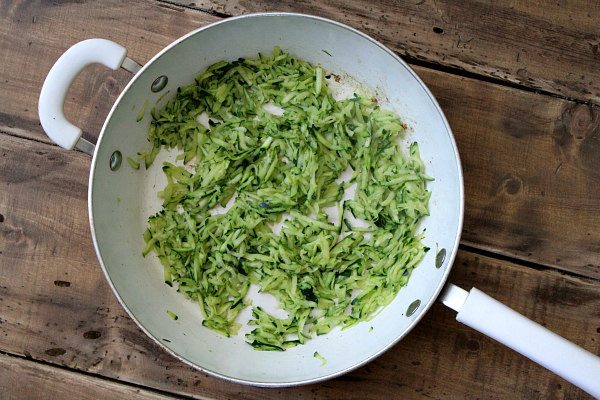 This recipe begins by sautéing a little bit of shredded fresh zucchini in a pan that has been dressed with nonstick spray.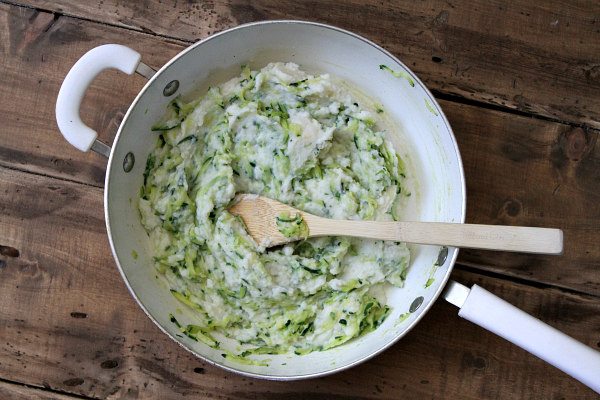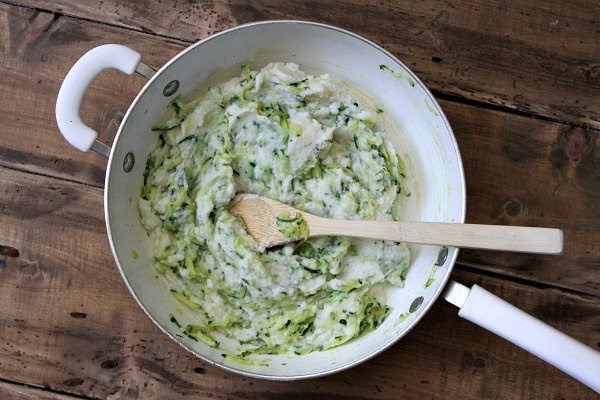 Then you'll add the already prepared Bob Evan's Garlic Mashed Potatoes to heat through.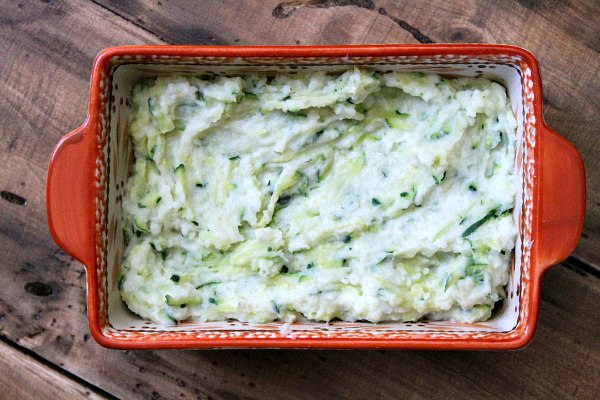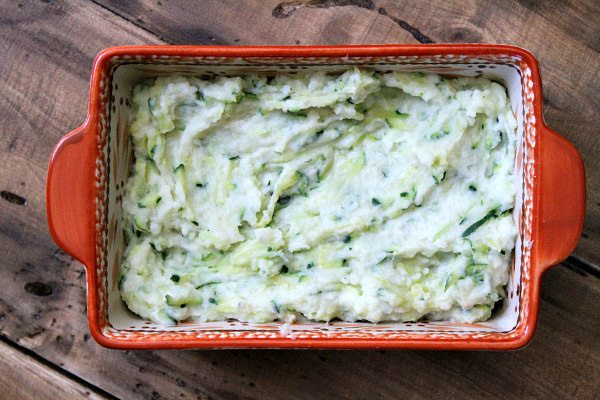 The zucchini mashed potatoes are then scraped into a loaf pan…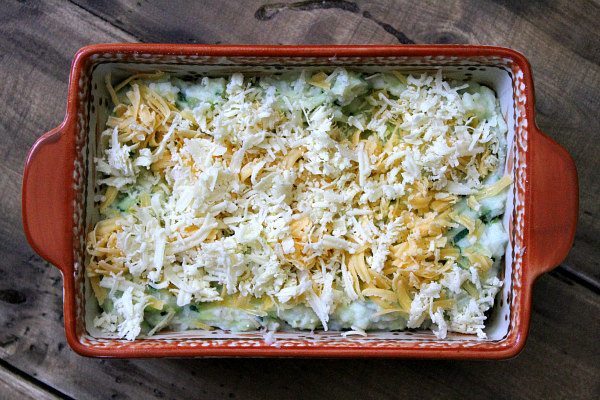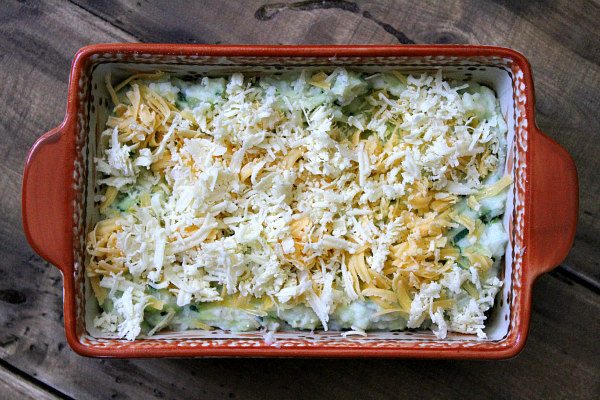 … and are topped with a couple different kinds of cheese.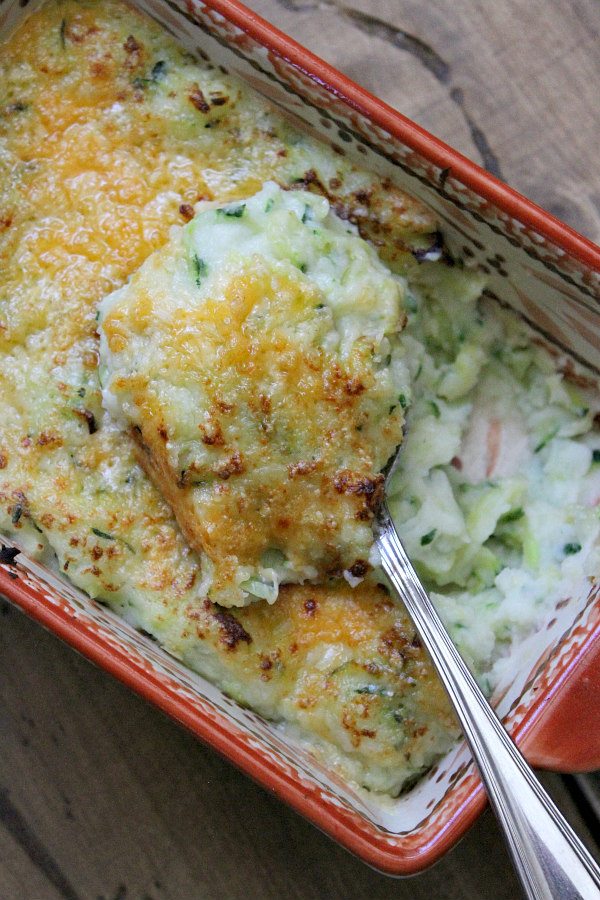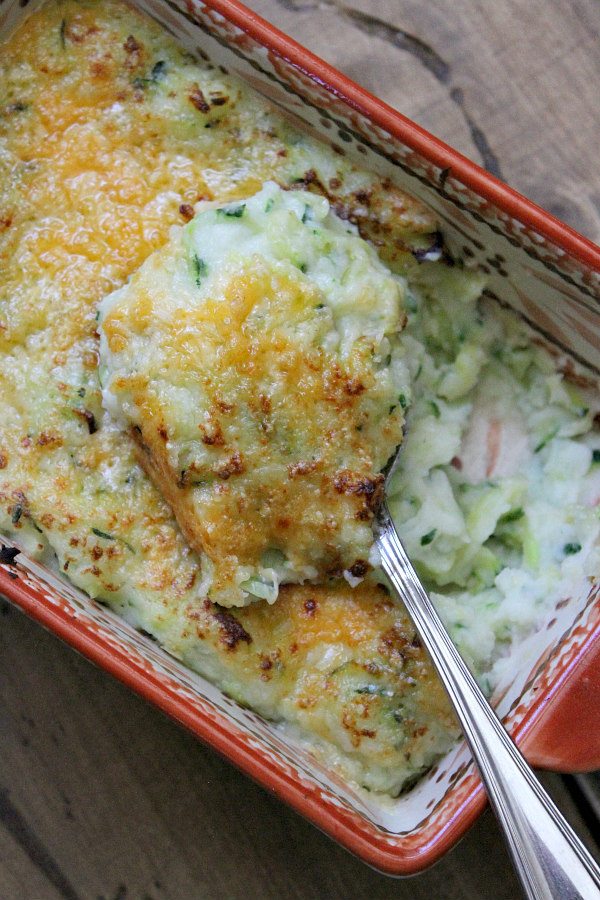 A quick heat under the broiler finished them off- all hot and bubbly and cheesy.  My family loves the zucchini/potato combination.  And they couldn't be any easier to make.  These creamy mashed potatoes would be perfect with any summer grilling recipes you have going on.  And of course they'd be amazing with roast beef or ham too.
Isn't it fun to see what you can do to jazz up mashed potatoes?  For more recipes using Bob Evans' products, visit https://www.bobevansgrocery.com/farm-fresh-ideas.
Two Cheese Garlic Zucchini Mashed Potatoes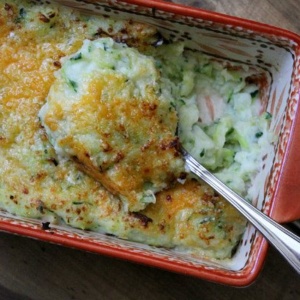 Yield:
6 servings
Prep Time: 20 minutes
Cook Time: 15 minutes
Ingredients:
2 cups shredded

zucchini

One 24-ounce container Bob Evans Garlic

Mashed

Potatoes

1/2 cup finely shredded sharp cheddar cheese
1/2 cup finely shredded Gruyere or Swiss cheese
Directions:
Preheat your oven broiler.
Heat a medium skillet over medium-high heat, spray with nonstick spray and add the

zucchini

.  Saute until softened- about 5 minutes.  Add the

potatoes

and heat through.
Spray a loaf pan or pie pan with nonstick spray.  Add the

potato

mixture to the prepared pan and smooth the top.  Sprinkle cheeses on top of the

potatoes

.  Broil until bubbly- about 5 minutes.  Serve immediately.
SOURCE:  RecipeGirl.com
Here are a few more mashed potato recipes you might enjoy:
Disclosure:  This recipe was made in partnership with Bob Evans Foods.  This is a product that I know and use in my kitchen.  All opinions shared are my own.