I'll admit that I'm somewhat of an adventurous eater. I think most food bloggers can say that. At restaurants I try to order things that I've never had… or at least things that I haven't yet tried making myself. It keeps things interesting, I think.
Greens are one of those foods I've been having fun experimenting with this year. I've found that I absolutely adore swiss chard, I tried mizuna in a stir fry and loved it, and arugula & mache have become my favorite greens to toss into salads and onto pizza. Beet greens will be next… I love beets themselves but have never tried to saute the greens. Something tells me they'll be good too.
My mother was visiting last week, and I thought I'd introduce her to some greens that I knew she'd never had before. We visited Specialty Produce and picked out some rather leafy-looking watercress as well as heads of green and purple Belgian endive.  Watercress comes in little bunches and it has little leaves. For a salad, its best to mix it with other greens.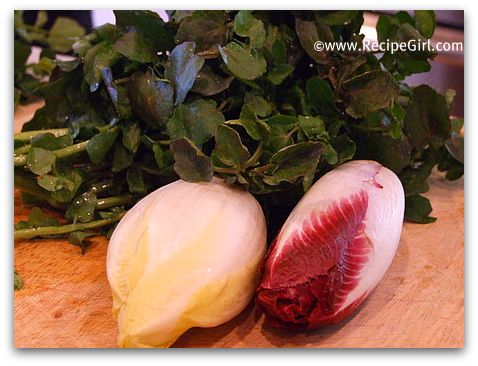 And we made this: Watercress- Grape Salad with Creamy Cabernet Dressing


First things first. I love wine, and I love cooking with wine. It's a rare evening that I don't indulge in a glass of red, so throwing a little bit of it into a salad dressing sounded like a good idea to me! It was a good idea. This pink-tinged salad dressing was delicious… just a touch of rice vinegar & dijon mustard, and a dollop sour cream made it slightly creamy.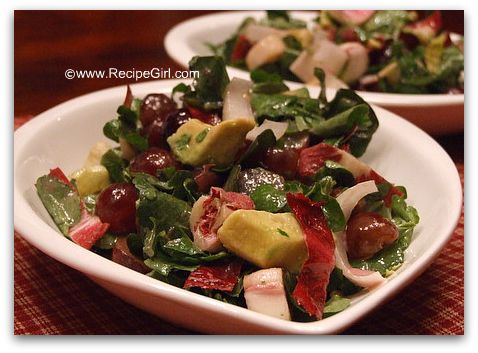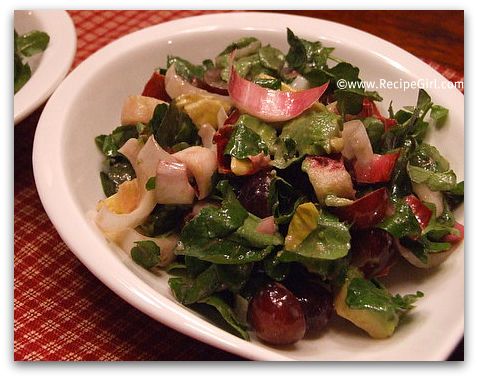 I love making salads that aren't the 'typical' same-old boring salad. This one was very different- the salad consisted of watercress, endive, grapes and avocado.   You may notice that the salad doesn't have gobs of creamy dressing on it… we lightly dressed it & tossed it, and it was perfect that way.
This salad was amazing… we all agreed. My mother is one of the pickiest eaters I know (sorry Mom but you know that, right?!) and she enjoyed this salad too. Of course, you can make this salad with other greens, and I think it would be just as good. But do yourself a favor and try something different for a change- because you MIGHT just find that you like it!
This recipe can be found here:  Watercress- Grape Salad with Creamy Cabernet Dressing