Welcome Readers to the newly designed RecipeGirl.com website!  This site debuted as a recipe database back in 2006 – a small collection of recipes under another name.  It was re-named RecipeGirl in 2007, the blog was added in 2008, and it has been overhauled a couple of times since as the site has gotten larger and larger.  I think this new design is much more user-friendly and simple.  I'll take you through the new features, but first… here's a short video about me & my site. Click the photo below to play-


First, the new logo! It was time to go shopping… my "girl" got a cute, new burgundy shirt.  Lindsay from Purr Design has worked tirelessly on creating my new website design.  I highly recommend her 🙂
The rotating slide show! I love this feature because it allows me to feature 4 current recipes or menus that I think readers might be interested for the season or upcoming holiday.
No separate blog page! The Recipe Girl blog now appears under the home page.  If you have had a subscription via RSS reader, it should still be active.  If you'd like to subscribe via reader- just click the icon in the upper right-hand corner, or subscribe via email in the right side bar.  I usually update twice a week (typically Mondays & Thursdays).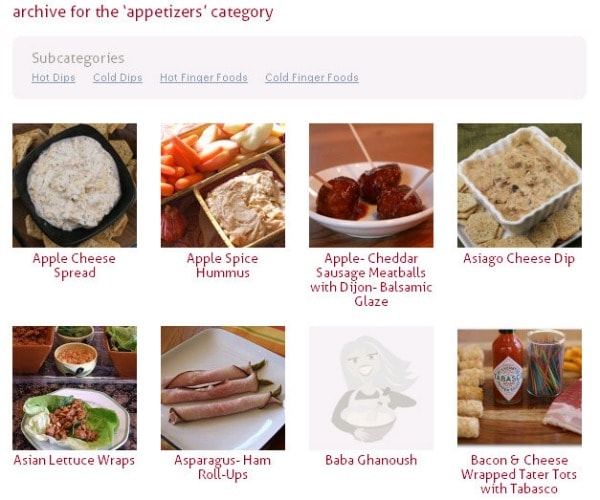 I've been wanting this feature for my readers for a long, long time- a visual recipe index! If you click on RECIPE INDEX on the button up top, you'll see a list of main categories.  Click on one of those categories and the visual recipe index for that category pops up.  If you want a more specific category, those options will pop up as well.  The visual recipe index is a work-in-progress.  I need to edit every single recipe on the site to code the photo so that it will show up.  I'm working on this every day… and getting it done as quickly as I can 🙂  If you open up a recipe and don't see a photo at all- that just means I haven't captured a good photograph of that recipe yet.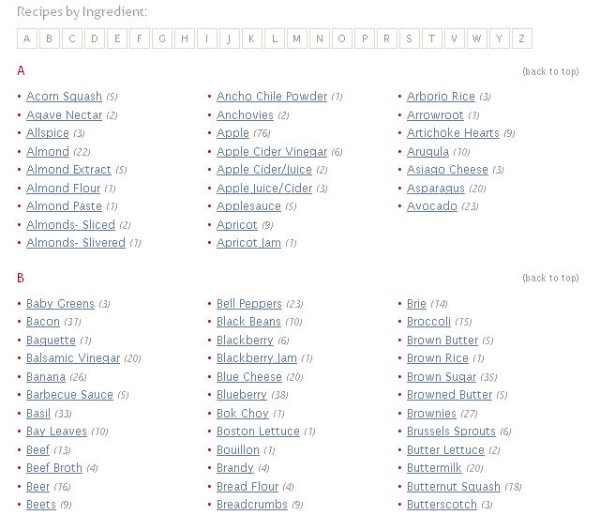 When you click on the RECIPE INDEX at the top, there is also a "search by ingredient" section. So if you have an avocado that you're looking to use up, you can click on "avocado," and you'll find 23 recipes that have avocado in them.  All of my recipes are not tagged for ingredients yet, so this list will continue to grow!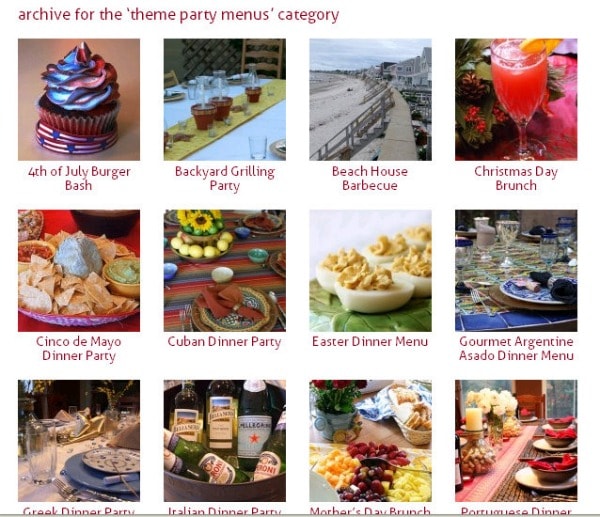 Another button option at the top is THEME MENUS.  These are the menus I have featured on my site.  If you need ideas for a dinner party, brunch or casual barbecue… you might find want you need or gain some inspiration from menus I have in this section.  Recipes and printable .pdf menus are included.  I add additional menus every so often as I have new parties in my home and with my Gourmet Dinner Party group.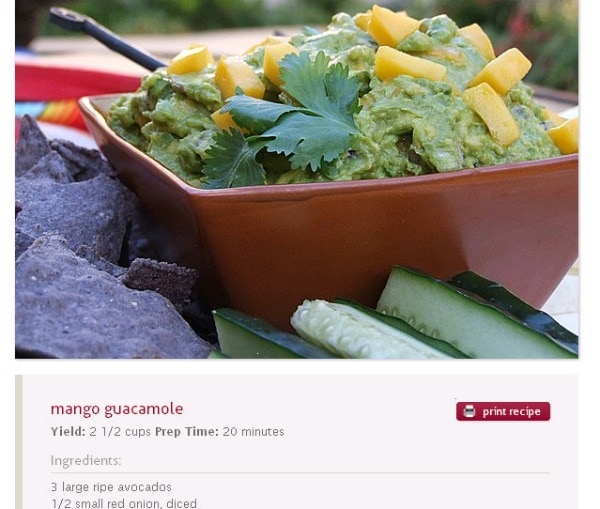 Easier print feature for recipes!  Just click PRINT RECIPE and you'll see a clean & easy-to-read printable recipe page.  Again, I'm in the process of making sure that every single recipe on the site is edited to have this new feature.  Many of the older recipes don't have the new print feature yet… but I promise that all recipes on the site will eventually be this easy to manage.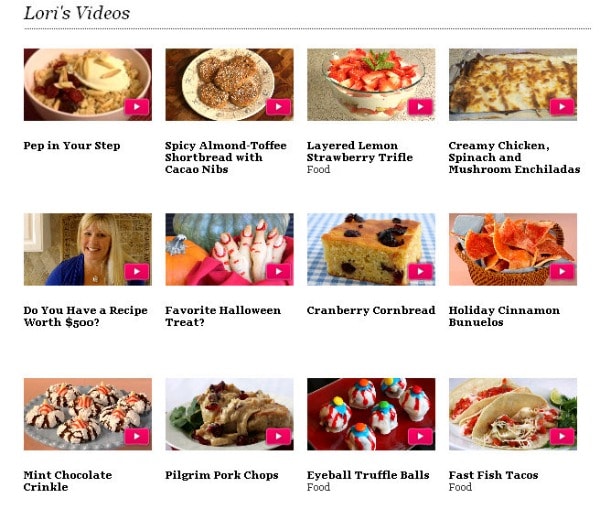 VIDEOS! All of my videos are organized in one, neat place on my Her Channel partner site.  Click over to my personal video page to see the index of all of my video recipes.
Questions you may have:
Does RecipeGirl.com have an App in the works?
I get this question a lot.  I hope to do this eventually.  It's definitely a possibility.  Would you like to see one?
Are you on Facebook or Twitter?
Yes.  At the top of the site, you'll see links to the RecipeGirl Facebook page and Twitter too.
Will recipes be included in blog posts from now on?
Yes!  When I first started the site, I kept the recipes indexed separately from the blog posts.  From now on, recipes will be included in the blog posts.
What if I can't find the recipe I'm looking for?
Use the search feature in the header at the top.  If you can't locate what you're looking for, go ahead and shoot me an email (via the contact form).
I've sent a question via the contact form and have not received a timely response.  What's up?
I'm at my computer most days… working away… but sometimes I'm just being a Mom, or cooking dinner, or running errands, or traveling.  I can't always get to my computer to answer a question immediately.  I answer as quickly as I can.
How do I contact you if I'd like to work with/hire/collaborate with you?
Use the contact form to contact me, or email me directly foodie (at) recipegirl (dot) com.  I'll have more information in the WORK WITH ME tab at the bottom of the site… soon.
Anything else?  If you come across anything that looks like a big boo boo, please shoot me an email! Let me know if you have questions about the new site… and let me know what you think of it!
Happy cooking 🙂