Before I took on food as a career, I was an elementary teacher for 12 years.  Here's me in action back in the early 90's!  I'm teaching my first graders about syllables… how you can clap while you say a word to figure out how many syllables it has.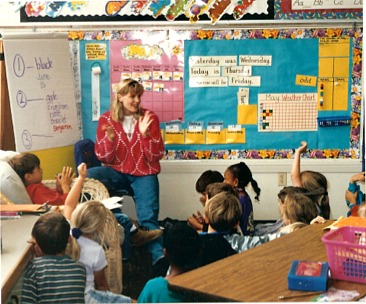 I loved being a teacher.  I worked all day and then came home and worked all night, correcting papers, cutting things out and planning meticulously for the next day.  I loved spending time with a roomful of energetic kids, and I loved watching them learn and making school exciting and fun for them.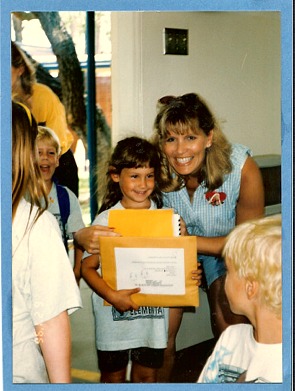 Here's one of my many favorite students from my Kindergarten class.  She's in COLLEGE now (yikes!)  And we're friends on Facebook 🙂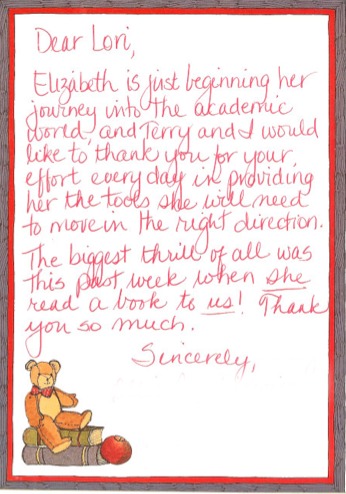 I don't have a desire to teach anymore since things have gotten so political and the budget cuts have squashed much of the fun out of the profession.  But I admire those who are still sticking with it.  They are to be thanked and praised each and every day for all they do with our little ones.
So what kinds of things do teachers desire from parents?  I have to say that the letters of praise kept me going.  And I've kept all of them in a special scrapbook of my teaching years.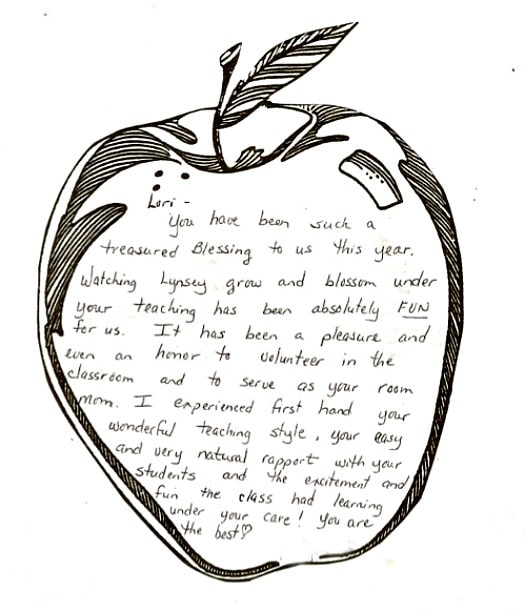 Yep, the nice notes and praise always meant much more than candles and knickknacks and home-baked goodies.  I suppose nice notes are only appropriate though if you are happy with your child's teacher!  You'll have to decide if a grande note-of-praise is appropriate.
If you're really stuck on what to get your child's teacher for Christmas, please know that gift cards are best.  Most teachers love book stores, craft stores, iTunes, Starbucks and Nordstrom.  It doesn't have to be for a large amount.  Teachers usually get gifts from several parents, so they all add up.  One year, the parents in my class got together and all contributed to a very nice gift card to Nordstrom.  That was super cool and very much appreciated.  Handmade gifts were always wonderful too.  I loved getting crafty things.  Basically, whatever you can do to show your gratitude for your child's teacher is really very nice during the holidays (and every day, for that matter).
If you've got an idea for what to do for your child's teacher for a holiday gift, please share!