White Chocolate and Raspberry Cookies
This recipe for White Chocolate Raspberry Cookies turns out a very pretty cookie recipe.  Raspberry jam is nestled inside a white chocolate cookie.  More white chocolate is drizzled on top!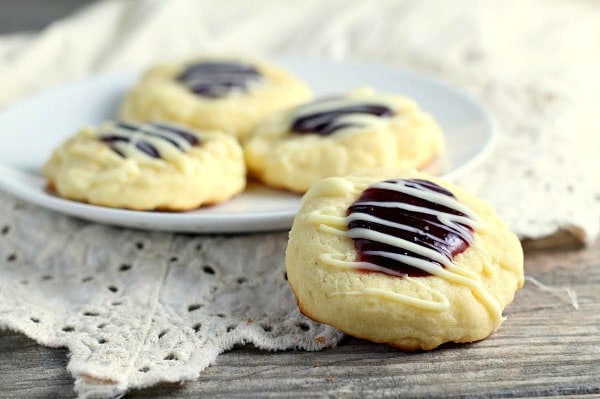 White Chocolate Raspberry Cookies
These cookies have a buttery, white chocolate base and are filled with raspberry jam.  For extra elegance, a small amount of melted white chocolate is drizzled on top.  They're so pretty!
I've always thought of these as the perfect Christmas cookie recipe, but it turns out they're delicious all year long too.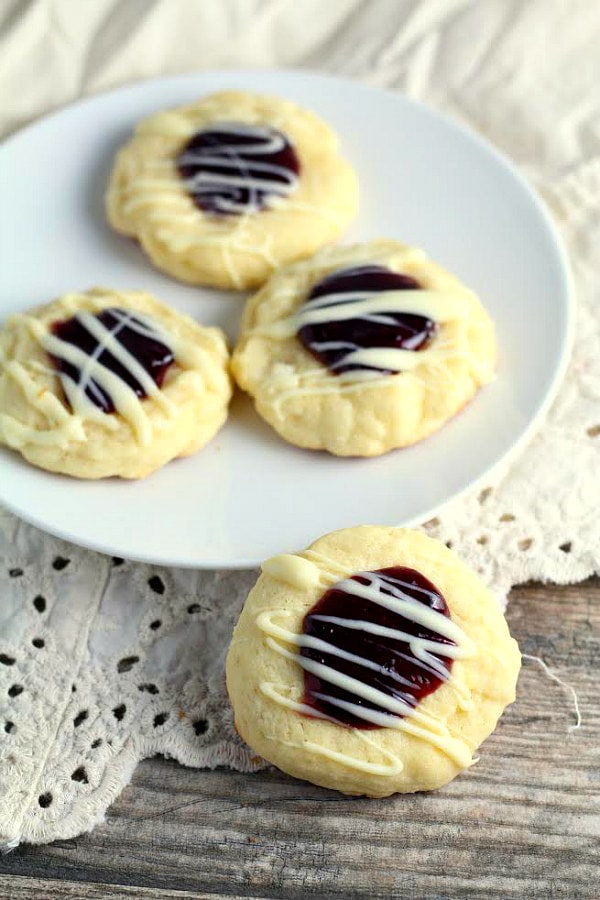 If you're a fan of raspberry and white chocolate, these Raspberry White Chocolate Cookies will become your new favorite cookie recipe.  Picture biting into this cookie and getting the crunch of the white chocolate cookie along with the tangy sweetness of raspberry.  It's impressive!
Here are a few more cookie recipes you might enjoy:
White Chocolate Raspberry Cookies
Yield:
48 cookies
Prep Time: 30 minutes
Cook Time: 12 minutes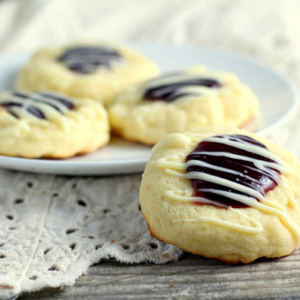 Ingredients:

8 ounces white chocolate baking bar
1/2 cup (1 stick) butter, softened
1 cup granulated white sugar
1 teaspoon baking soda
1/4 teaspoon salt
2 large eggs
2 3/4 cups all-purpose flour
1/2 cup seedless raspberry jam
3 ounces white chocolate baking bar
1/2 teaspoon shortening

Instructions:

Preheat oven to 375°F. Grease a cookie sheet or line with parchment paper or a silpat mat; set aside.
Chop 4 ounces of the baking bar; set aside. In a saucepan melt the remaining 4 ounces of baking bar over low heat, stir constantly. Let cool.
Use an electric mixer to beat the butter about 30 seconds. Add the sugar, baking soda, and salt. Beat until combined. Beat in the eggs and melted baking bar until combined. Beat in as much flour as you can with the mixer. Stir in any remaining flour. Stir in the 4 ounces of chopped white baking bar.
Drop the dough from rounded teaspoons 2 inches apart onto the prepared cookie sheet. Bake in preheated oven 7 to 9 minutes or until cookies are lightly browned around edges. Cool on cookie sheet for 1 minute. Transfer cookies to wire racks; cool.
Just before serving, in a saucepan melt the jam over low heat. Spoon about 1/2 teaspoon jam atop each cookie. In a heavy saucepan melt 3 ounces white baking bar and shortening over low heat; stir constantly. Drizzle cookies with melted mixture. If necessary, chill cookies for 15 minutes or until baking bar mixture is firm.