This recipe has been featured in a post on The Recipe Girl blog:  Kumquat Marmalade w/ Orange Pecan English Muffin Bread.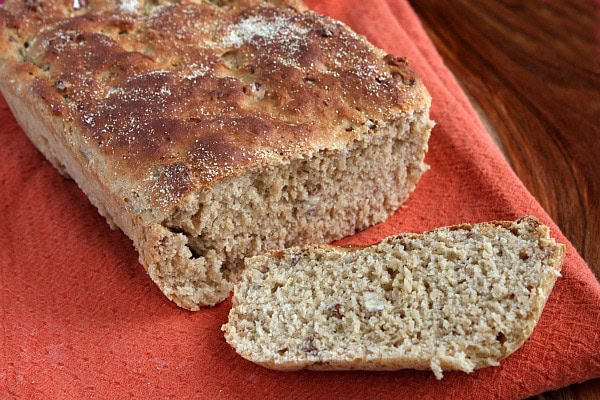 Whole Wheat- Orange Pecan English Muffin Loaf
You'll end up with two loaves, which means you can enjoy one now, and freeze one for later. They're delicious with a smidge of butter and a drizzle of honey or jam.
Yield:
2 loaves
Prep Time: 20 min + rising time
Cook Time: 35 min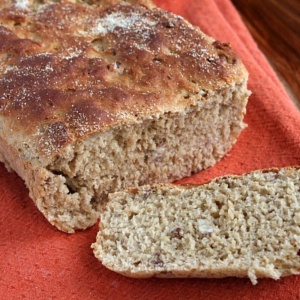 Ingredients:

3 cups all-purpose flour, divided
2 cups whole wheat flour, divided
2 (1/4-ounce) packages active dry yeast
2 Tablespoons granulated white sugar
2 teaspoons ground cinnamon
1 teaspoon salt
1/4 teaspoon baking soda
1 1/2 cups warm orange juice (120 to 130 degrees F)
1/2 cup warm water (120 to 130 degrees F)
1/4 cup canola oil
1/2 cup finely chopped pecans
cornmeal

Instructions:

1. In a large bowl, whisk together 1 cup of all-purpose flour and 1 cup of whole wheat flour, yeast, sugar, cinnamon, salt and baking soda. Add orange juice, water and oil; beat on low speed until moistened. Beat on high for an additional 3 minutes. Stir in pecans and remaining flour (2 cups all-purpose flour and 1 cup of whole wheat flour). You'll end up with a stiff batter, but don't knead it.

2. Spray 2 (8x4-inch) loaf pans with nonstick spray. Sprinkle the pans with cornmeal. Spoon batter into pans and sprinkle with a little more cornmeal. Cover with a cloth and let rise in a warm place until doubled, about 50 minutes.

3. Preheat oven to 350 degrees F. Bake 35 to 40 minutes or until golden brown. Immediately remove from pans to cool on wire racks. Slice and toast when ready to eat.

Tips:

*It's perfectly okay to use (all) all-purpose flour & leave out the wheat.
*It's important to coat the greased pans with cornmeal- it will help keep the loaves from sticking to the pan.
*To create a warm place for rising, turn on your oven light, let it heat for a brief 30 seconds, turn off the oven and let the loaves rise in there.
*This bread freezes well. Wrap tightly with foil and place in the freezer until ready to defrost and eat.