Last summer I bought one of those cute, little, easy-to-carry-around computers: a netbook. It was so great to travel with, I was able to write my blog easy enough on the little thing, and I could download pictures too. Whenever I found myself stuck at the auto dealership or other places where the wait can be torturous, the netbook came along in my purse and I was able to get some work done or surf the internet.
And then came this summer. Again, the netbook traveled with me on vacation. I popped it open one evening as I sat watching the sunset and enjoyed a glass of wine.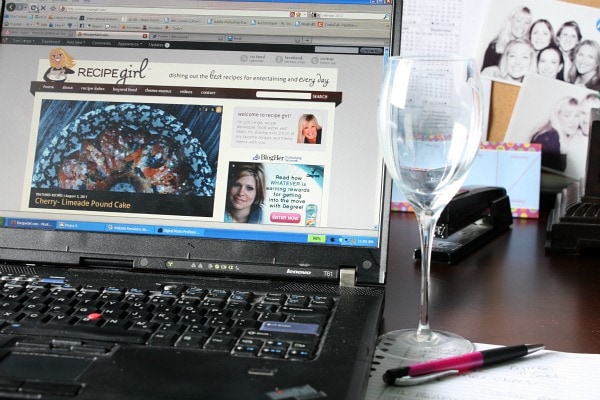 Here's where I made the mistake. See the wine glass? See how it's right next to the computer? Well, no drink at all should be ANYWHERE NEAR your keyboard. And here is why…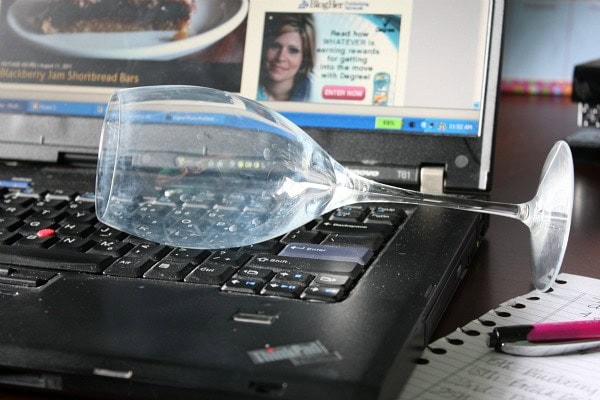 It didn't matter that it was wine. It could have been iced tea or coffee or Mountain Dew. I reached for something, and it tipped over onto my cute, little netbook keyboard. I immediately grabbed a box of Kleenex and dabbed away, tipped my computer over and let the liquid drip out, then powered it down and thought about what a dumb mistake that was.
I thought all was fine the next day when I hit the power switch and it turned on… but the keyboard does not function, and the recommendation from the computer-geek-powers-that-be was that it would be better to replace it than try to repair it.
So learn from me… and keep ALL beverages far and away from your electronic devices!
So now that I've had to say goodbye to my netbook, here's my dilemma. I've been itching to get an iPad. I don't know if it's just because I'm falling victim to the iPad craze or if it's really a gadget that I have to have. I'd like to be able to write my blog on my it while traveling (assuming I don't need to download photos from my camera).
So should I replace my netbook, or should I consider purchasing the iPad (3G or not??) with an external keyboard instead? If you've had experience with both, I'd love to hear your thoughts too!
Updated to add:  I ended up purchasing another Netbook.  Wow, they're cheap now!  The guy who sold it to me said that since the tablets (iPad) are so much in demand, it has really brought the price of the Netbooks down.  Since I do quite a bit of typing and blogging while I'm traveling, I figured another Netbook was the way to go.  I got an Asus brand- something I had never heard of, but it came highly recommended.  The Netbook itself was only $199 at Best Buy.  I added a service plan & data transfer.  No more liquids next to the computer!