This recipe has been featured in a post on The Recipe Girl blog: Cooking With Mizuna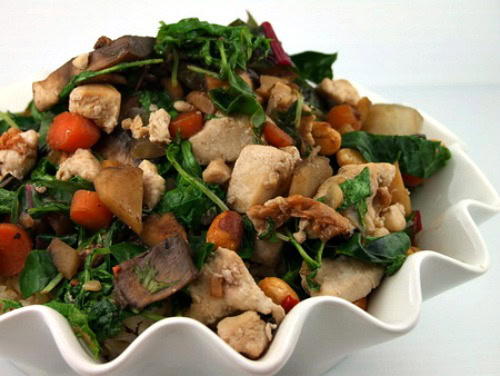 Wok Sauteed Mizuna & Portobello Mushrooms w/ Minced Chicken
Great low fat dish full of veggies! We serve this over brown rice.
Yield:
6 servings
Prep Time: 30 min + marinating time
Cook Time: 15 min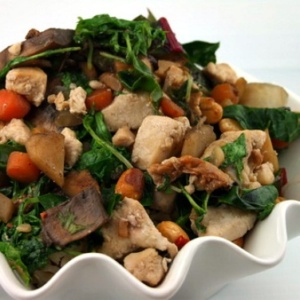 Ingredients:

1 large egg white, lightly beaten
3 Tablespoons soy sauce, divided
2 cloves garlic, finely chopped
1 pound boneless, skinless chicken breast, very finely chopped
2 teaspoons canola or peanut oil
1/3 cup finely chopped carrot
1/3 cup finely chopped yellow onion
1/2 cup chopped water chestnuts
1/2 cup finely chopped zucchini or yellow squash (or a combo of both)
1 cup sliced portobello mushrooms
1 teaspoon chili garlic sauce
1 Tablespoon freshly squeezed lime juice
1 cup sliced swiss chard
1/2 pound mizuna, trimmed (I used micro- mizuna)
1/4 cup unsalted peanuts
1/4 cup finely chopped green onions

Instructions:

1. In a medium bowl, mix egg white with 1 Tablespoon of the soy sauce, garlic and chicken. Cover and refrigerate for 1 hour.

2. Heat 1 teaspoon of the oil in a wok or large skillet over high heat. Add chicken mixture and cook, stirring constantly, 4 to 6 minutes, or until chicken is cooked through and appears opaque. Remove chicken from the pan and transfer to a plate; set aside. Heat remaining 1 teaspoon of oil in the pan. Add carrots, onions, water chestnuts, squash and mushrooms, and cook, stirring constantly, for 1 minute. Add remaining soy sauce, chili garlic sauce, lime juice, swiss chard and mizuna and cook, stirring often, until slightly wilted. Return chicken to pan and toss well. Garnish with peanuts & green onions and serve- either alone or on top of brown rice.

Tips:

*Can't find mizuna? You can substitute watercress, baby spinach leaves, mustard greens or kale. If using kale, add it a little earlier in the recipe with the carrot and onion- giving it time to become tender.
*Serve this stir fry on its own or over brown rice.