We made a double recipe of this Ziti Carbonara with Salami for our big family reunion dinner. What a hit!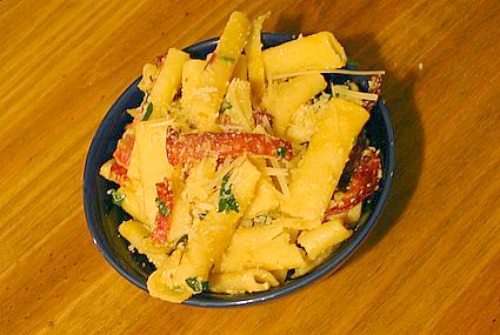 Ziti con Salami Carbonara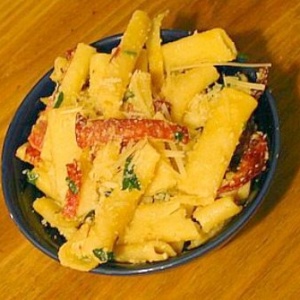 Yield:
4 servings
Prep Time:25 min
Cook Time:15 min
Ingredients:
1 pound ziti
3 tablespoons olive oil
3 tablespoons butter
1/4 pound Genoa salami, julienned (sliced in thin strips)
2 large egg yolks
1/2 cup heavy whipping cream
1/4 cup Parmigiano- Reggiano cheese, grated (plus more for garnish)
1 teaspoon freshly ground black pepper
1/4 cup fresh Italian flat-leaf parsley, chopped
Directions:
1. Bring a large pot of salted water to a boil and cook pasta until al dente (tender, but slightly firm to the bite).
2. Meanwhile, in a large sauté pan over medium-high heat, heat the olive oil and butter. Add salami and cook until brown and crisp.
3. In a bowl, beat egg yolks. Add cream, cheese and pepper.
4. Drain pasta and add to the sauté pan. Sauté 30 seconds. Add egg mixture and sauté for 1 minute.
5. Top with additional Parmesan cheese and parsley. Serve immediately.
More carbonara-themed pasta recipes you might enjoy:
Spaghetti alla Carbonara by Leite's Culinaria
Skillet Pasta Carbonara by RecipeGirl
Spiralized Pasta Carbonara by Inspiralized
Roasted Cauliflower and Mushroom Carbonara by Closet Cooking