This recipe has been featured in a post on The Recipe Girl blog: Pink Strawberry Cupcakes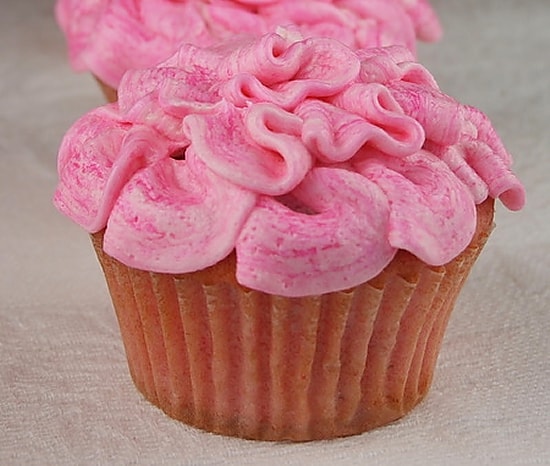 Yield: About 18 cupcakes
Prep Time: 20 min
Cook Time: 20 min
Pink Strawberry Cupcakes
These girly cupcakes are a delightful surprise. If you can manage to get past the batter (without eating it all by the spoonful) to bake them up into cupcakes, the flavor of these is fantastic. Among my favorite all-time cupcake recipes...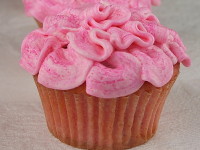 Ingredients:
2 1/4 cups cake flour
1 1/2 cups granulated white sugar
2 3/4 teaspoons baking powder
1/2 teaspoon salt
3/4 cup (1 1/2 sticks) unsalted butter, at room temperature
3/4 cup pureed frozen strawberries (about 1/4 of a 1 pound bag)
4 large egg whites
1/3 cup milk
several drops of red/pink food coloring or gel paste
Directions:
1. Preheat oven to 350°F. Line 18 cupcake pan with paper liners.
2. In a medium bowl, whisk together flour, sugar, baking powder and salt; set aside.
3. In a large bowl with electric mixer, blend butter with strawberry puree. Add flour mixture and blend until light and fluffy (batter will be very thick).
4. In another bowl, whisk together egg whites, milk and dye. Add whites in three parts to the batter mixture, mixing only until incorporated after each addition.
5. Fill cupcake liners about 3/4 full. Bake 18 to 22 minutes, or until toothpick inserted in center comes out clean.
6. Let cupcakes cool completely before frosting.
Tips:
*Use fresh strawberries if you wish, but put them in the freezer first to draw the moisture out of them, and then puree them as you would bagged frozen strawberries.
*I used Wedding Cupcake Buttercream tinted with pink gel paste to ice these cupcakes.
35 Responses to "Pink Strawberry Cupcakes"
Leave a Comment