Here's a sweet and pretty cupcake recipe for you:  Pink Strawberry Cupcakes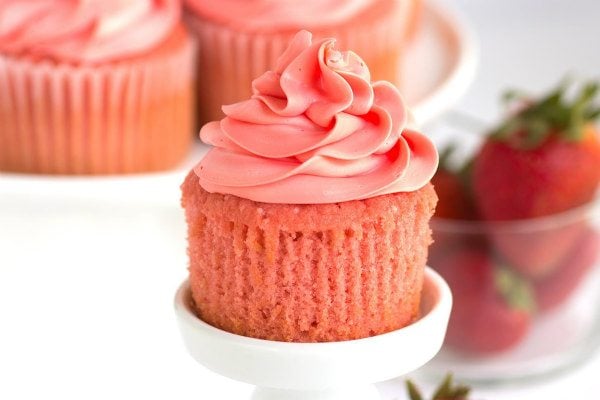 Fair warning:  don't taste the cupcake batter.  It tastes like strawberry ice cream, and you may be tempted to grab a straw!!
Here's a short video showing you how to make these cupcakes.  Click to watch, then scroll to the bottom of this post to print out the complete recipe.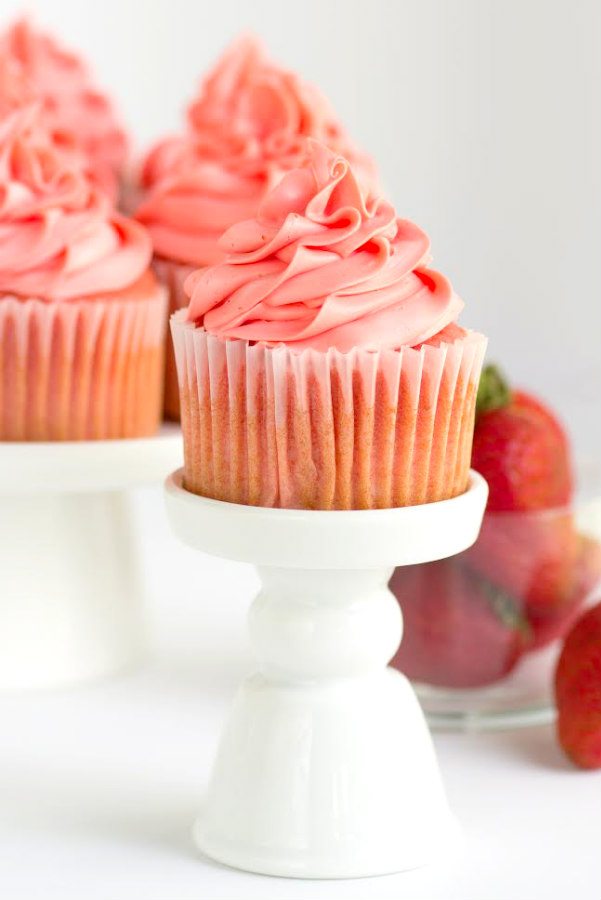 These cupcakes turn out to be a lovely shade of light pink, but I help that process along with a squirt of pink/red gel paste. You can leave the coloring out and the cakes will be slightly pink, but they're much cuter with a darker tint.
I frost these with my Wedding Cupcake Buttercream recipe- I highly recommend you try it!
Thank you to Miranda from the CookieDoughAndOvenMitt.com blog for shooting beautiful photos of these cupcakes for me!
Yield: About 18 cupcakes
Prep Time: 20 minutes
Cook Time: 20 minutes
Pink Strawberry Cupcakes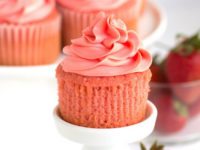 Ingredients:
2 1/4 cups

cake flour

1 1/2 cups

granulated white sugar

2 3/4 teaspoons

baking powder

1/2 teaspoon

salt

3/4 cup (1 1/2 sticks)

unsalted butter

, at room temperature

3/4 cup

pureed frozen strawberries

(about 1/4 of a 1 pound bag)

4 large

 Eggland's Best 

egg whites

1/3 cup

milk

several drops of red/pink food coloring or gel paste
Directions:
Preheat the oven to 350°F. Line 18 cupcake pan with paper liners.
In a medium bowl, whisk together the flour, sugar, baking powder and salt; set aside.
In a large bowl use an electric mixer to blend the butter with the strawberry puree. Add the flour mixture and blend until light and fluffy (the batter will be very thick).
In another bowl, whisk together the egg whites, milk and dye. Add whites in three parts to the batter mixture, mixing only until incorporated after each addition.
Fill the cupcake liners about 3/4 full. Bake 18 to 22 minutes, or until toothpick inserted in center comes out clean.
Let the cupcakes cool completely before frosting.
Tips:
Use fresh strawberries if you wish, but put them in the freezer first to draw the moisture out of them, and then puree them as you would bagged frozen strawberries.
I use Wedding Cupcake Buttercream tinted with pink gel paste to ice these cupcakes.
Here are a few more cupcake recipes you might enjoy:
Comments