My boy turned 10 last weekend.  His 1st double digit birthday… a monumental event.  It was celebrated with Nutella-topped toast for breakfast, a baseball game where he played his favorite positions (pitcher & 1st base), a Padre's game and a sleepover with two best friends. I always ask my little guy what sort of cake he desires for his birthday. This year it was a red, white and blue cake. And as I do every year, I asked my boy a few questions on his birthday…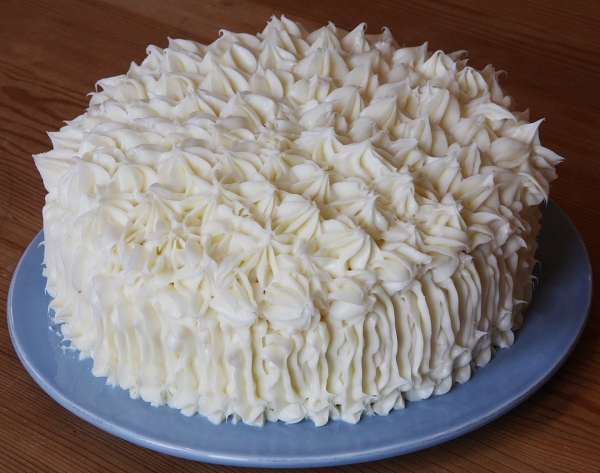 What did you get for your birthday?
a food blog!!- www.RecipeBoy.com

How do you feel about that?
Yayyy!  I get to be like my Mom now.
What are your plans for your food blog?
I'll make recipes, tell stories, review cookbooks and products that I like, and I'll be doing my OWN photography too.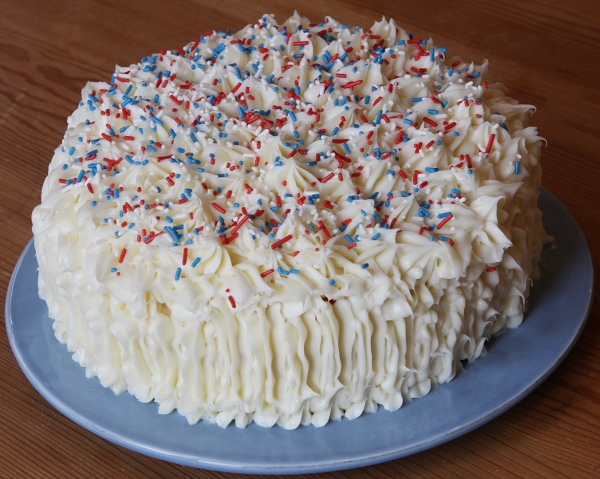 What recipe ideas do you have lined up for your blog?
So far, I'm thinking Snicker's Bar Pie, Twix Cheesecake Pie, Grammy's Tuna Casserole, Salisbury Steak, and something from Matt's On a Stick cookbook.
Who do you hope to inspire?
all kids!  I'd like to inspire kids to write food blogs themselves and to make easy recipes.
What famous food people do you hope to meet someday?
The Pioneer Woman, Picky Palate, Bobby Flay and that guy from Man vs. Food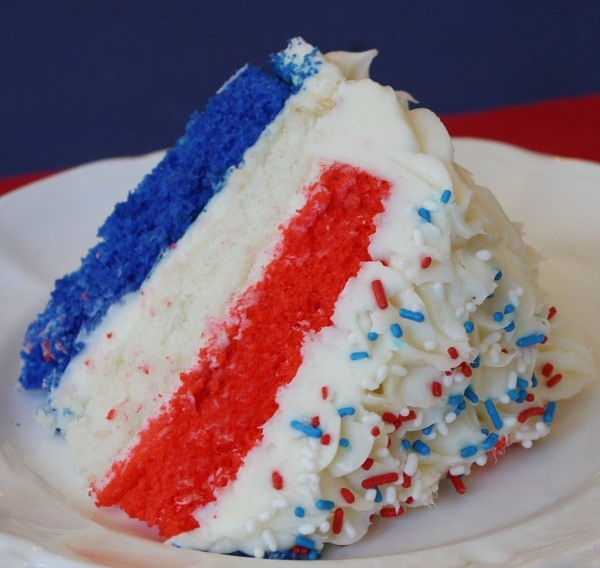 What do you like to do when you're not in the kitchen?
play sports (my favorites are football and basketball)
What are your favorite subjects in school?
recess, math and reading
What's the last book you read?
Sherlock Holmes and the Baker Street Irregulars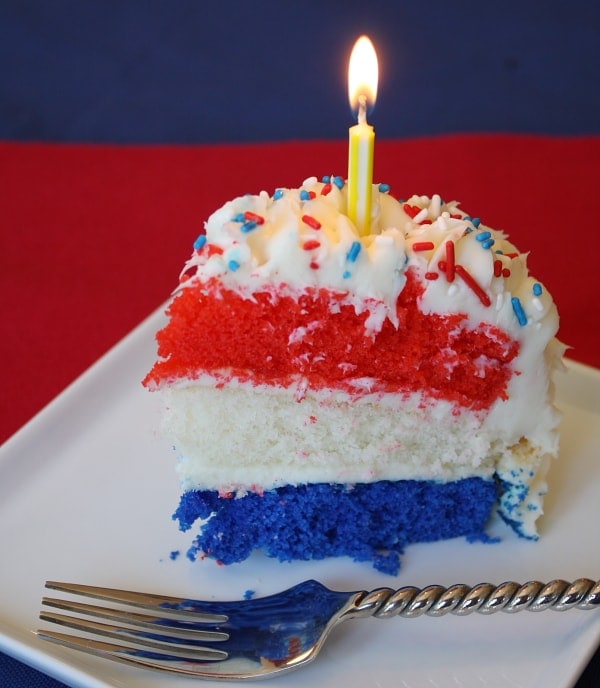 What are you favorite foods?
Oreo-stuffed chocolate chip cookies, corn on the cob, pancakes with fresh raspberries and ravioli with marinara sauce
Love this kid and love that he's interested in growing up as a foodie!  What a proud mama I am!  Check out RecipeBoy's food blog:  www.RecipeBoy.com.  With a little guidance from Mom, he'll be doing all of his own cooking, writing, and photography.  And I'm sure he'll be thrilled if he begins getting some regular readers.  His first post is up, and he's already hard at work on his 2nd!
Red, White and Blue Cake
A festive cake for a red, white and blue holiday celebration...
Yield:
10 to 12 servings
Prep Time: 20 min
Cook Time: 20 min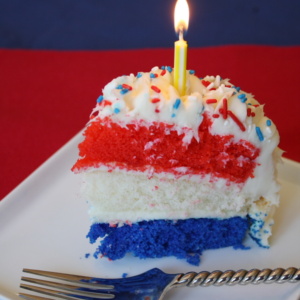 Ingredients:

2 1/2 cups cake flour
1 Tablespoon baking powder
1/2 teaspoon salt
1 1/4 cups buttermilk
4 large egg whites
1 1/2 cups granulated white sugar
1/2 cup (1 stick) unsalted butter
1 teaspoon vanilla extract
red and blue gel paste coloring

Instructions:

1. Center two racks in the oven and preheat oven to 350°F. Spray three 8 or 9-inch round cake pans with nonstick spray. Add a spoonful of flour to each, shake it around and tap out the excess.

2. To Make Cake: Sift together flour, baking powder and salt. Whisk together buttermilk and egg whites in a medium bowl. In a large separate, large bowl, use an electric mixer to blend together butter and sugar; beat at medium speed for a full 3 minutes, until the mixture is very light. Beat in the extract, then add one third of the flour mixture, still beating on medium speed. Beat in half of the buttermilk-egg mixture, then beat in half of the remaining dry ingredients until incorporated. Add the rest of the buttermilk and eggs, then add the last of the dry ingredients. Finally, give the batter a good 2 minute beating to ensure that it is thoroughly mixed and well aerated. Divide the batter evenly between three glass bowls. Color two of the bowls of batter- one dark red and one dark blue. Just add the color a little at a time until you reach the hue you'd like. Scoop each of the batters into their own prepared pan.

3. Bake for 20 to 25 minutes for 8-inch rounds (15 to 20 for 9-inch), or until the cakes have risen and are springy to the touch- a toothpick inserted into the centers should come out clean. Transfer cakes to cooling racks and cool for about 5 minutes, then run a knife around the sides of the cakes. Invert and cool to room temperature right side up on wire racks. When cooled, frost the cake as you would a 3-layer cake, frosting each layer before adding the next, and then covering the whole cake with frosting too. Frosting recs in tips below...

Tips:

*Don't use liquid food coloring to dye the cake batter. You'll end up adding too much liquid to the mixture and it won't turn out great. Gel paste coloring can be found at baking supply stores or craft stores. It's concentrated, and it will give you the deep red and blue hues you're looking for in this cake.
*I like to use one of two frosting recipes for a cake like this:
Pipeable Cream Cheese Frosting
or
Wedding Cake Buttercream