Here's an easy, delicious doctored-up cake mix recipe- made in a bundt pan:  Kahlua Cake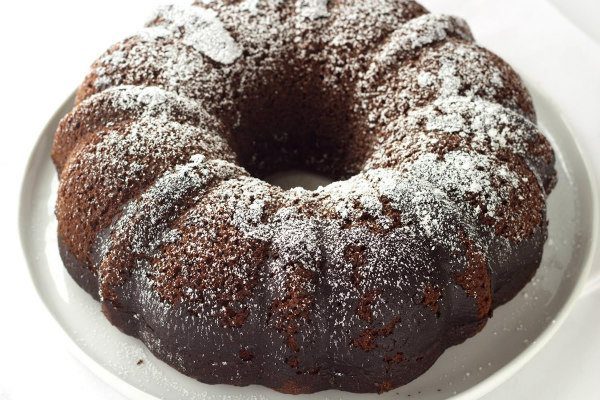 I was born on this day… a long time ago.  Yep, it's my birthday.  And it's a big one.  I have some wonderful friends coming into town this weekend to help me celebrate.  It's nice to have friends.  It's nice to have GOOD FRIENDS.  And it's nice to have birthdays.
Some people get kind of freaked out about birthdays in the later years.  I'm probably going to be one of those people.  This big birthday hasn't quite hit me yet.  I'm sure it will.  And then I'll be freaked out… like those people.
I'm so caught up in "birthdays" that we haven't even discussed the cake at hand today.  It's a super-easy-to-make Kahlua Cake.  If you're the sort of person who scoffs at cake mixes, then you may be disappointed with this recipe I'm sharing today.  But if you like a short-cut now and then… and you don't mind starting with a boxed mix… well then this cake might be for you.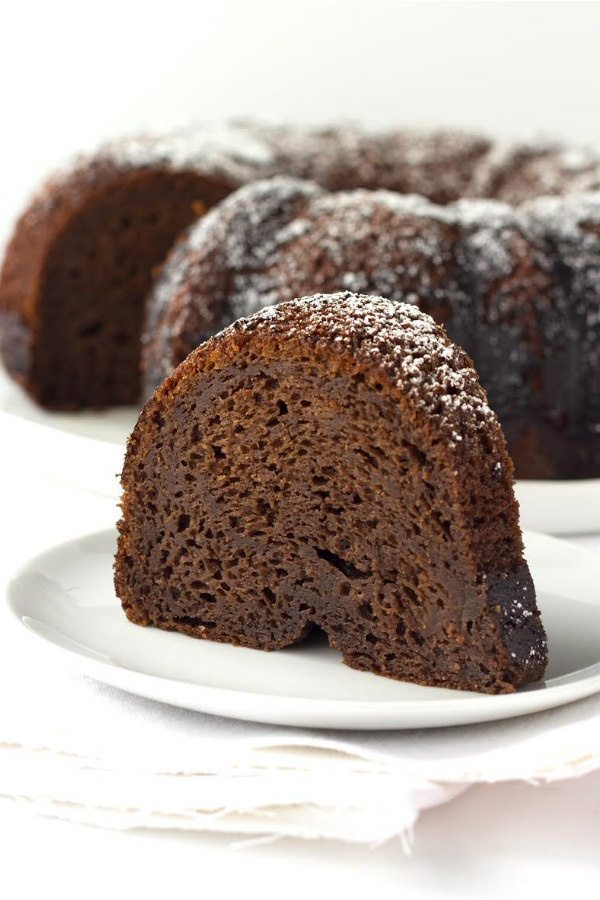 I make plenty of homemade cakes, but I did grow up on boxed cake mixes… so I don't mind using them once in a while.  This cake has a generous dose of Kahlua added to it.  That boozes things up a bit.  If you're a lover of Kahlua, I'd say this cake might please your taste-buds.  A brief shower of powdered sugar coats the cake.
Since it's my birthday and all, I must say that I'm pretty happy with this cake.  Happy birthday to me- and to everyone else who has a birthday today!
Thank you to Miranda from the CookieDoughAndOvenMitt.com blog for shooting beautiful photos of this cake for me.  I think Miranda captured how delicious it is!
Yield: 10 servings
Prep Time: 15 minutes
Cook Time: 55 minutes
Kahlua Cake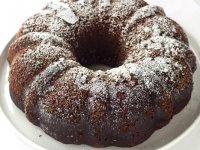 Ingredients:
1 box chocolate cake mix
One 3-ounce box vanilla pudding
3/4 cup Kahlua
3/4 cup vegetable or canola oil
16-ounces sour cream
4 large Eggland's Best eggs
1 cup chocolate chips
Directions:
Preheat the oven to 325 degrees F. Grease and flour a bundt pan.
Mix together the cake mix, pudding, kahlua, oil, sour cream and eggs. Stir in the chocolate chips.
Pour into the prepared bundt pan, and bake 55 to 65 minutes, or until a toothpick inserted into the center comes out clean.
Let cool. Turn out onto a decorative plate and dust the top with powdered sugar.
SOURCE: RecipeGirl.com
Here are a few more recipes using Kahlua that you might enjoy:
6 Responses to "Kahlua Cake"
Leave a Comment