You know how sometimes you have a recipe that you've wanted to make for a very, very long time… a recipe you've seen a million other places but you've never tried it yourself? A simple Chocolate Sheet Cake is one of those recipes for me. I finally made it, and I'm totally and completely happy that I did. What a hit this cake was!  It was very chocolatey and moist and rich.  It was everything I was looking for.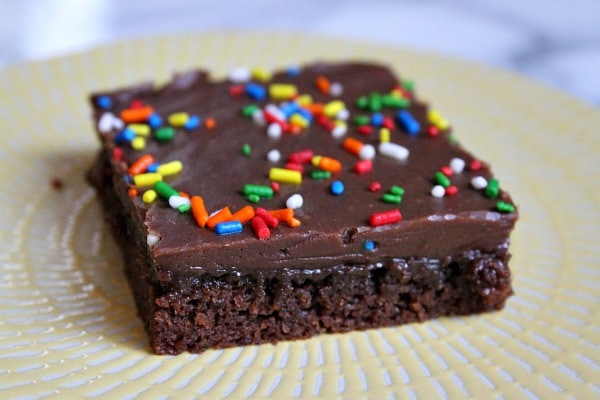 There are a sea of recipes on the internet for Chocolate Sheet Cake, otherwise known as "Texas Sheet Cake." I decided to go with the trustiest source I know for this sort of thing: Ree Drummond's The Pioneer Woman Cooks Cookbook. I was tasked with feeding a large crowd at a family BBQ last weekend, and I know that Ree feeds large crowds on a daily basis. No brainer.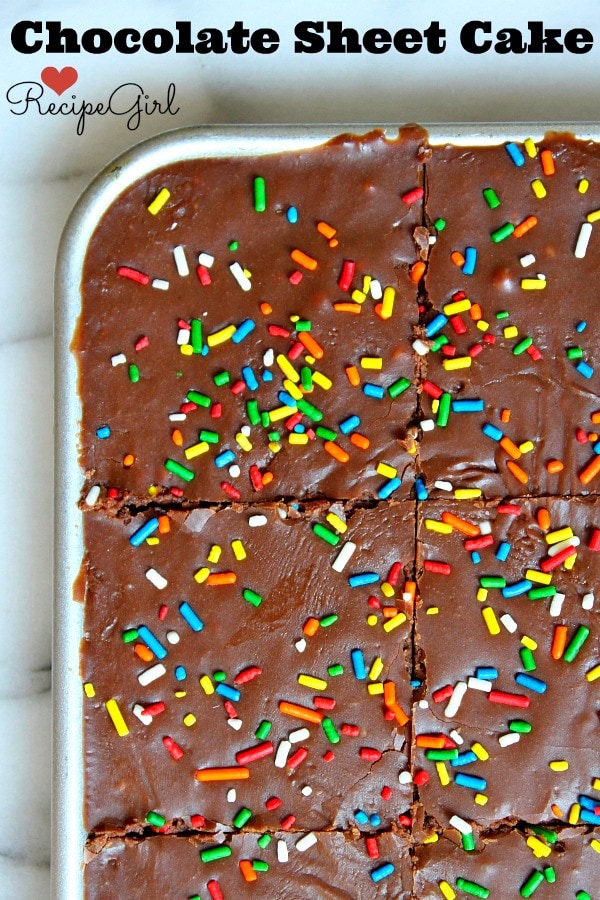 You need the right kind of pan for this if you truly want to make it a sheet cake.  You'll need a 12×18-inch rimmed baking sheet.  If you don't have one, go ahead and pick one up (they're great for baking cookies too).  But Ree does mention that you can use this recipe to make cupcakes too.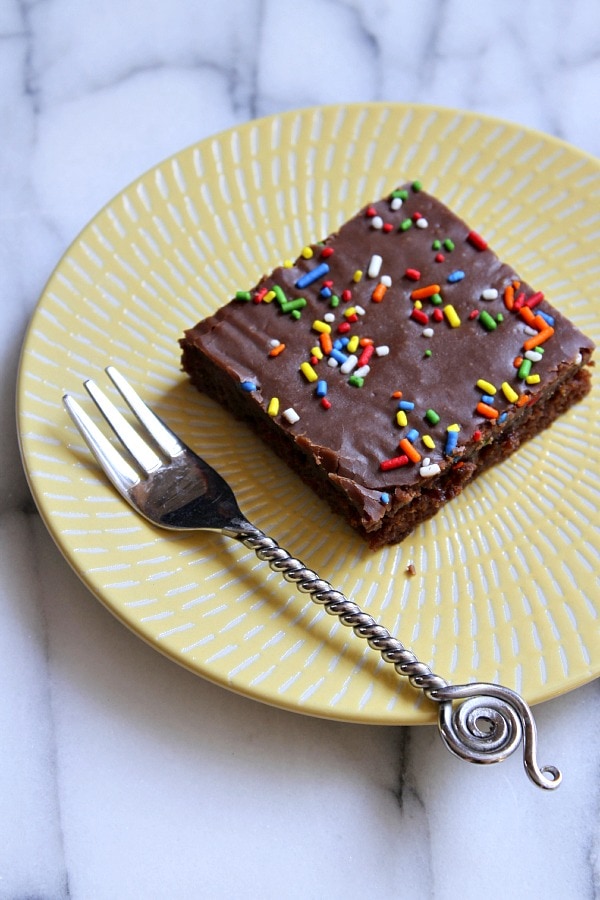 The cake is big, but it's thin.  So you get a perfectly rich and chocolatey slice that is not overwhelmingly too much.  The sprinkles, of course, are optional.  Ree's recipe calls for chopped pecans on top, but we're more of a rainbow sprinkles kind of family than a nut family so we went with those.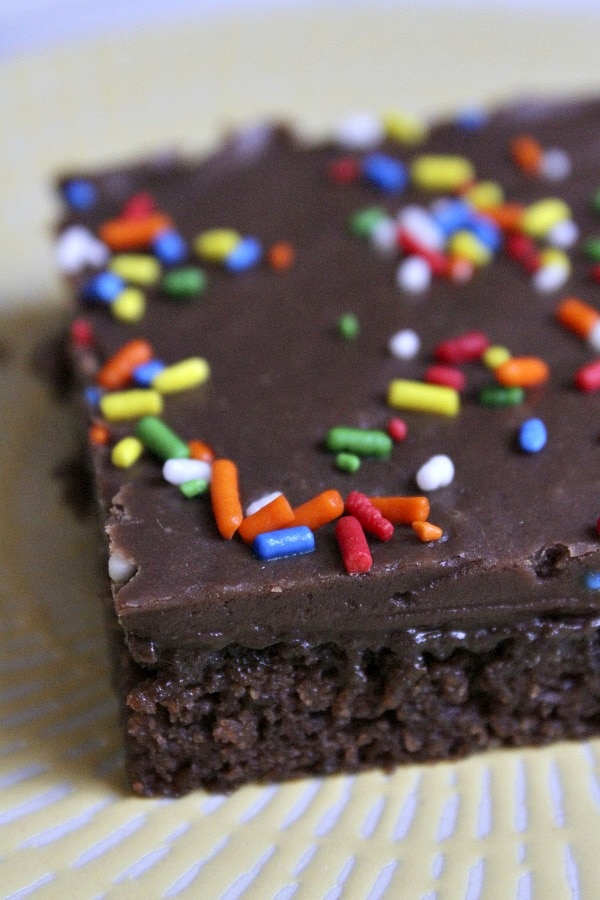 An easy-to-make warm icing is poured over the just-out-of-the-oven cake.  When it has cooled, the frosting nudges itself into a fudgy top layer to the cake.  See that thick layer of frosting??  Yeah, it's really very good.  To give you an idea of how good the cake is… my sister Susie doesn't even like chocolate cake (and neither do I!), but we both LOVED IT.  And so did everyone else.  Thank you, Ms. Pioneer Woman.  Your chocolate sheet cake recipe really and truly rocks!
Chocolate Sheet Cake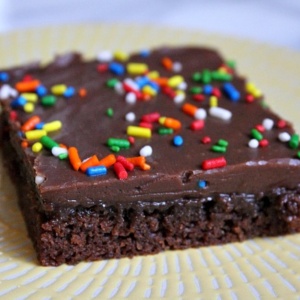 Yield:
One big cake (serves about 24)
Prep Time:30 min
Cook Time:20 min
Ingredients:
CAKE:
2 cups All Purpose Gold Medal® Flour
2 cups granulated white sugar
1/4 teaspoon salt
1/2 cup buttermilk
2 large eggs
1 teaspoon vanilla extract
1 teaspoon baking soda
1 cup (2 sticks) salted butter
4 heaping tablespoons cocoa powder
1 cup boiling water (just get it really hot in the microwave)
ICING:
1 3/4 sticks salted butter
4 heaping tablespoons cocoa powder
6 tablespoons milk
1 teaspoon vanilla extract
1 pound powdered sugar (if it's lumpy, sift it)
rainbow sprinkles (or chopped pecans, if you're into those)
Directions:
1. Preheat the oven to 350 degrees F.
2. In a large bowl, whisk together the flour, sugar and salt. In a separate bowl, whisk together the buttermilk, eggs, vanilla and baking soda.
3. In a medium saucepan, melt the butter and add the cocoa; whisk to combine. Add the boiling water to the pan, mix and heat until bubbling, then turn off the heat. Pour the hot chocolate mixture into the flour mixture and stir to combine. Pour in the egg mixture and stir together until smooth. Pour into an ungreased, nonstick 12x18-inch rimmed pan (jelly roll pan), and bake for about 20 minutes, or until the cake is set and no longer gooey in the middle.
4. While the cake is baking, make the icing. Melt the butter in a medium-large saucepan over medium heat. Add the cocoa powder and stir until smooth. Pull the pan off the heat. Add the milk and vanilla, then stir in the powdered sugar. Use a whisk and stir vigorously to get all of the lumps out. Pour the warm icing over the cake as soon as it comes out of the oven. Try and pour it over the cake evenly and spread it out quickly to cover the top, then don't mess with it. If you want sprinkles or nuts on top, sprinkle those on immediately. Let the cake sit at room temperature until ready to serve.
Tips:
*Making this early in the day and serving at night is totally fine. We enjoyed leftovers for a couple of days after serving and it was still totally moist and wonderful. Just keep it covered with plastic wrap at room temperature.
More sheet cake recipes you might be interested in:
Red Velvet Sheet Cake by The Pioneer Woman
Cookies 'n Cream Sheet Cake by Two Peas and Their Pod
Banana- Chocolate Chip Sheet Cake with Maple Icing by Picky Palate
Toasted Coconut- Carrot Sheet Cake by Taste and Tell
White Texas Sheet Cake by Bunny's Warm Oven
Disclosure:  There are Amazon affiliate links included within this post.