I've been trying and testing for a long time… and I'm pretty darn sure this one is the best… a classic. It's the Best Chocolate Cake Recipe.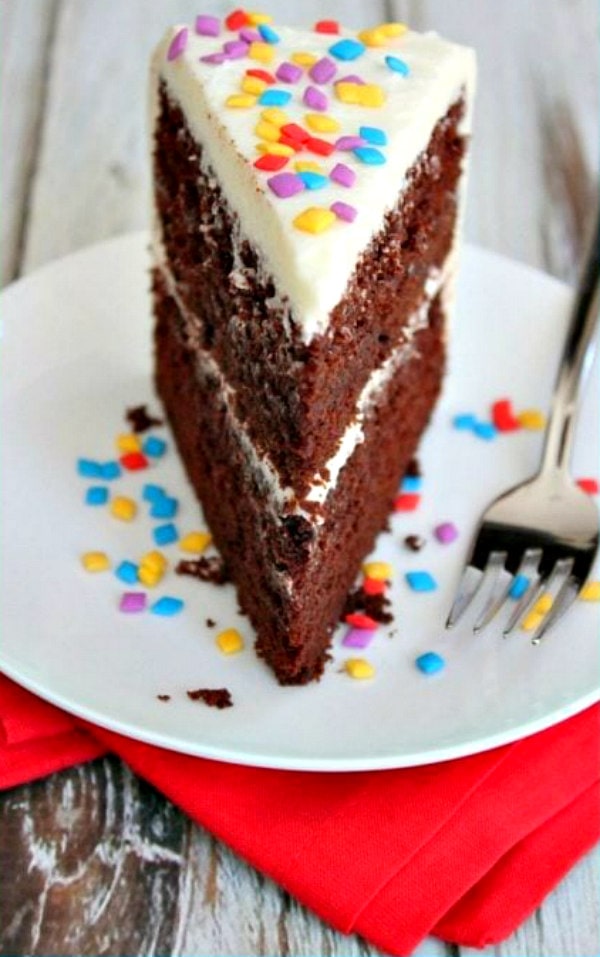 I don't like chocolate. And I'm not super hip on chocolate cake either (remember… I'm a Vanilla Girl through and through, blah blah blah). But I know a good cake when I try it, and this one turns out to be a good cake! I've got a good thing going at my house because both my son and my husband are CRAZY about chocolate, so they are the perfect taste testers for me. And they totally tell me the truth if they don't like something either, lol! Turns out, they thought this cake was the best chocolate cake ever!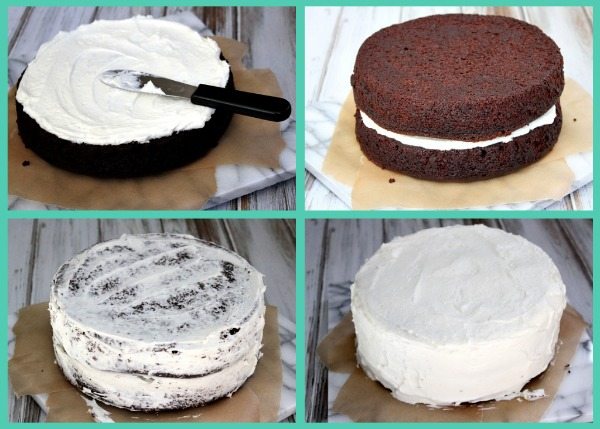 I ended up using the White Frosting Recipe that I shared with you yesterday for this cake. A good amount is spread onto the first layer, then the other layer is laid on top. At this point, it looks like a Suzy Q– do you remember those that were made by Hostess back in the day??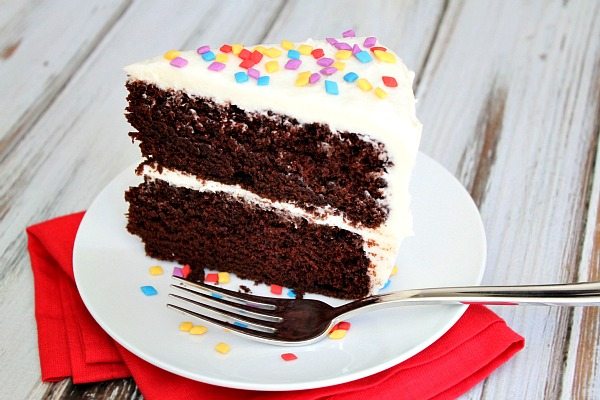 I opted to do a crumb coat on this cake since the cake is tender and moist. Crumb coats are easy to do, and you do them so you don't have little bits of chocolate crumb floating around on your frosted cake. All you do is spread a light layer of frosting all over the cake (as shown) and then refrigerate it until it's kind of firm. Then you can take it out and use the rest of your frosting to cover the entire cake. And it will look totally perfect and white… with no floating chocolate crumbs – yay!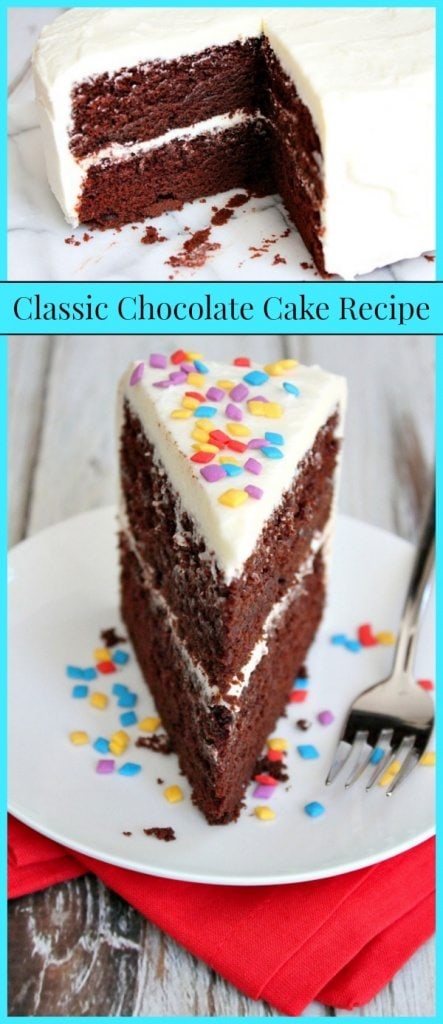 And there is my beautiful, perfect, best, classic chocolate cake recipe. I couldn't have been happier with the way it turned out- and my boys were just over the moon that I had chocolate cake in our kitchen! Sprinkles are, of course, optional. But it would make a pretty cute birthday cake, wouldn't it?

Here are a few more cake recipes you might like to try:
Best Chocolate Cake Recipe
Recipe Details
Ingredients
1

cup (2 sticks)

unsalted butter,

at room temperature

2

cups

granulated white sugar

2

large

eggs

1

cup

buttermilk

3

cups

all purpose flour

1

cup

unsweetened cocoa powder

2

teaspoons

baking soda

1

tablespoon

vanilla extract

1

cup

hot water

(hot tap water is fine)
Instructions
Preheat the oven to 375 degrees F. Spray two 9-inch round cake pans with nonstick spray. I like to use the Pam Baking Spray and line them each with a round of parchment paper too.

In a large bowl, use an electric mixer to combine the butter and sugar. Mix until light and fluffy- about 2 minutes. Beat in the eggs until well incorporated, scraping down the sides of the bowl as needed. Mix in the buttermilk. In a separate bowl, whisk together the flour, cocoa powder and baking soda. Then mix in the dry ingredients a little at a time until all is mixed well. Add the vanilla and the hot water, and continue to mix until the batter is well-incorporated and smooth. Divide the batter between the two prepared pans. Bake about 25 minutes, or until the center is set and a toothpick inserted comes out nearly clean. Set aside to cool for at least 20 minutes, then gently turn over onto racks to cool the cake layers completely before frosting.

Frost when cool, or wrap in plastic wrap until ready to frost (cake layers can be made one day ahead).
Notes
Nutritional information does not include frosting.
*For high altitude (above 5,000 feet), reduce sugar by 1/4 cup, reduced baking soda by 1/2 teaspoon, and add an additional tablespoon of hot water.
*I like to use bake even Cake Strips to ensure that I get nice flat cake layers. They work great.
*Here are a few frosting recipes on RecipeGirl.com that you might want to use for this cake: White Frosting, Chocolate Frosting, Wedding Cupcake Buttercream, or Chocolate Buttercream.
Nutrition
Serving:
1
serving
,
Calories:
424
kcal
,
Carbohydrates:
63
g
,
Protein:
7
g
,
Fat:
18
g
,
Saturated Fat:
11
g
,
Cholesterol:
78
mg
,
Sodium:
221
mg
,
Potassium:
187
mg
,
Fiber:
3
g
,
Sugar:
35
g
,
Vitamin A:
557
IU
,
Calcium:
47
mg
,
Iron:
3
mg