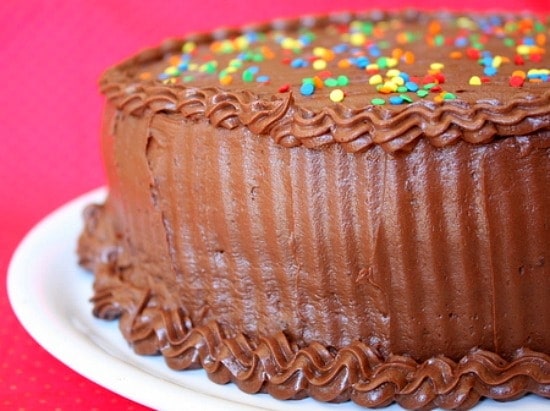 Hershey's Perfectly Chocolate Chocolate Cake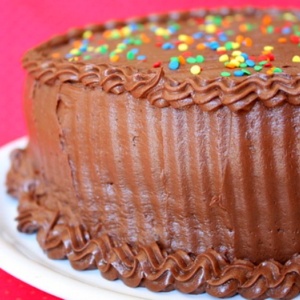 My favorite go-to chocolate cake recipe of all time!
Yield:
10 to 12 servings
Prep Time:20 min
Cook Time:30 min
Ingredients:
CAKE:
2 cups granulated white sugar
1 3/4 cups all-purpose flour
3/4 cup Hershey's unsweetened cocoa
1 1/2 teaspoons baking soda
1 1/2 teaspoons baking powder
1 1/2 teaspoons salt
2 large eggs
1 cup milk
1/2 cup vegetable or canola oil
2 teaspoons vanilla extract
1 cup boiling water
FROSTING:
1/2 cup (1 stick) butter
2/3 cup Hershey's unsweetened cocoa
3 cups powdered sugar
1/3 cup milk
1 teaspoon vanilla extract
Directions:
1. Preheat oven to 350°F. Grease and flour two 9-inch round baking pans.
2. Prepare cake: Whisk together sugar, flour, cocoa, baking powder, baking soda and salt in large mixer bowl. Add eggs, milk, oil and vanilla; beat on medium speed of electric mixer for 2 minutes. Stir in water (batter will be thin). Pour batter evenly into prepared pans.
3. Bake 30-35 minutes or until wooden pick inserted in center comes out clean. Cool 10 minutes; remove from pans to wire racks. Cool completely.
4. Prepare frosting: Melt butter. Stir in cocoa. Alternately add sugar and milk, beating to spreading consistency. Add small amount of additional milk, if needed. Stir in vanilla.
5. Spread frosting between layers and over top and sides of cake.
Tips:
*You may substitute a 13x9x2-inch baking pan for 9-inch round baking pans. Prepare the same way, but increase baking time to 35-40 minutes.
*Double the frosting recipe if you'd like a good amount of frosting to work with. Picture above indicates a cake with double the amount of frosting.